Flatbread is a huge hit in our house. My children snack on it plain, but it's also quickly devoured when paired with hummus or another bean dip. Breakfasts are always happy ones when scrambled eggs and cheese turn flatbread into morning wraps. I love how simple and versatile flatbread is, and when made with sourdough starter, it takes on a wonderful flavor that is hard to beat!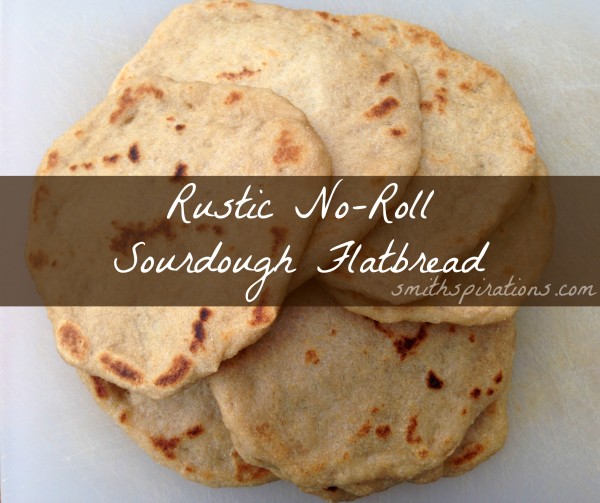 This flatbread recipe is incredibly simple. Freshly ground whole wheat flour and salt combine with water, sourdough starter, and a bit of olive oil to make a moist dough. I like to mix the dough up at night and let it rise while I sleep, then move on to the rest of the steps in the morning. They are cooked on the stovetop in a heavy skillet (I like to use a couple of cast iron skillets going at the same time), giving them a lovely pattern of browned spots.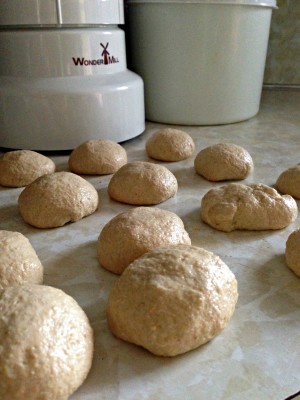 Because the dough is on the moist side, rolling it out with a rolling pin could be tricky or require lots of extra flour. The moisture of the dough gives the flatbread a lovely texture, so rather than dry it out with more flour, I simply use my hands to gently shape and stretch the dough out into a roundish disk. These flatbreads then take on a more "rustic" look and feel since they are not at all uniform. If one gets a hole in it while I am stretching into a round, I just form it into a ball again, let it rest for a while, and come back to it after cooking some other breads.
Rustic, No-Roll Sourdough Flatbread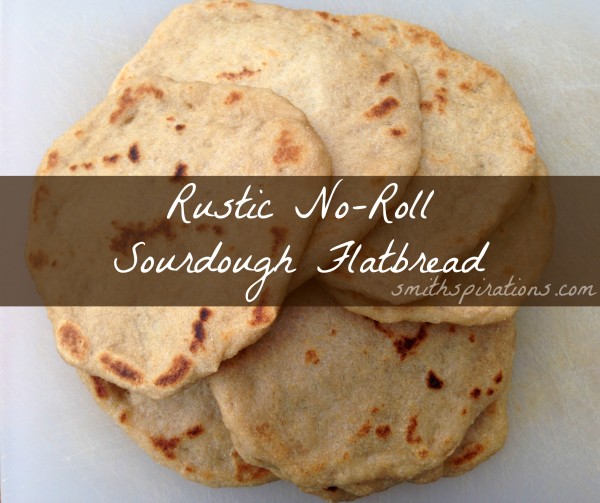 Author:
Kristen @ Smithspirations
A moist whole wheat dough is gently stretched with the hands and cooked in a heavy skillet to yield a flatbread with a unique look and wonderful taste and texture.
Ingredients
3½ to 4 cups whole wheat flour
1 teaspoon salt
1 cup sourdough starter
1 cup water
2 Tablespoons olive oil
Additional olive oil
Instructions
In a large stand mixer with the dough hook attached, mix 3 cups flour with the salt.
In a large measuring cup or small mixing bowl with a pouring spout, combine the sourdough starter, water, and 2 Tablespoons olive oil.
With the mixer running, slowly pour the starter mixture in to the flour and salt in the mixer bowl. Allow to mix until a very wet dough forms, about one minute.
Slowly add additional flour, ¼ cup at a time, and allowing to mix for at least 30-60 seconds after each addition. The dough should feel moist and almost sticky.
Oil a medium nonreactive mixing bowl with olive oil and place the dough in the oiled bowl to rise for 8-12 hours.
After the dough has risen, punch it down and place on a lightly oiled counter. Divide the dough into 16 equal pieces, and with oiled hands, form each piece into a ball. Rest the dough for at least 30 minutes and up to 2 hours.
Heat a heavy skillet, like a cast iron skillet, over medium low heat. You can use multiple skillets or even a large griddle to speed the process.
With oiled hands, gently press one ball of dough into a disk, and continue to gently turn and stretch the dough into a flat round.
Place the dough on the hot skillet and allow to cook on the first side for about two minutes, or until it no longer looks moist on top. Flip the bread over, and cook an additional minute or so until spotted brown. Repeat with each dough ball.
Place cooked flatbreads on a cooling rack and cover with a tea towel until all the flatbreads have cooked.
Serve and enjoy!