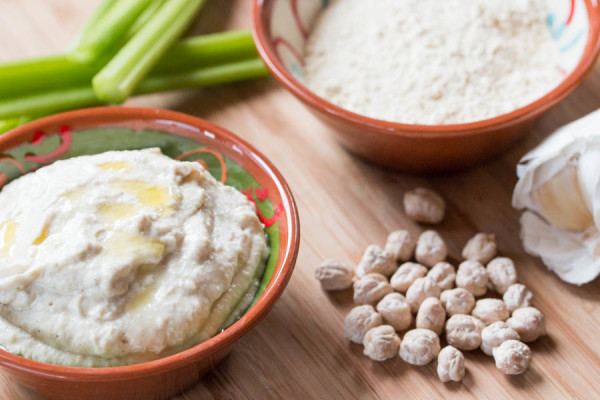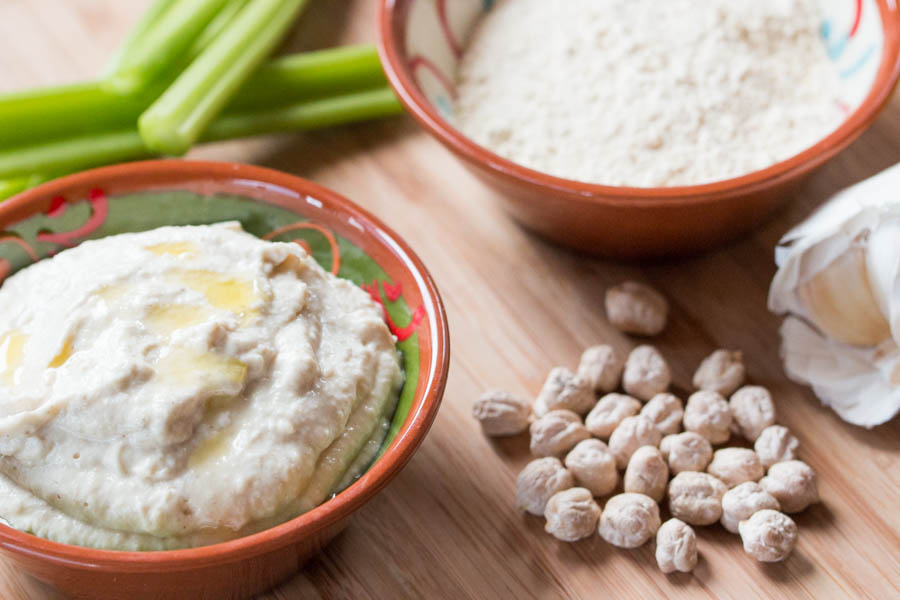 Homemade hummus is so much better than store bought, but sometimes you want hummus at the last minute and didn't think to soak your garbanzo beans overnight.
The solution for most people is to use canned garbanzo beans, but, to be honest, canned and bottled garbanzos really turn me off. I know I'm not the only one who tries to avoid using them.
My solution?
Use garbanzo flour.
By using the flour, the garbanzo mixture cooks very quickly, so you save a lot of time!
A lot!
This recipe is very quick and easy to make once you get the hang of making garbanzo flour in your WonderMill.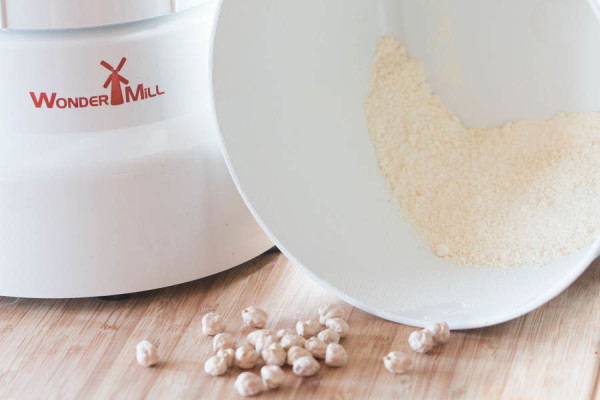 Because of their shape, it is recommended that garbanzos be slowly fed into the machine one or two garbanzos at a time.  That may sound tedious, but it really isn't.  You can easily make enough flour for this recipe in a minute or two, even if you choose to double the recipe.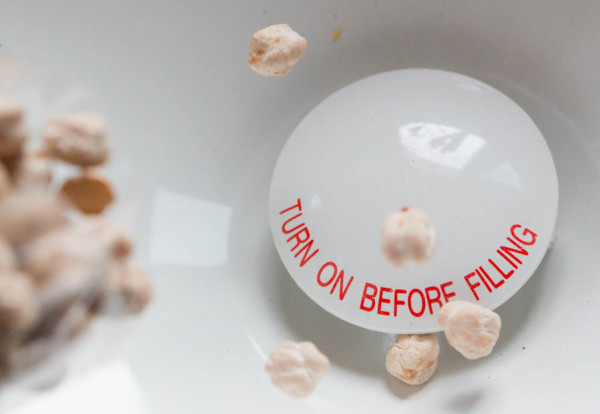 This recipe makes about 1 1/2 cups of hummus, so feel free to double the recipe if you need to.
This recipe is also highly customizable.  I hope you'll use it as a base recipe which you can adjust to suit your taste.
Some people love lots of garlic in their hummus, others hate it.  The same goes for the amount of salt, tahini, lemon juice, etc.
I highly recommend you taste the hummus as you mix it, and slowly add in the ingredients as you go.  That's the only way to ensure a hummus that is perfect for you!
So, let's make some hummus!

Quick Garbanzo Flour Hummus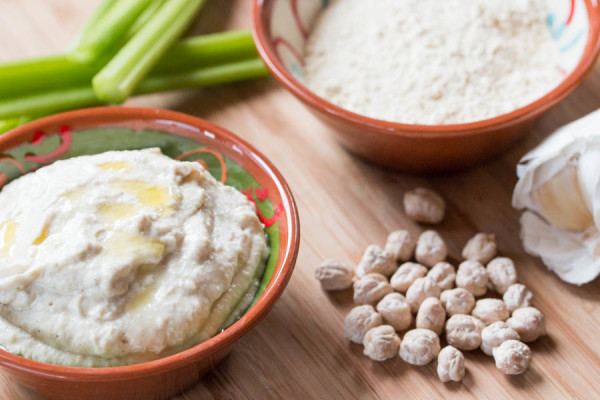 Ingredients
½ c. garbanzo flour
1½ c. water
juice from 1 lemon
1 clove garlic
½ tsp. cumin
2-4 Tbsp. tahini
1 Tbsp. olive oil
salt to taste (1/8-1/4 tsp.)
Instructions
Mix the garbanzo flour with 1 cup of the water in a small pot.
Begin to heat your mixture over low to medium heat, stirring constantly until your mixture begins to thicken.

Add in the rest of the water (1/2 cup), and continue to heat and stir until the mixture thickens again. (Around 10 minutes total time over the stove)
Remove the garbanzo mixture from the heat, and add in your other ingredients. You can either combine them all in a food processor, which works best with larger batches, or with a handheld blender.
Blend together all of the ingredients until smooth, slowly adding in ingredients like the lemon juice, tahini, and salt to get the right combination for you. This recipe is highly customizable to each person!
When smooth and well combined, serve in a bowl accompanied by cut veggies, pitas, or whatever you choose to serve with the hummus.