There's nothing better than a leisurely weekend breakfast at home with the family.  I love everyone gathered around the kitchen counter, laughing and sharing about their week and enjoying a hot, delicious breakfast or brunch, together.  Providing the highest quality whole grain products has become even easier, since adding a WonderMill grain mill to my kitchen.  Having access to freshly ground flour for all my recipes at Busy-at-Home has always been a dream.  Now that I can, I'm a die-hard convert.  I love having fresh-milled flour available for every recipe I create!
Milling my flour, with the WonderMill, at the time I need to use it, means I get to use it at the peak of its nutritional value.  Plus, I can grind my flour to the consistency that is most appealing to my family.  A husband who agrees to eat whole grain because he loves me, but prefers the soft, smooth texture of white bread (ick!), means I need whole grain flours that can produce something close to the texture that he enjoys.
It's fantastic that the WonderMill has texture settings for Coarse, Bread and Pastry.  The very fine flour I can grind using the pastry setting has been perfect for winning over my "white bread" husband to the healthy taste and nutrition of whole grain baked goods.  These waffles were one of the first things I tried and an instant favorite for him.  He even whips up this simple recipe, himself, once in a while.  I think your family will enjoy it, too!
Crispy, Delicious Whole Wheat Waffles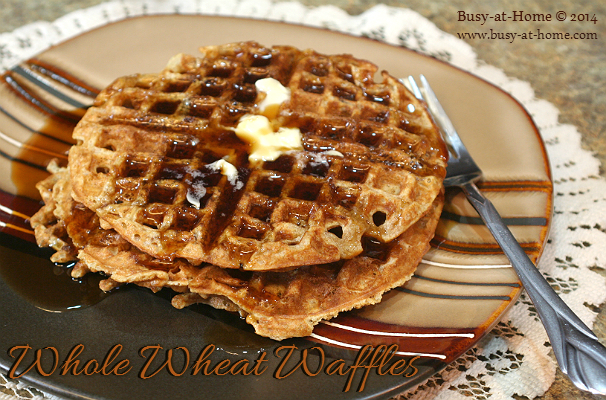 Recipe type:
Breakfast, Bread
Ingredients
2 cups whole wheat flour
2 Tablespoons honey or coconut sugar
1 Tablespoon baking powder
½ teaspoon salt
1¾ cups whole milk
2 eggs
⅓ cup coconut oil
2 teaspoons pure vanilla
Instructions
Put the coconut oil, milk, eggs, and vanilla into the pitcher of your blender.
Add dry ingredients on top of the liquid. (I measured the flour using the "scoop and level" method, not the "spoon and level". To understand why that's important and how each method affects your baked goods, check out the complete information in this post.)
Put the lid on the blender and blend just until the ingredients are thoroughly combined.
Pour waffle batter into preheated waffle iron and cook according to your appliance's directions. (Mine usually take less than 1 minute.)
Serve with your favorite syrups, fruit and toppings. I prefer Pure Maple Syrup and butter, unfortunately, I may have converted David to whole grains, but he still prefers commercial pancake syrup. One step at a time, right? 🙂 Enjoy!