This recipe comes from an eCourse that I took over at GNOWFGLINS.  It had never occurred to me that English Muffins could even be made at home.  This was a pleasant surprise and they were quite delightful!  Here is the link to the original recipe.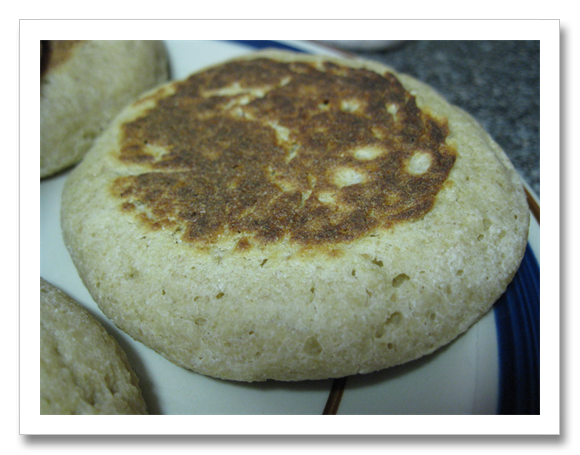 Erin's Sourdough English Muffins
1/2 cup sourdough starter (thick or thin)
1 cup liquid (water, milk, fermented dairy, coconut milk, etc…)
2 cups flour (your choice, I used hard winter wheat)
add-ins like seads, dried fruit or chopped nuts (optional)
1 tablespoon raw honey (or any sweetener)
3/4 to 1 teaspoon sea salt of choice
1 teaspoon baking soda
Place 1/2 cup sourdough starter into a medium bowl.  Pour onto that the 1 cup of liquid.  If your sourdough starter is very stiff, you might add an extra 1/4 cup of liquid.
Once combined, add 2 cups of flour to the mixture (any combination of flour(s)).  Stir well to combine.  Cover and let sit over-night, up to 24 hours….
In the morning sprinkle 3/4 teaspoon salt, 1 teaspoon baking soda and 1 tablespoon honey on top of your soaked dough.  Using a wooden spoon, push/cut in/stir your added ingredients.  No need to get it in perfectly.
Pour about 1 tablespoon of olive oil on the counter and spread it around a bit.  Then dump the dough onto the oiled surface and knead for about 2 to 3 minutes.
At this point I realized that the initial recipe didn't call for enough flour if you're making these in hot, humid weather like Florida.  So I added another half cup of flour, then divided the dough and shaped the muffins.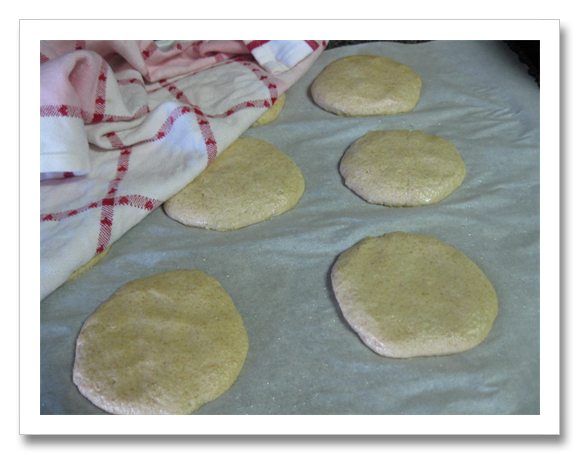 Place the shaped dough on a floured or lightly greased surface and cover to let sit for about 45 minutes to an hour.
I use cast iron, so a few minutes before time to start cooking the muffins I heated up my pans on medium to make sure they were evenly heated.  Carefully transfer the muffins to the pan and cook for about 5 minutes on each side.  I cooked mine a little higher than needed so they browned quite a bit.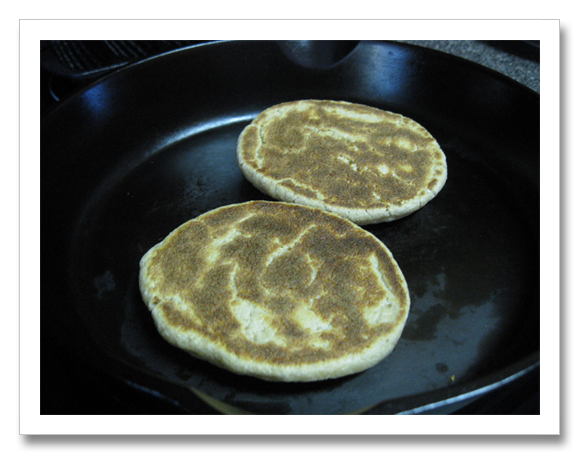 Most definitely worth the effort and TASTY!!!  Love my WonderMill!!!