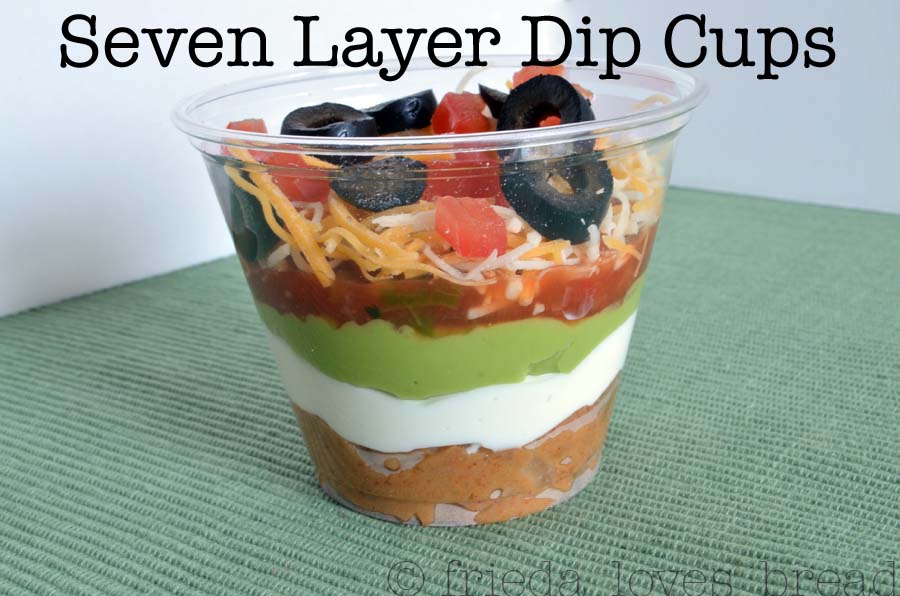 I can't contain myself.
I'm so EXCITED about this recipe!
Why?
Because it is FAST and EASY.
It looks pretty and tastes fabulous!
Did that get your attention?
Good!  If you have ever made refried beans in the past, you will know that it takes hours to make in a crock pot or stove top.  Cooking pinto beans in a pressure cooker reduces the total time to anywhere from 40 – 50 minutes, depending if you soak the beans or not.  If you have pinto beans in your food storage, and use this recipe, you will eliminate the extra water needed to soak these beans.  This is great news, as water is a necessary commodity, especially when it comes to food storage.
How does 20 minutes from start to finish sound?
Great!  Let's get started, shall we?
Sort your pinto beans; check for dirty beans or rock pieces and remove them.  Turn on your WonderMill grain mill and process the beans on a coarse setting.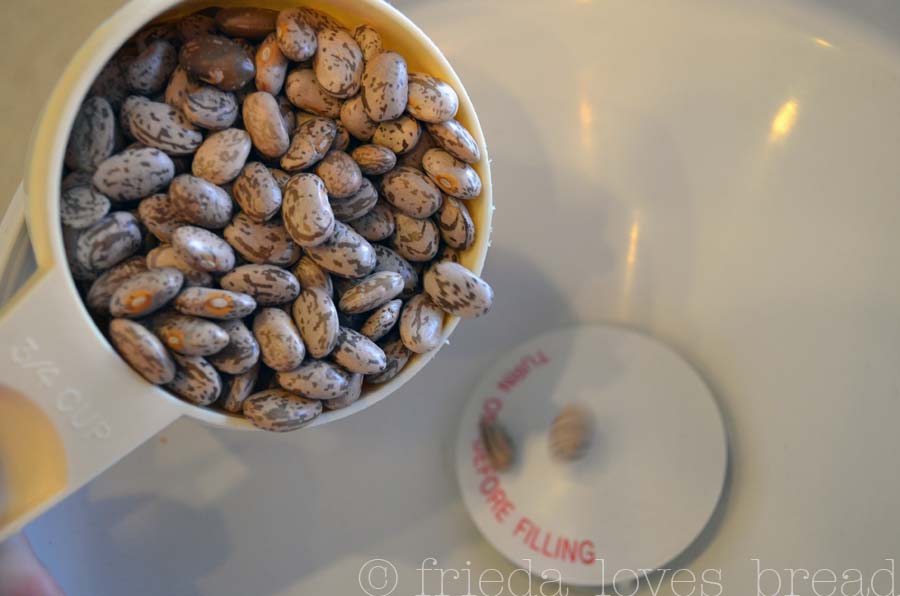 Even though these beans are processed on a coarse setting, it is a very fine powder, which is necessary for this recipe.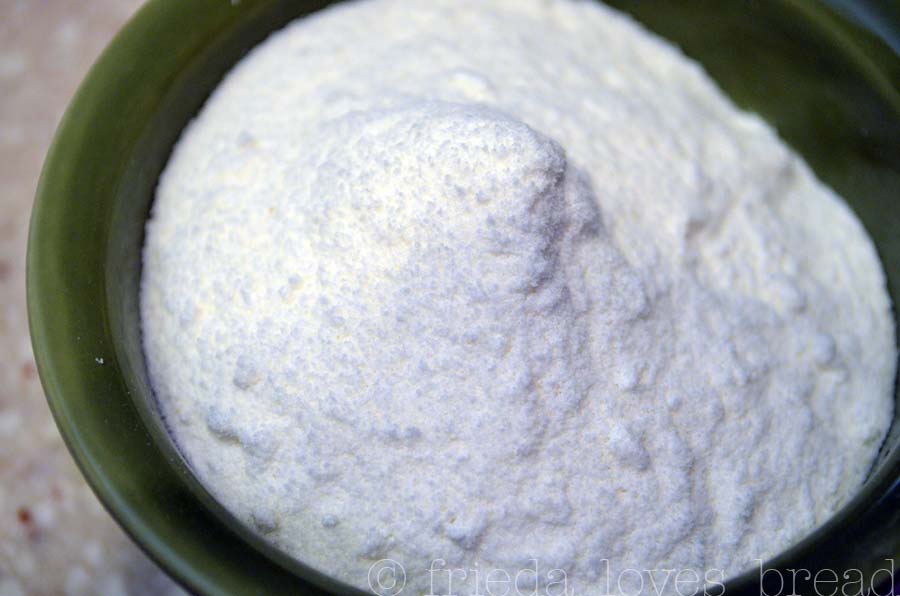 I love to use a touch of bacon grease to add flavor ~ I cook and freeze my bacon, and freeze the drippings in an ice cube tray.  When the cubes are frozen, I put them in a freezer safe baggie. Each cube is about 1 Tablespoon, keeping this recipe low fat!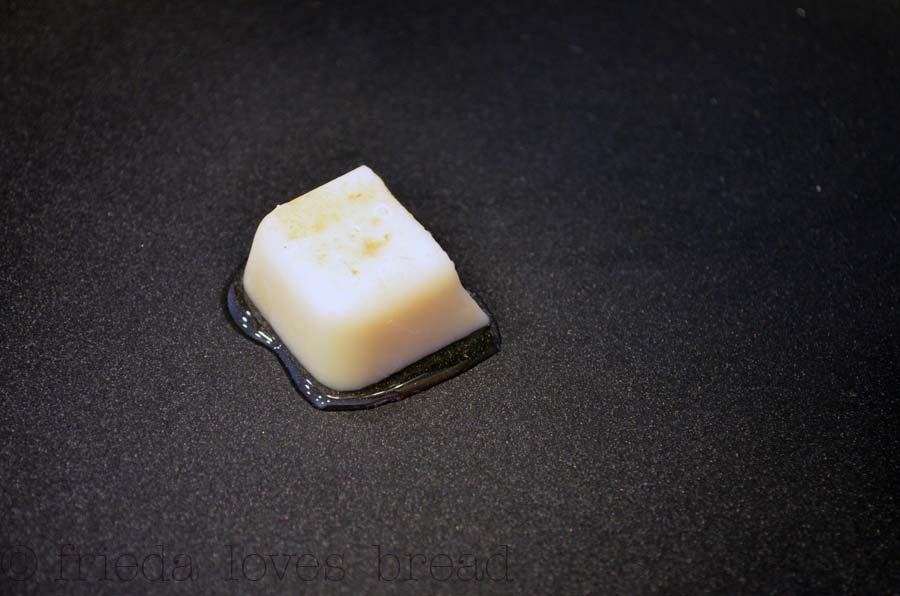 The onions are sauteed in the bacon grease.  I add fresh minced garlic, green chilies, and cumin.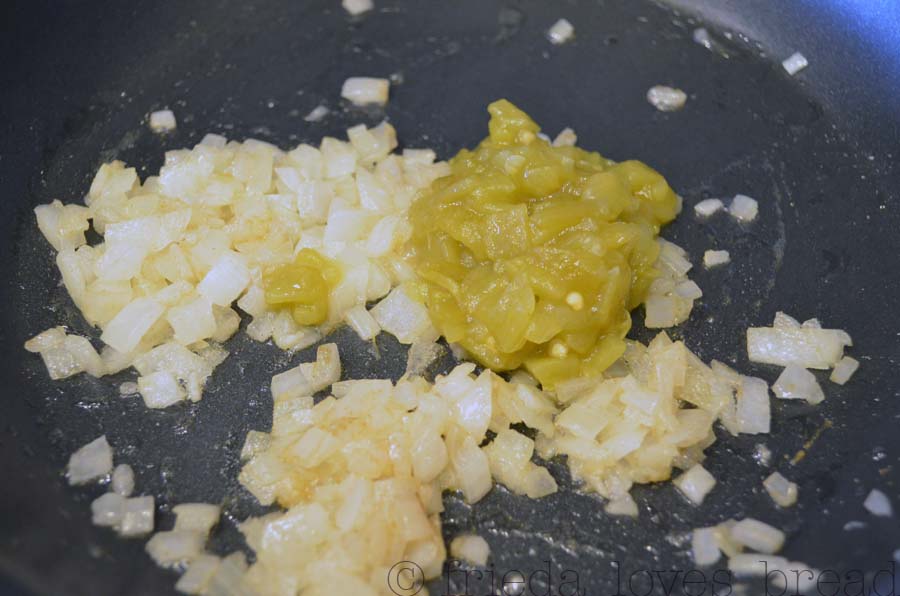 Add warm water and your pinto bean powder.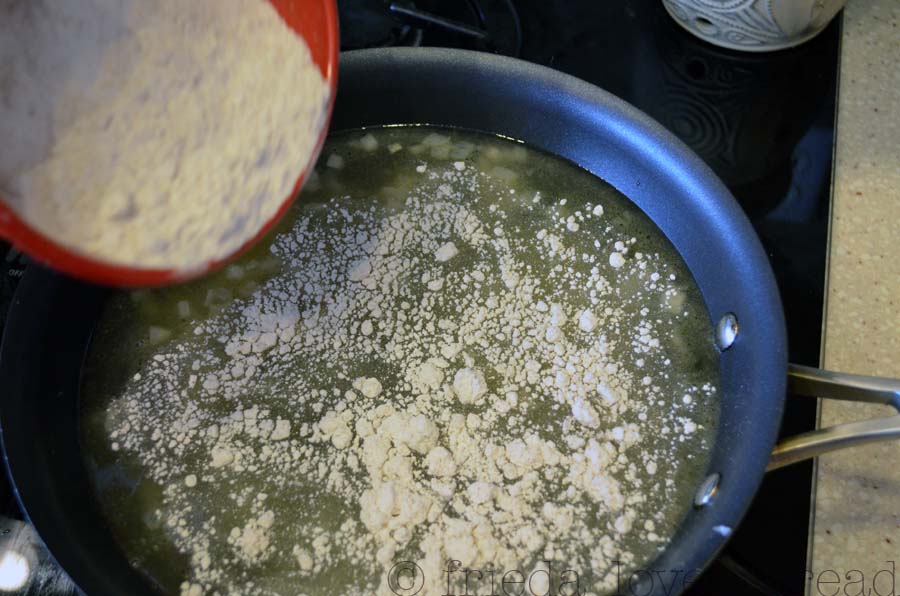 Using a whisk, stir continually while cooking over medium heat.  Don't worry about the lumps; it will smooth out very soon!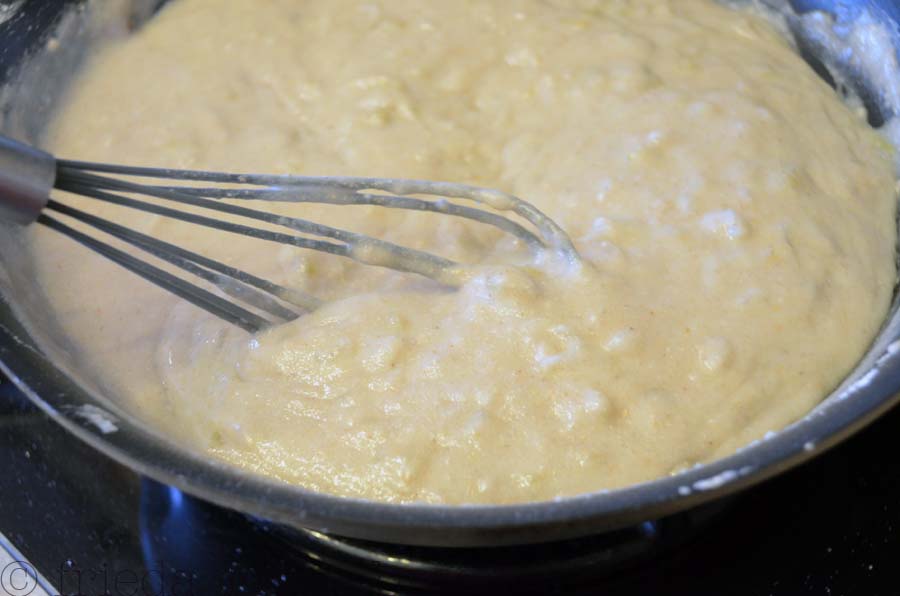 Ta -da!
Can you believe how fast and easy that was?  If you like your refried beans "extra creamy," you can use an immersion blender.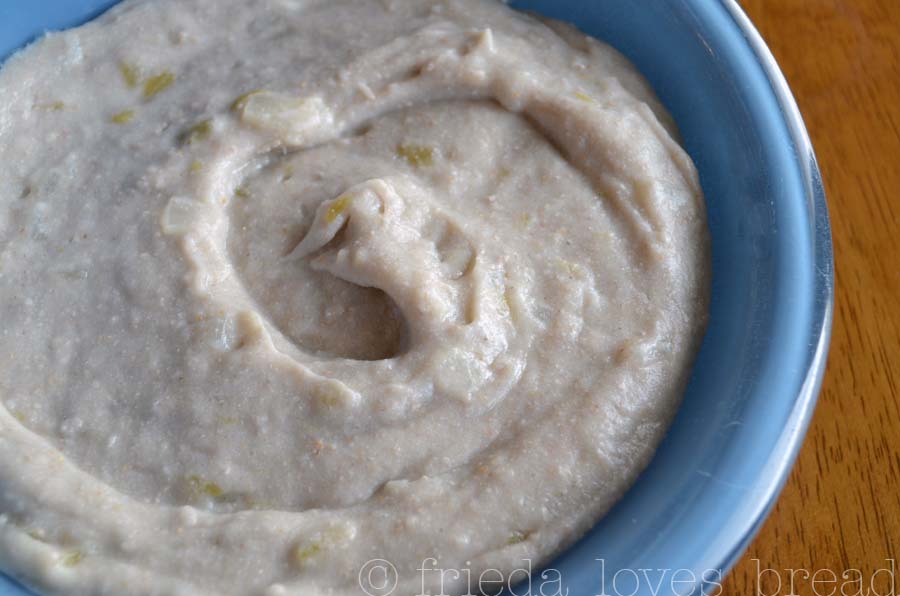 "Wait a minute…." you are asking yourself.  "These look lighter than refried beans!"  Yes they are, but they are not lacking in flavor.  The color is due to the short cooking time.
You can make a wonderful bean dip by adding taco seasoning.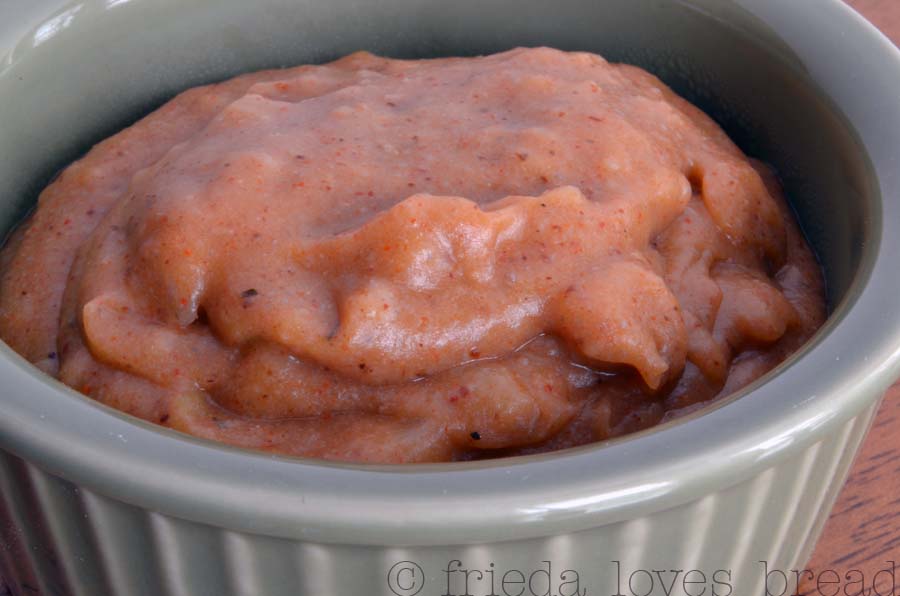 I love this idea of individual seven layer dip cups, originally from The Girl Who Ate Everything.  I've adapted it, using homemade ingredients … it is so good!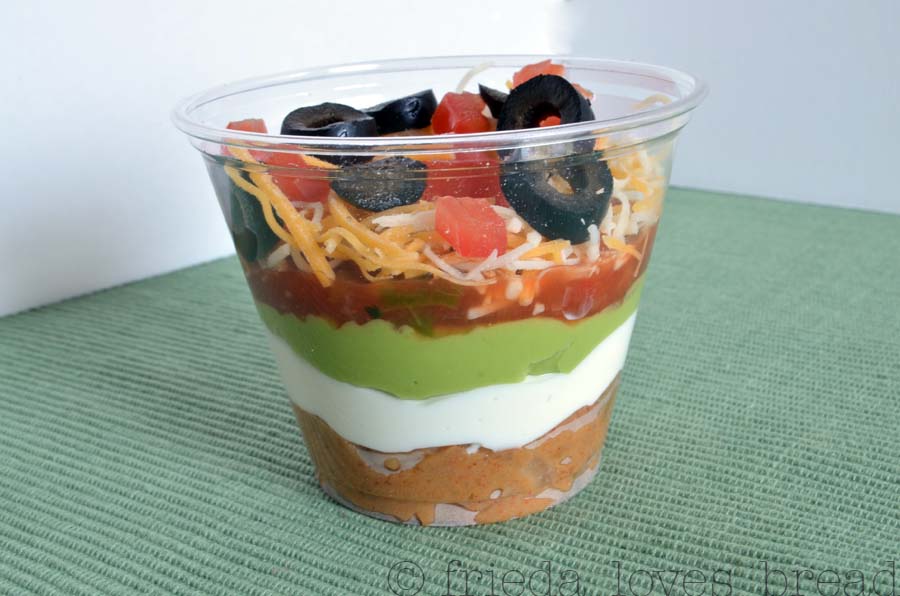 Are you ready to try this?  I bet you are!  Here's the recipe to get you started …
Quick Refried Beans  (printable recipe link)                                                                                Adapted from Rita Bingham, "Country Beans"
1/3 cup dried pinto beans, checked for rocks and broken beans, coarsely ground
1 Tablespoon bacon grease or canola oil
1/4 cup onion, diced
1 clove garlic, minced
1/4 teaspoon cumin
1/4 teaspoon chili powder
1 Tablespoon green chilies
2 1/2 cups warm water
Salt to taste
In a nonstick skillet over medium heat, cook onions in oil or bacon grease until soft and translucent.  Add garlic, cumin, chili powder and green chilies and stir until fragrant, about 1 minute.  Add pinto bean powder and stir until mixture thickens.  Reduce heat to low and cook an additional 4 minutes.  For a creamier refried beans, use an immersion blender.
Individual Seven Layer Dip Cups     (printable recipe link)

Guacamole
1 avacado, pitted, flesh scooped out
1/4 teaspoon salt
1/2 Roma tomato, diced
1/2 small onion, diced
1 jalapeno pepper, seeded, membranes removed, diced (add only if you like it HOT)
1 Tablespoon fresh lime juice
Mash all ingredients together or use an immersion blender to make it smooth and creamy.  Cover and chill for 30 minutes to blend flavors.
Individual Cup Assembly
4 – 6 (8 oz) plastic cups
Mix taco seasoning with refried beans.  Set aside.
Mix Sour cream and cream cheese.  Set aside.
Layer 2 Tablespoons of each into cups:
Bean/Taco mix
Sour cream/cream cheese mix
Guacamole
Salsa (use slotted spoon to drain excess liquid; keeps cups pretty)
Shredded Cheese
1 – 2 teaspoons diced tomatoes
Green onions and sliced olives
Enjoy!