We have all heard about the cholesterol-lowering qualities of oats. Thanks to the commercials for oaty-o's on TV, we get that helpful message in between our favorite shows. It's a good thing, too, because oats deserve a place in the super healthy and delicious food pantheon.
Oats contain a special kind of fiber, called beta glucans, which has been proven to reduce cholesterol. In fact, the amount of fiber in a typical bowl of oatmeal lowers cholesterol 8-23%.  They are also credited with reducing the risk of heart disease, in part because of the fiber, but also because of the antioxidants. The one two punch of fiber that removes cholesterol and phenolic compounds that keep it from oxidizing is potent medicine. This heart-protecting effect is even stronger in older women.
Beta Glucans are also known to enhance your immune system to fight bacterial infection, and to prevent breast cancer. The whole grain goodness of oats also stabilizes blood sugar and is associated with lower rates of Type 2 Diabetes.
Whew! We knew oats were healthy food, but the Oat is really about as super as it gets.
Luckily, Oats are delicious. Sweet and mild tasting, the oat is most commonly eaten in rolled form. Rolled oats are whole oat groats that have been steamed and flattened, in varying thicknesses. Steel-Cut or Scotch Oats are groats that have been chopped.
Whole oat groats are not as easy to find as the rolled and chopped kinds, but worth seeking out. For gluten avoiders, whole groats are usually a safe bet- if there were any foreign grains in there, it would be obvious. While a few very sensitive celiacs cross react to the proteins in oats, most do not.
That makes freshly milled oat flour a great gluten-free ingredient. The mild, pale flour has no beany or bitter tastes, but boasts a great whole grain nutrition profile. It's easy to grind rolled oats to make flour, but the maximum antioxidant level will be in just-ground whole oats.
So I ground some!
I used the pastry setting, for a wonderfully fluffy, fine flour.
I love it when I can make a delicious, moist muffin, all with clean, healthy ingredients. Flax seeds replace eggs in this vegan muffin, adding some great Omega 3's. A generous scoop of peanut butter boosts protein, and fiber, and also makes them filling and satisfying. Whole coconut sugar is a great source of trace minerals and nutrients, as well as sweetness.
Peanut Butter and Banana Muffins with Cherries and Fresh Oat Flour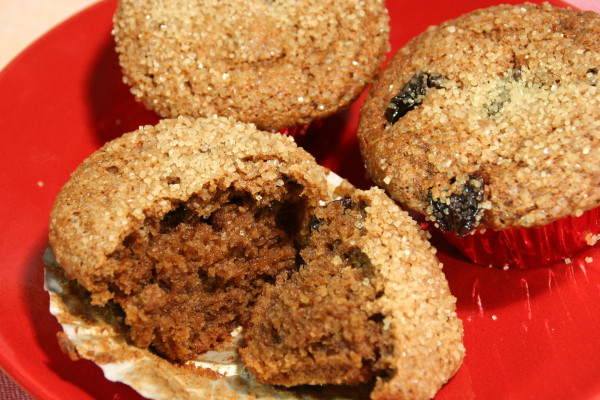 Gluten free, Vegan and Whole Grain Muffins
Ingredients
1 cup freshly milled oat flour (pastry setting)
½ teaspoon guar gum
1 teaspoon baking powder
½ teaspoon baking soda
¼ teaspoon salt
2 medium ripe bananas
¾ cup coconut or palm sugar
½ cup crunchy peanut butter
2 tablespoons canola oil
½ teaspoon vanilla
¼ cup non-dairy milk ( I used soymilk)
1 tablespoon finely ground flax seeds
½ cup dried cherries
9 teaspoons turbinado sugar
Instructions
Preheat the oven to 350 F. Line 9 cups of a muffin pan with muffin papers. Lightly oil the top of the pan so the muffin tops won't stick.
In a large bowl, whisk the oat flour, guar gum, baking powder, baking soda, and salt. In a food processor or blender, puree the bananas, then add the palm sugar, peanut butter, oil, and vanilla and process. Stir the ground flax into the milk and let stand for a minute, then add to the banana mixture and process until well-mixed.
Stir the banana mixture into the flour mixture, and when well mixed, stir vigorously for a minute to activate the guar gum. Stir in the cherries.
Scoop ⅓ cup portions into the prepared muffin cups. Sprinkle a teaspoon of turbinado sugar on top of each muffin. Bake for 30-35 minutes. The tops will be golden brown and a toothpick inserted in the center of a muffin will not have gooey batter clinging to it.
Cool completely on racks-if you cut into them while still hot they will be smashed.