Light Wheat Banana Bread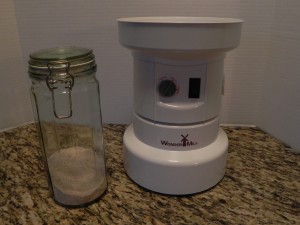 Author:
Cynthia Landrie @ FeedingBig.com
A healthier version of your typical banana bread.
Ingredients
2 cups wheat flour
1 cup white flour
1 tsp salt
1 tsp baking soda
3 eggs
1 cup white sugar
1 cup brown sugar (packed)
½ cup vegetable oil
6 bananas (mashed)
1 cup milk (I use skim)
Instructions
Pre-heat oven to 350 degrees.
Grease 2 loaf pans.
Place both flours, baking powder, salt and baking soda in a large bowl. Whisk to mix.
In another bowl, mix sugars, oil and milk.
Mix the two ingredients together, add bananas and blend until just combined.
Pour batter into 2 well greased loaf pans.
Bake at 350 for 45 to 50 minutes.
Cool on rack for 10 - 15 minutes while in loaf pan.
Remove from loaf pan and continue to cool.
I decided to add a few chocolate chips to the bread this time!  They were fantastic!  I don't think I will always add chocolate chips, but it was a nice change.