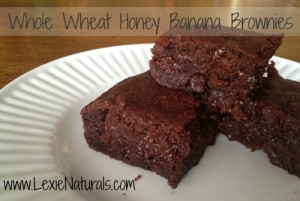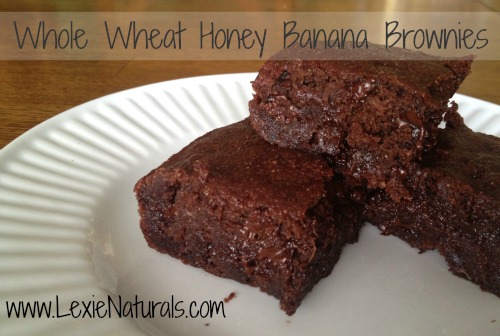 I recently volunteered to provide brownies for a community gathering we host in our home each week.  I had several ripe bananas that needed to be used, and the only form of sugar I had in the house was honey.  Since I wasn't leaving the house and needed to use ingredients I already had on hand, I decided to go for it.  I searched and searched for a brownie recipe that had both bananas and honey – I failed.  So, I did what anyone would do: I threw some stuff together and hoped it worked!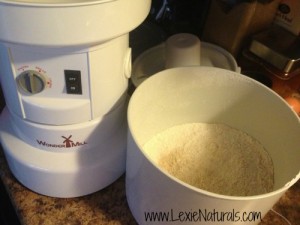 Thankfully, they turned out marvelous.  They were gooey, chocolatey, and sweet.  I would suggest that you mention to any guests that they have bananas in them.  Some of our guests who don't like bananas were quite surprised (not to mention some people have a banana allergy).  You may want to add the lesser amount of chocolate chips if you don't like super sweet brownies.  Other than that, I'd follow this recipe exactly as written.

Honey Banana Brownies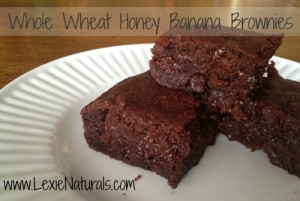 Author:
Lexie @ Lexie:Naturals
Ingredients
2 cups freshly milled flour (I use hard white wheat)
¾ cup unsweetened cocoa powder
1 teaspoon baking powder
⅛ teaspoon (pinch) real salt
1½ cups local honey
1 cup mashed bananas (2-3 depending on size)
1 teaspoon homemade vanilla extract
¼ cup coconut oil
⅛ cup milk (or dairy free alternative)
¾-1 cup semisweet chocolate chips
Instructions
Preheat oven to 350 degrees F.
In a medium bowl combine the flour, cocoa powder, baking powder, and salt.
In a separate bowl combine the honey, mashed bananas, vanilla extract, coconut oil and milk.
Pour the liquid ingredients into the dry ingredients and stir until well incorporated.
Gently fold in the chocolate chips.
Pour into a greased 9X13 inch pan and bake at 350 degrees F for 25-30 minutes or until desired doneness is reached.
*I have included affiliate links in this post.  This means if you purchase something through one of these links I will earn a small percentage at no extra cost to you.