This recipe was developed by one of our long-time and well loved customers when she had cancer.  She has since passed on, but her recipe remains with us.  Her motivation in developing this recipe stemmed from a love of Oreos and the desire to eliminate (or at least greatly reduce) the amount of processed and refined foods in her diet to help promote her healing.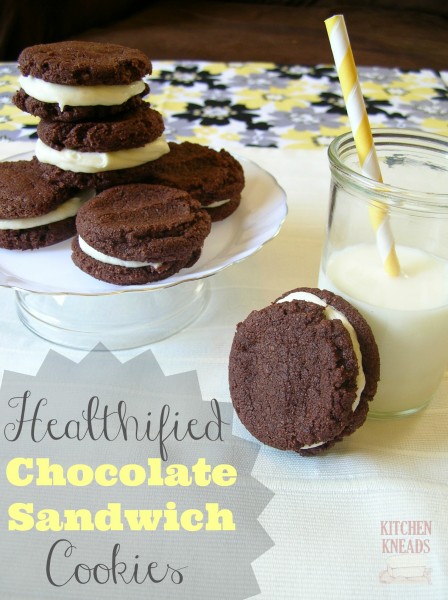 The mixed grains flour in this recipe can really be any mixture of grains you want, ground in your WonderMill.  We have a mixture called Bruce's Cereal which consists of six grains: oats, barley, rye, brown rice, millet, and buckwheat.
This grain blend is delicious, but because it doesn't contain any wheat, it has very little gluten.  This will result in a crumbly cookie.  That's not necessarily a bad thing, but if you want a cookie with a little more durability, add in some wheat or spelt.  70/30 is the standard ratio.  70% glutenous grain to 30% non-glutenous grain.  So, if you're grinding one cup of grain, make about 3/4 of a cup wheat and the other 1/4 cup can be whatever you want.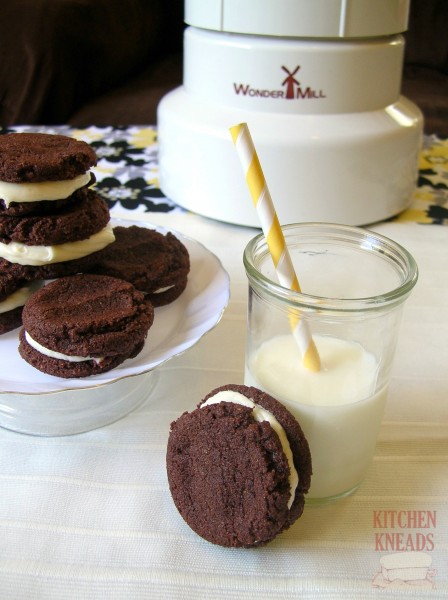 You'll notice that we've added a minty option to these cookies using peppermint emulsion.  What's an emulsion, you ask?  It's the type of flavoring used by the professionals and in bakeries.  It's a water-based flavoring and unlike extracts there's no alcohol.  What this means is all the flavor stays put.  With extracts, the alcohol evaporates and takes with it some of the flavor.  Don't be afraid to try other flavors that pair well with chocolate.  Like orange or almond.

Healthified Chocolate Sandwich Cookies
Ingredients
Cookies
⅓ cup coconut oil
1⅔ cups dried cane sugar
2 eggs
2 tsp peppermint emulsion (optional)
2½ cups mixed grain flour
1 tsp real salt
½ cup dark cocoa powder
Filling
½ cup butter
4 oz cream cheese
2 cups powdered sugar
½ tsp vanilla extract
Instructions
Cookies
Cream coconut oil and sugar.
Add eggs and optional emulsion. Blend well.
Add remaining ingredients; mix well.
Shape into quarter-sized balls and gently smash into disks.
Bake at 350 F for 8 minutes.
Filling
Combine all the filling ingredients.
Spread on the bottom of one cookie and top with another cookie. Repeat until all the cookies are assembled.