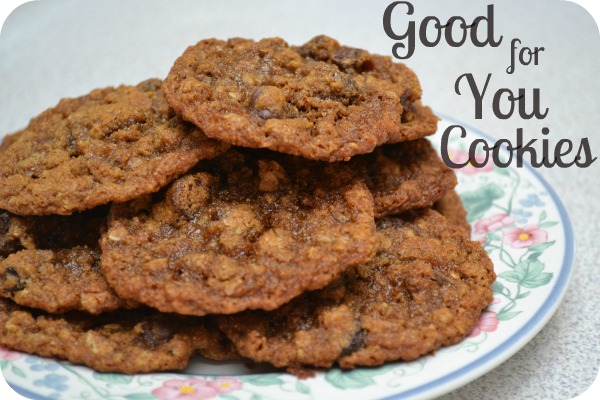 "Good-for-You" being a relative term, of course, these babies still have more health benefits to boast about than your average cookie.
Made with 100% whole wheat flour, oats and blackstrap molasses, you're getting fiber, vitamins, and minerals that you will never see in the average chocolate chip cookie.
One of my favorite things about this cookie is the inclusion of blackstrap molasses. Did you know that just one tablespoon of blackstrap contains 13% of your "daily value" of iron?
Iron is especially important for me during my pregnancies, as I tend to become anemic towards the third trimester, and it is essential that I find ways to incorporate it into my diet.
Let me think about this…another huge plate of spinach or a chocolate chip cookie?
Not a difficult decision.
(Don't get me wrong, I love a huge plate of spinach now and then, too, but using cookies to get your daily iron sure is a nice change, wouldn't you say?)

Ingredients:
1 cup butter
1 cup white sugar
1 cup brown sugar
2 eggs
3 T molasses (preferably blackstrap)
2 cups whole wheat flour (preferably fresh-ground soft white wheat)
2 tsp cinnamon
2 tsp nutmeg
1 1/2 tsp baking soda
2 cups quick oats
2/3 cup raisins
1 cup chocolate chips
1 cup nuts (optional)
I use my Bosch mixer to whip out huge batches of this dough, and then I freeze most of it to bake up later.
Directions:
Cream together butter, sugars, eggs, and molasses in a large bowl or electric mixer.
Add flour, cinnamon, nutmeg, baking soda and mix well.
Stir in quick oats, raisins, chocolate chips, and nuts (optional.)
Drop by rounded spoonfuls onto an ungreased cookie sheet (refrigerating the dough for an hour or two will make this easier, but is not required)
Bake at 350 degrees for 8-11 minutes. Do not overbake.