This recipe was born on a night when I was STARVING for Pizza. Not just any pizza, the fancy kind, with fresh ground wheat homemade crust.  Easy as a pizza pie, thanks to WonderMill Junior hand-mill!
  I also happened to have picked up at the store, a steak and some Arugula, so I KNEW it was meant to be.  
  We made Steak & Arugula Pizza with a Balsamic Reduction.  Long name, amazing taste!  TRUST ME. 
  I shared a photo on facebook and whined the name was too long and boring, so one of our facebook friends said we should call it Pizza El Forno!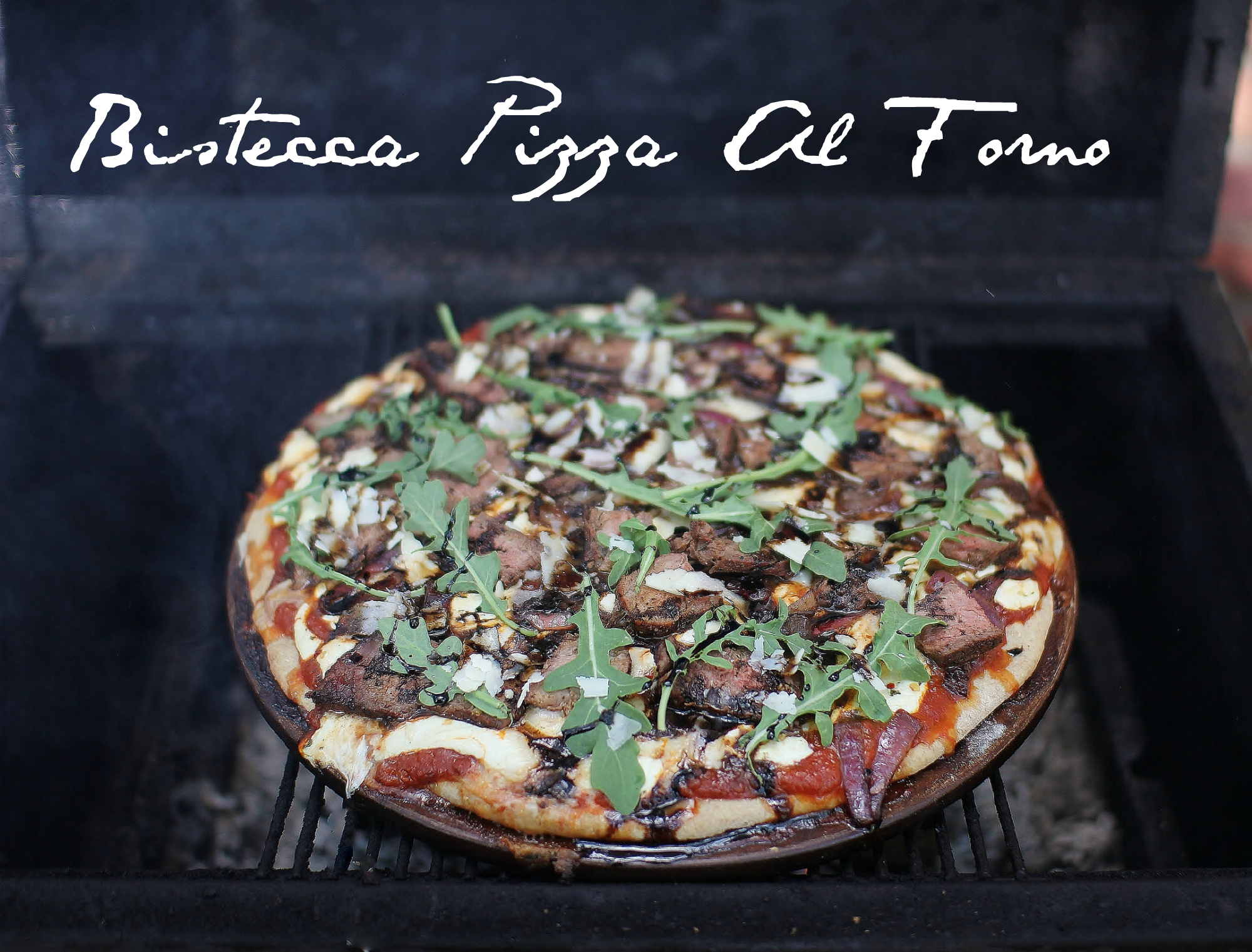 I love that!!! Sounds hot, delicious and FANCY! 🙂
  Bistecca is Italian for Steak, and Al Forno means cooked in a pizza oven, or open flame grill.  I don't have a pizza oven, YET, but we do have a smoker grill, so that will have to do for now.
Bistecca Pizza Al Forno
Bistecca is the Italian word for steak. Al forno means you cooked it in a pizza oven or open-flame grill. This pizza is otherwise known as Grilled Steak & Arugula Pizza with Balsamic Reduction. I don't have my pizza oven yet, so the wood smoker grill did the trick!
Ingredients
1 package Pizza Yeast, 0.25 Ounce Packet
Additional Required Ingredients Listed On The Yeast Packet (typically Flour, Salt, Sugar And Oil)
Cornmeal, For Sprinkling Under Dough
1 Tablespoon Butter
2 whole Red Onions, Sliced Thin
2 pounds Flank Steak
16 ounces, weight Marinara Sauce
2 Tablespoons A1 Cracked Pepper Steak Sauce
12 ounces, weight Fresh Mozzarella, Sliced
¾ cups Balsamic Vinegar
1 cup Arugula
½ cups Shaved Parmesan Cheese
Salt And Pepper, to taste
Olive Oil, For Greasing
Instructions
Following the yeast packet instructions, make pizza dough, then roll it out into a circle shape on a lightly floured surface, thickness as desired for your pizza. Sprinkle the counter surface with cornmeal and press dough onto it, to help make a barrier for the grill process.
Heat a large skillet over medium heat and melt the butter. Add the onions and saute onions in the butter unto softened to your liking. Then keep them on very low heat until they are used.
Prepare a wood burning or pellet grill to a nice medium heat. Season steak as desired. Once grill is hot add the steak and cook steak over indirect heat until it reaches 140°F, or medium, flipping often for a nice juicy slow cooked steak. Remove steak from the grill to a platter, cover with a sheet of foil and take it inside to slice later, keeping warm until slice time.
Grab some tongs, olive oil and your pizza dough and head back out to the grill. Oil the grill grates well with a paper towel doused in olive oil (use tongs to hold it as you wipe oil onto the hot grates) before sliding dough on the grill and closing lid.
Bake for 1-2 minutes, or until nicely golden on the bottom. Remember, we will put the pizza back on the grill, so do not over bake the crust, it gets more bake time later. Remove pizza crust from grill, close the lid to maintain heat, and head back inside.
Slather the cooked side of the par baked crust with pizza/marinara sauce. Drizzle the A-1 steak sauce over it. Add the sliced fresh mozzarella over the sauce layer. Take it back out to the grill and cook for 5-7 minutes, or until cheese is nicely melted and crust is golden brown. Remove pizza from oven and take it inside.
In a small saucepan, bring balsamic vinegar to a low boil, and allow it to cook down until thick and syrup-like, about 8-10 minutes. While that cooks, thinly slice steak (make sure to slice across the grain), place it all over the pizza and top with sauteed onions.
Decorate pizza with whole arugula leaves, and shaved Parmesan to taste. Drizzle with hot balsamic reduction before serving.
Enjoy your gourmet pizza!
You are NOT going to believe you just made this yourself!!!! Tastes gourmet ALL THE WAY…..
Enjoy!
~Tonya from 4 little Fergusons