Strawberry season is a favorite of ours.  It's rare that I can make it home from the grocery store with an untouched carton of strawberries.
I guess it could be worse.
It's not often that I end up with enough strawberries to make anything with.  But when I can, these muffins are close to the top of my list!  They're perfect for breakfast, and since they don't have a whole lot of sugar, I don't feel guilty about it.  Slice them in half, and spread with a little bit of cream cheese, for a Strawberries and Cream vibe.  Yum!
Whole Wheat Strawberry Muffins also pack well, making them perfect for taking on your next picnic or vacation.
Here's what you need:
3/4 cup expeller pressed coconut oil
1 ½ cups milk
3 eggs
1 ½ tsp salt
2 Tbsp baking powder
1 ½ cups sugar
5 ¼ cups fresh ground soft white flour
3 cups chopped strawberries
2 tsp vanilla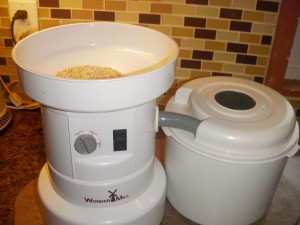 Grind your flour,  using soft white wheat berries on the pastry setting.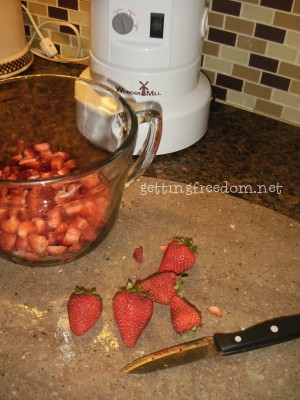 While you are grinding your flour, you can start chopping up your strawberries.  I start by cutting the strawberry in half, laying it down flat and then slicing.  Once they're sliced up, I dice them up.
Combine milk, coconut oil, vanilla and eggs in a mixer and beat lightly.
In a separate bowl, add the dry ingredients: Flour, salt, baking powder, and sugar.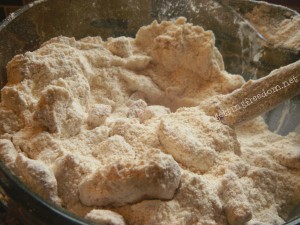 Toss in the strawberries and coat them with flour.  This will help them to not all sink to the bottom of your muffins.
Add the flour mixture to your mixer and combine with the milk mixture.
Line muffin pan with liners, or butter and flour the individual muffin cups. Fill roughly 3/4 of the way full with batter.
Bake at 375° for 25 minutes.  Let cool completely.