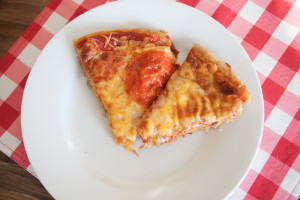 I was so excited when I received my WonderMill grain mill in the mail and could not wait to get started on the grain mill challenge! What a wonderful opportunity to receive a grain mill in exchange for sharing my recipes with you! My first recipe to try was whole wheat pizza dough. We love pizza in our home and often find it to be a perfect Friday night meal to serve. I love knowing that my pizza is healthy, thanks to the fresh ground flour I was able to make with my WonderMill. No processed ingredients here! I used soft white wheat berries for a light texture. The recipe was simple and the pizza was delicious. I'll certainly be making it again!
I N G R E D I E N T S :
For the dough:
1 cup water, heated to 110 degrees F.
1 Tbsp. honey (you can use sugar if you would rather)
1 Tbsp. olive oil
1 envelope ( or 2 1/4 tsp) rapid-rise or instant yeast
2 3/4 cup fresh ground soft white wheat flour
1 tsp. sea salt
Optional 1/4 cup grated parmesan cheese
Sauce:
1 15-ounce can of tomato sauce.
1 clove garlic or 1/4 tsp. garlic powder
1 Tbsp. Parmesan cheese
Lightly sprinkle with Basil, oregano or Italian seasoning
(Heat sauce and combine other ingredients with it. Simmer for a couple of minutes before adding to pizza).
Toppings:
Freshly grated mozzarella cheese topped with pepperoni, or any other desired ingredient.
D I R E C T I O N S :
Grind wheat into flour.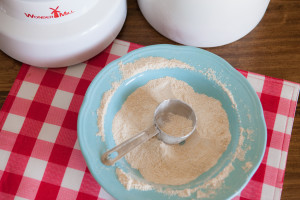 Preheat oven to 500 degrees F with rack in the upper position.
Whisk water, honey or sugar, oil and yeast in a measuring cup or small bowl-I used the bowl from my Kitchenaid stand mixer. Allow yeast to proof for 5 minutes; it should be puffy in appearance.
Mix flour and salt, and parmesan cheese if using, in a bowl until combined. Add the flour mixture to the water, honey and yeast mixture in the stand mixer, and knead with the dough hook for a couple of minutes,  until a ball forms. You may also knead by hand for a couple of minutes until it comes together.
Cover bowl loosely and allow dough to rise for one hour.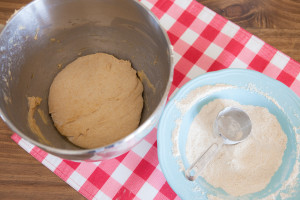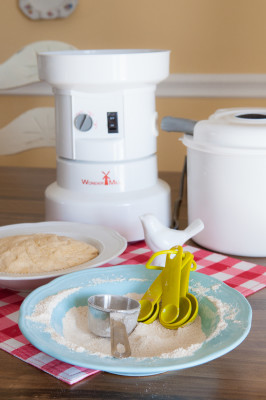 Halve the dough. If you do not want to make 2 pizzas, you may freeze the other half.
On a floured surface, use a rolling pin to roll dough into either one or two 11-inch rounds, depending on how many pizzas you are making. Transfer dough to a lightly greased baking pan or pizza dish.
Brush the outer inch of the dough with a light coating of olive oil. Top dough with sauce, cheese and other desired toppings.
Bake on the top rack until the crust and cheese are lightly golden, rotating halfway if baking two pizzas at once. Bake for about 10 minutes for cheese pizza and 12 minutes for pizza with additional toppings.