I don't mean to mislead you when I say Whole Wheat Pizza Dough Recipe because even though this recipe uses freshly ground whole white wheat flour, I mix it with all-purpose flour. The reason I use a mixture of flours is because I like the pizza crust texture better when my dough uses both flours. It works better for me, so that is how I do it. Anytime I can substitute even a little bit of healthy wheat flour for regular flour makes me feel good.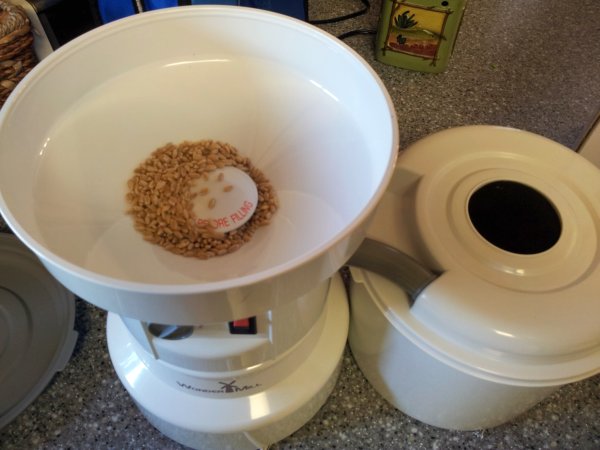 Once again it is time to use my Wonder Mill grain mill to grind my whole white wheat into fresh flour. It takes just a few minutes from start to finish. I put the grain into the mill (pictured above, left) and it fills the container on the right with fresh whole white wheat flour.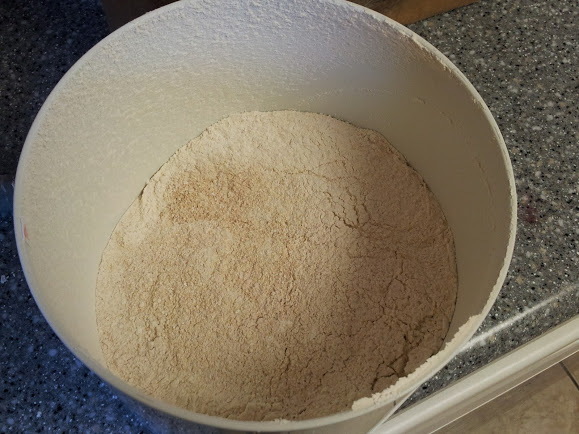 My family loves homemade pizza and we have tried many pizza dough recipes. This is one of our favorites that I changed around a little bit so I could mix whole white wheat flour with all-purpose flour. You could mix it all by hand or go my personal favorite route and use the Dough setting on your bread machine. It's much easier that way!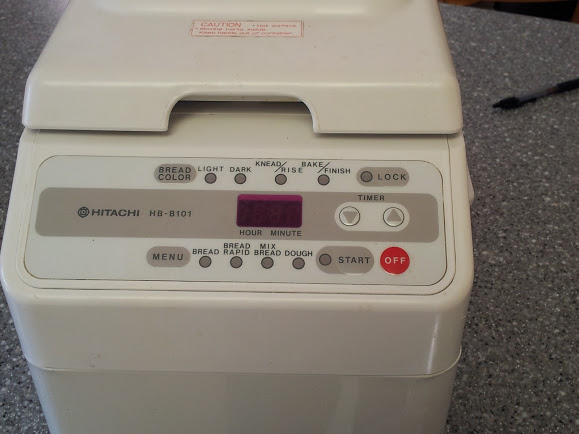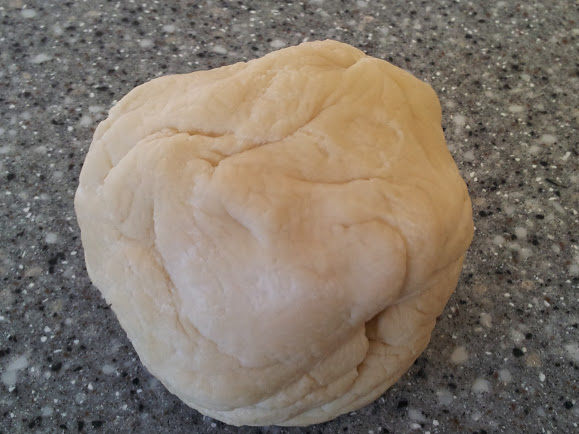 Whole White Wheat Pizza Dough Recipe
(Makes enough dough for 2-3 thin crust pizzas about 12 inches around)
Ingredients:
1 1/2 c warm water
2 c whole white wheat flour
2 c all purpose flour
1/2 t salt
2 T olive oil
1 1/2 T yeast
Directions:
1. Combine all ingredients in your bread machine and set it to "Dough" cycle. My dough cycle takes about 1 hour and 40 minutes.
2. Once you are ready to prepare your pizza, preheat oven to 420 degrees. Divide the dough into 2-3 portions and flatten it out onto a lightly greased cookie sheet or pizza stone. Add your pizza sauce and toppings and bake each pizza for about 20 minutes or until thoroughly cooked.
Tip: Spread a couple of teaspoons of cornmeal on your cookie sheet or pizza stone to help keep the dough from sticking.

Homemade pizza is easy to make and a fun way to spend time in the kitchen with your family. Do you like this recipe for whole wheat pizza dough? Be sure to click Like and share it with your friends using the social media buttons below.