Bagels. Oh, there is something about that chewy bread that I love so much!  But after seeing the ingredient list on the store bought bagels, I knew that I didn't really didn't want to feed them to my family anymore.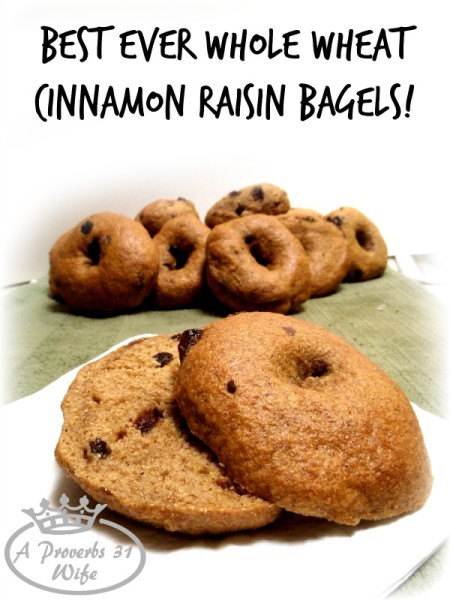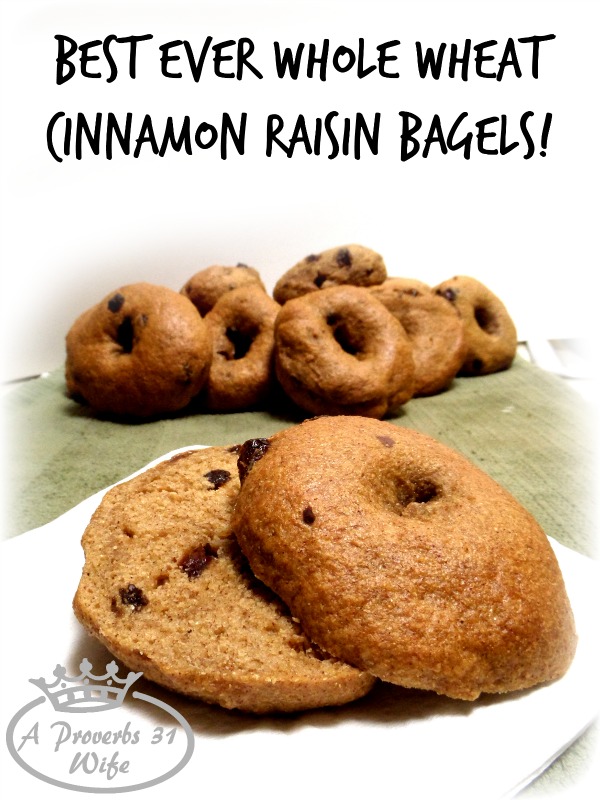 I decided to try and make bagels from my regular bread recipe. I definitely had to make a few tweaks to it, and learned that if I wanted a sweeter bagel I would have to use some sugar.  Too much honey made for a super sticky dough!
Of course, like any good bread at our house, I start out with wheat berries that are freshly ground. Any flour that I have left over after grinding goes into a container in the freezer. (Fresh ground flour has all the amazing stuff still in it, with no preservatives. It oxidizes fast, and goes a bit stale if you leave it in your cupboard.)
Once all the ingredients are mixed in, I let my mixer  knead the dough for 15 minutes or so. It's easy to look at the dough once all the flour is mixed in and worry that you didn't do something right.
No worries, the dough will be a little sticky yes. But as long as it's pulled away from the sides like in the photo below, it will be fine. Please note, it usually takes about 5-7 minutes of kneading for the sides of the bowl to look this clean.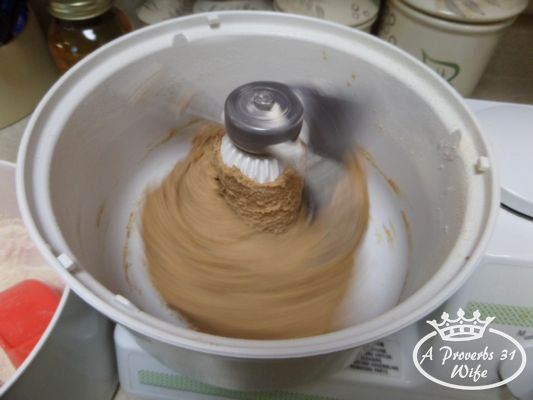 After kneading the dough I leave it in the mixing bowl and stick it in a warm place to raise for an hour, or until dough has doubled in size.
I grease my counter top really well, and use the palm of my hands to smear it around. Then I dump out the dough, work it around a little, and the roll it into a long log.  For larger bagels I cut the dough into 12 slices, for smaller bagels, I cut it into 16 slices.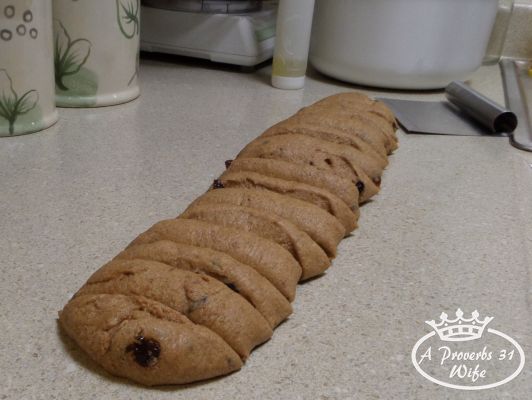 Each slice gets worked into a smooth ball and then I use my fingers to create a hole in the center.  I let my formed doughnuts sit for at least 5 minutes before boiling them.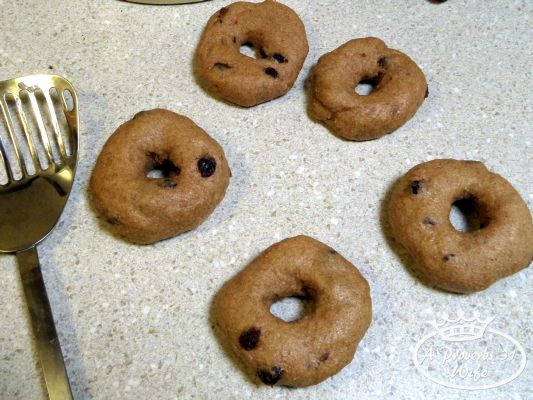 Hard boiling water is not the best for bagels. I've found that keeping the dial turned to Med/Hi works the best. A slow boil that doesn't stop when you add the bagels is what you want.
Putting only 3 bagels in the pan at a time, I boil them for 3-4 minutes. At the halfway point, I quickly flip the bagels over. Once the time is up, I gently remove them from the water and place them on a couple paper towels to drain.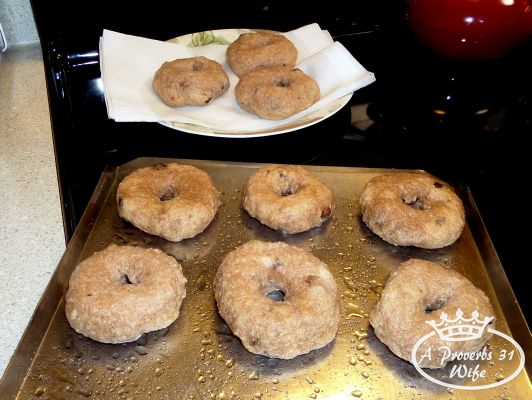 Then on to a greased cookie sheet they go and into the oven on 350 for 30 minutes. You want the tops to be looking a pretty brown, and they need to feel dry and somewhat firm.
I do think that making bagels can have a bit of a learning curve. The more I make them the better they get and the easier it becomes. Not counting raising and baking time, I actually made these in less than 45 minutes the other night!

Whole Wheat Cinnamon Raisin Bagels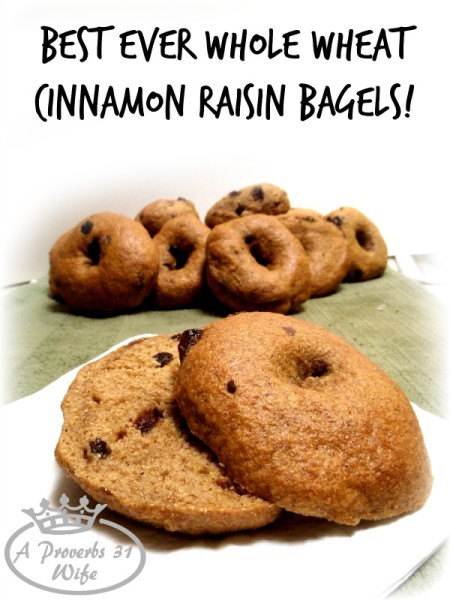 These delicious bagels are made with 100% whole grains, making them not only a great tasting treat, but also a healthy one!
Ingredients
1½ cups milk warmed to 110 degrees
¾ cup honey
1 tablespoon yeast


1 egg
2 tsp salt
¼ cup butter
2 tablespoons Cinnamon
½ to 1 cup of raisins
Approximately 5 cups of flour
Instructions
Stir warm milk and honey together, and add in the yeast. Let sit for 5-7 minutes and then add in the rest of the ingredients except for the flour, mix well.
Add 3 cups of flour and mix well, slowly add the remaining two cups. Weather and altitude can affect your dough, so you may need to adjust the amount of flour slightly. However, this is a very sticky dough at first, so be careful that you don't add too much flour and end up with tough bagels.
Once flour is added, knead the dough for 10-15 minutes. I use my mixer to do this.
Allow dough to raise in a warm spot for an hour.
Generously oil your workspace and hands before dumping dough out. Work dough over and knead it down again. Roll dough into a long log and slice into 12-16 slices.
Work each slice into a smooth dough ball and then use your fingers to work a hole into them. Let formed bagels sit for a few minutes.
Add no more than 3 bagels at a time to a large pan of gently boiling water.
Allow bagels to boil for 3-4 minutes, turning them over halfway through.
Remove from pan and place on a towel or paper towels for a few minutes. Then place them on a greased cookie sheet and bake at 350 for 30 minutes.