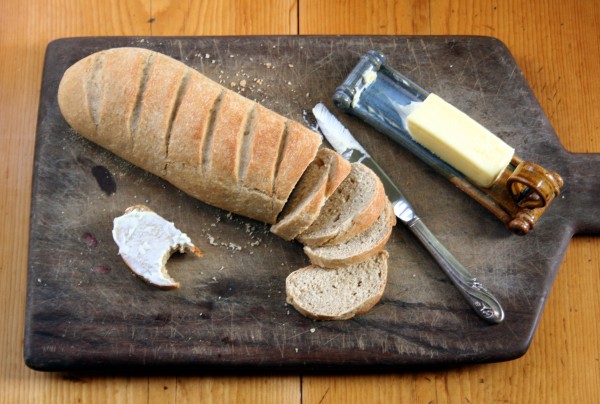 This is my perfect every day bread.
I ran a little blog hop with a couple friends for a year called the Eat Make Grow Blog Hop.  This recipe was submitted and I was intrigued by the idea of such a quick bread recipe. Quick bread, not as in baking soda but as in it only takes an hour and fifteen minutes to make.  It's true that includes the time to mix, kneed, rise and bake.   Before this two and half to three hours is what it took for me to make bread.  After making this recipe just one time I knew I would abandon my previous favorite recipe.
The trick is that you put the dough into a cold oven and it gets the second rise during preheating.  Also there is a generous amount of yeast.  The first time I made this recipe I was worried the bread would be too yeasty and not have good flavor.  But it doesn't.  It's perfect.
This bread is delicious; soft, but sturdy enough to hold up as sandwich bread  or as a bread bowl.  It has a nice crust that is golden brown and chewy but not as tough as say a French baguette.  And like any good bread recipe it only has five ingredients: flour, water, sugar, salt, and yeast.
This recipe is versatile.  You can make two long baguettes or two round loaves or twelve hamburger buns or twelve hot dog buns or nine bread bowls or twelve dinner rolls or a combination of any of those.  For our small family of two adults and a one year old I usually make two loaves; one for dinner and  the second for lunch and breakfast the next day.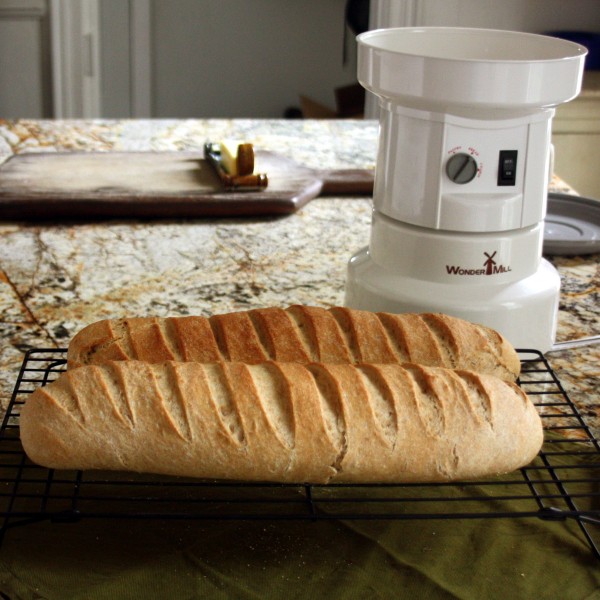 I have made this recipe both with store bought milled flour (half white and half wheat) and with all fresh milled.  Both turn out, but the fresh milled is better.  It has a more delicate crumb and it is much better the second day and is still good on the third.  The WonderMill is perfect for milling just enough flour for a loaf.
Every Day Bread
4 (+ up to a 1/2 cup for kneading) cups flour

1 tablespoon active dry yeast

1 tablespoon salt

2 tablespoons sugar

2 cups warm water
Corn meal or flour for dusting the bottom of the baking pan
Start by milling your flour in your WonderMill.  You will need to grind about 3 1/2 cups of wheat berries to yield 4 1/2 cups of flour.  It might be more or less depending on your berry.
 In a large mixing bowl combine the flour, yeast, salt and sugar.
Use a wooden spoon to make a well in the flour mixture.  Add two cups of warm water.
Mix with the spoon until the dough begins to ball and mixing is difficult.  Turn the dough out onto a lightly floured surface and knead for 100 strokes.
Put the dough ball back into the bowl and let rest covered with a towel for 30 minutes.  When the weather is over 70 I let the dough rise on the counter.  In the winter, I put it in the unheated oven with the light on and the little bit of warmth from the light helps the yeast rise.
Shape the dough into two loaves or 12 buns or whatever you need for the day.

Here is my oven (and the mess my one year old created while exploring the recycling) . You can see the tray with water is on the bottom rack and the dough is on the second.

Fill a tray (I use an old cookie sheet) with about 2 cups of water and put it on the lower rack in the oven. As the bread bakes this will make steam and keep the crust from forming quickly so the bread will have longer to rise.
Sprinkle corn meal on your baking tray, place the shaped bread on top. Keep in mind the dough will expand as it rises and leave space between.

Wet your hands and rub water on the top of the dough.  This is also to help keep the crust from forming.  If desired you can also use a knife to cut slits into the top of the bread.  For large loaves this will give room for the bread to expand as it bakes.

Put the dough into the unheated oven and then turn it on to 400 degrees and bake for 25-35 minutes.

In my electric oven it will take about 20 minutes to reach temperature.  If you have a gas oven it may heat more quickly and you will need less bake time.

The bread will bake up into beautiful loaves.  If you are cooking buns or smaller loaves baking will take less time than larger loaves. The bread will be done when it is golden brown.  Remove from the oven and take it off the baking sheet.  Allow to cool on a wire rack for at least 5 minutes before slicing.