Cookies are one of those amazing little things in life that can totally change your mood with one bite.  Quite possibly the perfect mix of simple ingredients to make something extraordinary.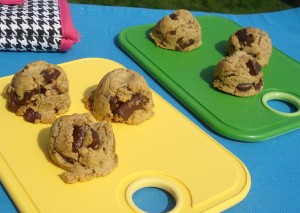 Yes, I like cookies.  No, I LOVE cookies.
So, like many other things when trying to eat a healthy low cholesterol diet, standard chocolate chip recipes need some modification.
The Wondermill Electric Grain Mill Challenge was the perfect opportunity for me to recreate one of my favorite recipes.  For a recipe like this, I prefer an oat flour to a whole wheat.  I just think it is a warmer, fuzzy cookie feeling if you know what I mean!
I have made these cookies a few times now and each time they do not last long.  Vegans and Non-Vegans alike will love them so make sure you hide a few for yourself!

Vegan Chocolate Chip Cookies Grain Mill Wagon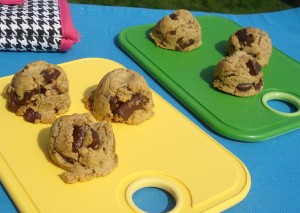 Author:
Busy Vegetarian Mom
A healthy vegan version of a classic chocolate chip cookie
Ingredients
⅔ Cup Vegan Butter-Room Temperature
½ Cup Stevia
¼ Splenda Brown Sugar
1½ tsp NRG Egg Replacer plus 2 TBSP Water (let sit 2 minutes)
3½ Cups Freshly Milled Oat Flour
½ tsp Baking Soda
½ Bag Vegan Chocolate Chips
Instructions
Mix first 4 ingredients together in a bowl.
Mix flour and baking soda together in a second bowl.
Slowly fold wet mixture into dry mix.
Stir in chocolate chips
Place rounded TBSP of cookie dough on baking sheet
Bake at 375 degrees for 8-10 minutes
*These cookies do not rise/flatten during cooking. They will stay in scooped shape.  You may flatten with a fork or glass if you prefer a flatter cookie.