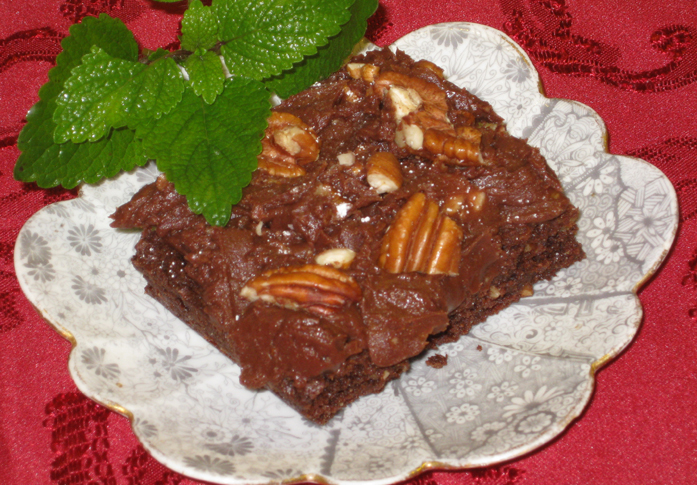 We should not feel guilty for eating brownies.  It is not our fault–moist, chocolatey, nutty, and those chewy edges! You can only fight temptation so far.
I grew up baking and eating brownies from a box.  My problem was I didn't like the "chewy" brownies, and I didn't like "cake-like" brownies.  One brand had the recipe for both on the back of their box.  When I was about 12, I discovered that if I made a double recipe using two boxes of mix and made them using both the chewy and cake-like directions, they turned out fine.  Those brownies have not been available for many years, but I have learned to make wonderful brownies from fresh-ground 100% grain that are rich, chocolatey, and have balanced taste and texture.  Most of the recipes I have tried for homemade brownies are too chewy or too cake-like. This recipe is just right!
Notes
These brownies are even better the day after you bake them.  An extra day improves the texture allowing the bran in the whole grain to absorb into the other ingredients.
You can use white sugar instead of the brown sugar, but the whole grains taste great with the extra depth of flavor the brown sugar provides.
The cinnamon is optional, but adds an interesting note that is not strong.  I like the flavor of cinnamon in hot chocolate, so chose to add it to the brownies and icing.
Parchment paper makes removing the brownies from the pan very easy, but is not necessary.
If you substitute vegetable oil for the butter, the brownies will taste oily. If you use salted butter, cut the salt from one teaspoon to a half teaspoon.
After you melt the butter and add the sugar, reheat it again to start dissolving the sugar.  This results in the shiny, thin layer on top of the brownies that most people like.
You may stir these ingredients by hand or use a mixer.
If you wish to keep the chocolate chips from melting into the batter, let the batter cool about 20 minutes prior to adding the chips.  I didn't have enough semi-sweet chocolate chips for this recipe (gremlins must have eaten some!), so I added some cut-up unsweetened chocolate with them which worked fine.
Use whatever nuts you and your family like, or leave them out. I had a package of opened pecans, so that is what I used.
I ground an equal amount of soft white wheat and spelt for the flour.  I plan on experimenting with combinations including fresh-ground oat flour, brown rice, and barley.
The length of baking time will vary based on your oven.  Watch the brownies closely starting at about 28 minutes.  The dough should be set, but moist.  Use a toothpick or cake tester.  It took 35 minutes for my brownies to get done.
There are many variations you can use when making these brownies.  I have listed some, but get creative and make them your own…You can always say, "The devil made me do it!"
Brownies
adapted from "Tasting is Believing Whole-Grain Brownies," King Arthur Flour.
2 sticks (227g) unsalted butter
2 cups (425g) brown sugar (or white)
3/4 cup  (64g) dry cocoa powder
1 teaspoon salt
1/2 teaspoon ground cinnamon (optional)
1 teaspoon baking powder
1 teaspoon instant coffee or espresso powder
1 tablespoon vanilla extract
4 large eggs
1 1/2 cups (177g) total, fresh-ground soft white wheat and spelt flour, equal proportions
2 cups (340g) semi-sweet or bittersweet chocolate chips
1 cup chopped nuts (optional)
Brownie Frosting (recipe below) (optional)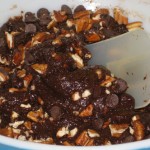 Preheat oven to 350°. Butter 9 x 13 pan or line with parchment paper.
In microwave or stove top, melt the butter then add the sugar and stir.  Reheat to dissolve sugar, but do not let bubble.
Pour butter and sugar mixture in a large mixing bowl adding cocoa, salt, cinnamon, baking powder, coffee powder, and vanilla.
Stir in eggs until mixture is smooth.
Add flour, chips, and nuts stirring until smooth.
Bake brownies for about 30 minutes until the dough becomes set, but still moist. Use a sharp knife or toothpick to test.
Remove from the oven and let cool. When cool, frost the brownies or dust with powdered sugar.
 Brownie Frosting
adapted from Whole Grain Comfort Foods, Cooking with Chef Brad, by Brad E. Petersen, ©2007.
4 oz cream cheese
1/2 stick butter (1/4 c)
4 oz semi-sweet chocolate chips
2 teaspoons vanilla extract
2 teaspoons instant coffee
1/2 teaspoon cinnamon (optional)
1 c chopped nuts (optional)
1/2 lb powdered sugar
Melt butter and chocolate chips in microwave and stir together.  Blend cream cheese, vanilla, coffee, and cinnamon into butter and chocolate mixture using mixer or food processor until smooth.  Add and blend powdered sugar then the chopped nuts. Spread on brownies.