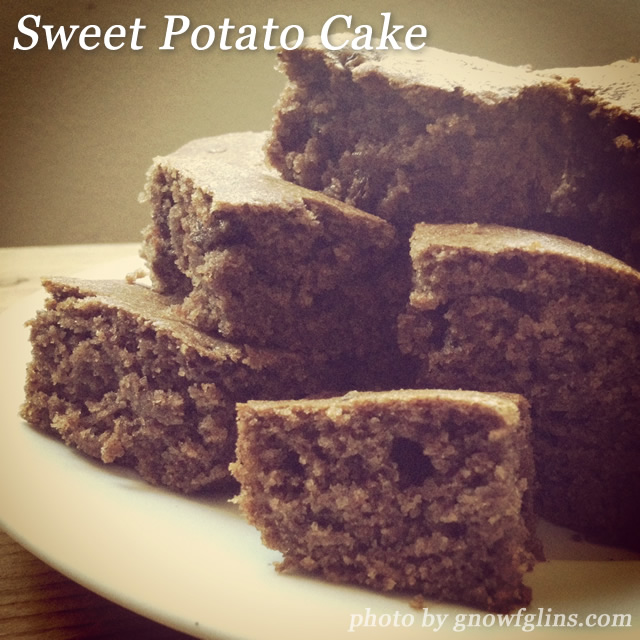 Fall spices and sweet potatoes… a great combination! When I don't have pumpkin around, I often substitute pureed sweet potatoes or squashes — and that's how this spicy, sweet, fall cake came about (it was originally a Soaked Pumpkin Bread). This cake turned out to be a keeper and I hope it will be for you, too!
An overnight soaking makes the cake more moist and tender, plus the soaking helps make the flour more digestible. Feel free to omit the soaking if you're pressed for time.
2-2/3 cups freshly ground hard white wheat or spelt flour
1 cup pureed sweet potatoe (drip out excess water through a couple layers of cheesecloth if homemade)
3/4 cup whole milk
2 tablespoons kefir or yogurt or raw apple cider vinegar
1/2 cup softened butter or coconut oil
3/4 to 1 cup sucanat, rapadura, or evaporated cane juice
2 eggs
1/2 teaspoon cloves
1/2 teaspoon nutmeg
1/2 teaspoon cinnamon
1/2 teaspoon ginger
3/4 teaspoon sea salt
1-1/2 teaspoons baking soda
1/4 teaspoon baking powder
1 cup raisins (optional)
1 cup chopped crispy nuts (optional; why soak nuts?)
Combine flour, sweet potato, milk, and kefir/yogurt/vinegar in a mixing bowl. Mix well. Cover and allow to sit at room temperature for a minimum of 7 hours.
When ready to bake, preheat the oven to 350 degrees Fahrenheit. Grease 2 8″ or 9″ square baking cake pans (or a 9″ x 13″ rectangle cake pan).
Uncover the mixing bowl. Add all other ingredients (except raisins and nuts), and mix well. Then add the raisins and nuts, if using, and mix to incorporate.
Divide the batter between the 2 square cake pans (or the 1 rectangular). Bake for 25 to 45 minutes, until golden brown and a toothpick comes out pretty cleanly. (It is okay if this cake has a little goo.)
Let cool completely, then frost if desired. Cut into squares and serve.
Suggested frosting: Cream Cheese Frosting.