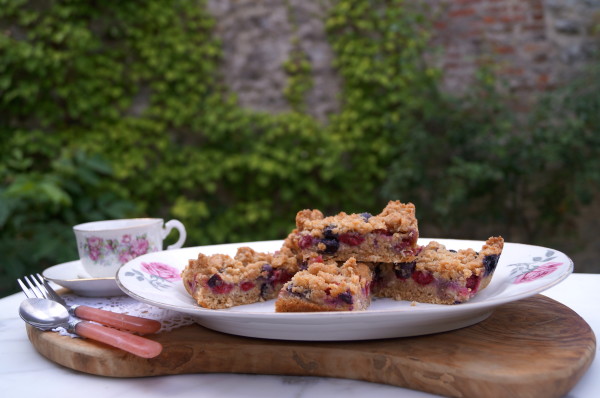 This year my garden blessed me with an abundance of fruit; raspberries, blueberries, blackberries, etc. I eat them just like that, put them in my smoothies, freeze them so I can enjoy them this winter and I also decided to make a tart with them.
This recipe is from Yvette van Boven, a famous dutch recipe writer, cook, food stylist and columnist. Want to learn more about her? Check her (english) website. Yvette van Boven is known for her approach to kitchen crafts and, above all, a resourceful cook.
I made some slight adaptations to her recipe. E.g. I used home milled spelt flour instead of all purpose flour and sucanat instead of sugar.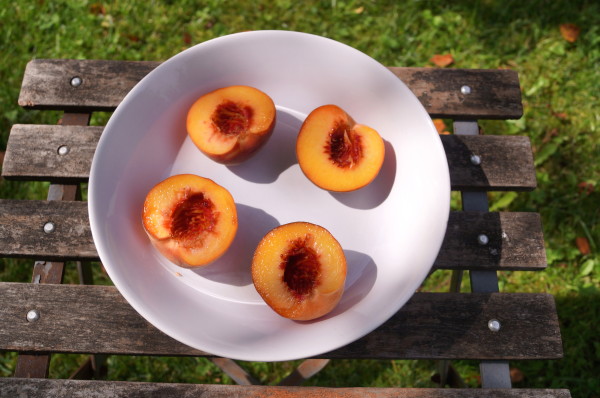 As it's a very good year for stone fruit in France, where I am staying at the moment, I decided to make another tart the next day. This time with peaches.
Equally Tasty!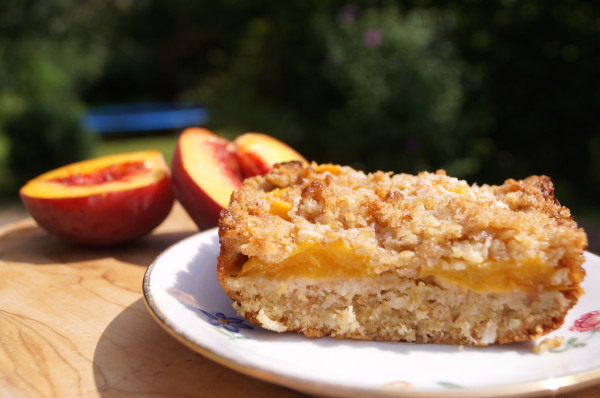 Do
Do let me know which one you prefer.
Alexandra

Summer Fruit Tart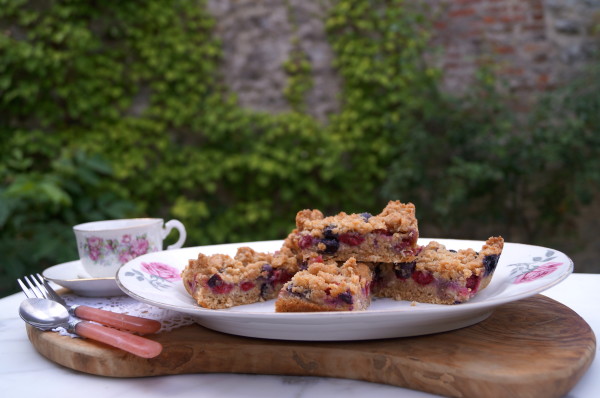 Author:
Fabulous Food Fan
A delicious tart full of your favorite fruit
Ingredients
1½ cups sucanat (or other sweetener)
1 cup spelt grains (should give you 2 cups of spelt flour)
½ cup rolled oats
⅔ cup shredded unsweetened coconut
¾ cup butter ( in small cubes)
2 eggs lightly whisked
4 cups mixed fresh fruit
1 tsp baking soda
1 tsp baking powder
½ tsp sea salt
Instructions
Preheat oven to 175°C (350°F).
Lightly brush a 9-by-12½-inch baking tin with (canola or other light) oil, dust with flour, and tap to remove excess. Set aside.
Mill the spelt grains in your Wondermill.
Place spelt flour, rolled oats, sucanat, salt, shredded coconut, baking powder, baking soda and cold butter in the bowl of your food processor and pulse briefly several times. The mixture should look like coarse breadcrumbs.
Set aside 1½ cups of this mixture.
Mix 2 whisked eggs through the rest of your dough. Spread dough evenly into prepared tin.
Place summer fruit in the tin, spread it evenly and sprinkle crumbs over the tart.
Transfer tin to oven, and bake for 30 to 40 minutes or until a cake tester comes out clean.
Transfer baking tin to a wire rack to cool. Using a serrated knife or bench scraper, cut into 3-inch squares. Store in an airtight container for up to 3 days.