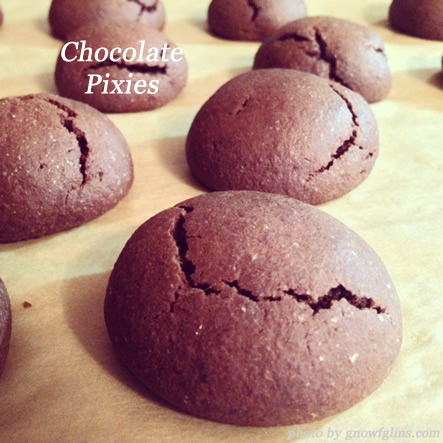 Chewy, chocolately, and especially…. easy! This recipe comes from my great aunt. She gave my mom the recipe 48 years ago, and it is a family favorite. Now my daughter makes them each year, having been lovingly taught the recipe by her grandmother (my mom).
Our adaption simply sprouts the grains to increase nutrition and digestibility. We sometimes reduce the amount of sweetener, but we have to admit it, we like them fully sweet. When it's Christmas, we're okay with that. 🙂
Making Sprouted Flour
First you must make your sprouted flour. Don't be afraid of this — it is easier than you think.
Soak 3 to 4 cups of spelt or soft wheat berries in a half gallon mason jar in warm water overnight or for about 12 hours. Drain, then lay the jar on its side in a corner of the kitchen (a sprout screen is helpful if you have it). Rinse the berries twice daily until they grow a 1/8″ sprout tail. Rinse and drain one more time. Then lay the sprouted berries on lined dehydrator sheets and dry in the dehydrator at 115 degrees F or less until completely dry — about 24 hours. (Or, you can use your oven at the lowest temperature, laying the berries on baking sheets.)
Let the berries cool fully, then grind as usual in your Wondermill. I have the manual Wondermill Jr. Deluxe and it makes beautiful sprouted flour. No matter what mill you use, the grains must be completely dry to avoid gumming up or ruining the mill.
3 to 4 cups of berries yields about 3 to 4 cups of sprouted flour. Once you get the hang of it, you can make big batches of sprouted grains and keep the grains ready to mill on demand. Sprouted grains are more shelf stable, and I keep mine stored in a big, clean pillowcase.
Now you're ready for the recipe!
Sprouted Chocolate Pixies
1/4 cup butter (1/2 stick)
4 1-ounce squares baking chocolate (OR 3/4 cup cocoa powder plus 1/4 cup melted butter)
2 to 2-1/4 cups sprouted spelt flour (OR sprouted whole wheat pastry flour)
2 cups lightly powdered* sucanat, rapadura, date sugar, or coconut/palm sugar — OR — evaporated cane juice — OR — maple sugar
4 pastured eggs
2 teaspoons baking powder
1/2 teaspoon sea salt
1/2 cup chopped crispy nuts (optional; why soak nuts?)
additional powdered* sweetener for rolling (optional)
*To powder sweetener, whizz in blender or food processor until it is powdery.
In a saucepan, melt the butter and baking chocolate (or butter and cocoa powder and additional butter). Let cool.
In a mixing bowl, mix together the eggs, sugar, baking powder and one cup of flour. Add melted chocolate mixture and mix well. Add remaining flour and mix. Add nuts (if using) and mix. The dough will be sticky. Refrigerate it for at least 1 hour.
When ready to bake, preheat oven to 300 degrees Fahrenheit. Line two baking trays with parchment paper. Take small spoonfuls of dough and shape into 1/2″ balls. If desired, roll each ball in powdered sweetener. Place on baking trays spaced 2″ apart.
Bake for 15 to 18 minutes. Cool, then store in air-tight containers. They freeze well. Makes approximately 2 dozen.