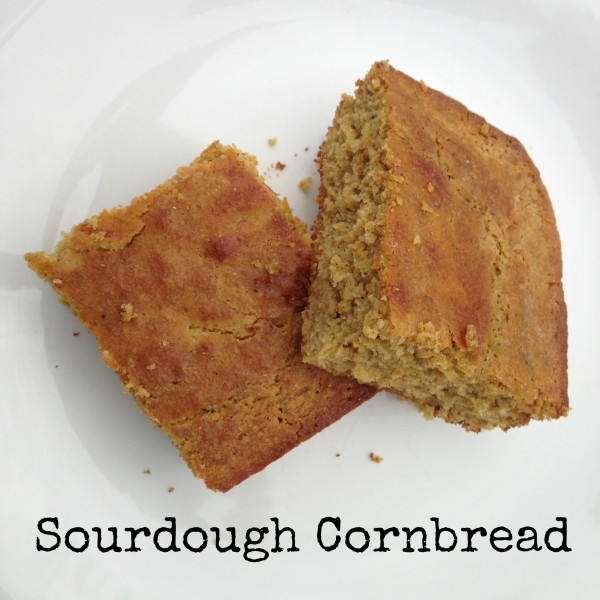 I love a good piece of cornbread. With a bowl of chili or beans, beside a nice piece of ham and side of greens, or topped with butter and maple syrup for breakfast, I think it is simply delightful.
Making cornbread with freshly ground corn takes it to a whole new level! In my area of rural Ohio, I've been able to find a wonderful source for organic, open-pollinated, locally-grown corn to grind into cornmeal. I love running it through my Wondermill and getting the best tasting cornmeal I could possibly find!
When I make baked items in our home with grains, I like to use sourdough to ferment them naturally and make them more digestible and nutritious. Steps to make a sourdough starter can be found here. Cornmeal gets an additional first step by being soaked in lime water (a process called nixtamalization) for the same reasons: digestibility and nutrition. Lime water is easily made by placing an inch or so of pickling lime (find it near canning supplies) in a glass jar, filling the jar with water and mixing well, then allowing to set out overnight. The clear liquid that remains in the morning is your lime water. Note that lime water is not made with those tasty little green fruits that make salsa and other dishes so yummy. Very different lime.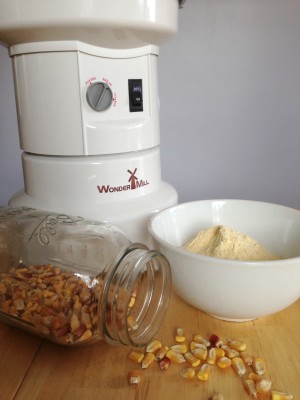 If you want to enjoy this cornbread, you need to start it a full day before you want to eat it. The lime water soak takes 8-12 hours, followed by a sourdough ferment that will take another 8-12 hours. The planning ahead is worth it, though! This cornbread is moist, delicious, and so good for you!
If you can't find corn to grind near you, popcorn can be a great substitution. It is generally easy to find, even in basic grocery stores. Just be sure to get a plain bag of popcorn. Popcorn from microwave bags would make for a mess in your mill!

Sourdough Cornbread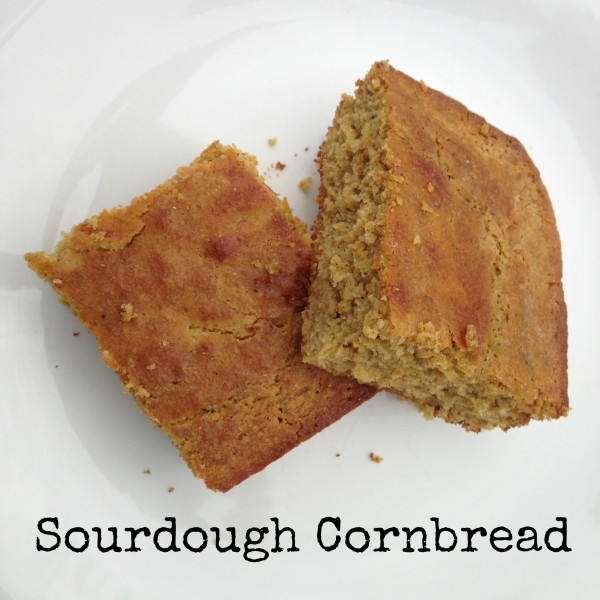 Author:
Kristen @ Smithspirations
A delicious cornbread with maximized digestibility and nutrition!
Ingredients
3 cups cornmeal (I like a coarser grind)
1 cup lime water
1 cup whole wheat flour
1 cup sourdough starter
1 cup milk
3 eggs, slightly beaten
1 teaspoon salt
3 Tablespoons sugar (I prefer unrefined cane sugar)
1½ teaspoons baking soda
¼ cup butter
1 Tablespoon additional butter
Instructions
In a large, nonreactive bowl, combine cornmeal and lime water and allow to soak for 8-12 hours.
Add whole wheat flour, starter, and milk to the soaked cornmeal and mix well so that the batter is not lumpy. Allow to sit out for an additional 8-12 hours.
Preheat oven to 375. Place ¼ cup butter in a 9x13 glass baking dish and put in the oven to warm and melt the butter. Remove pan once butter is melted.
Combine the remaining ingredients in a smaller bowl, including melted butter. Pour into the cornmeal batter and mix until thoroughly combined.
Pour the batter into the baking dish and place in preheated oven. Bake for approximately 45 minutes.
Spread top of cornbread with additional butter once removed from the oven.