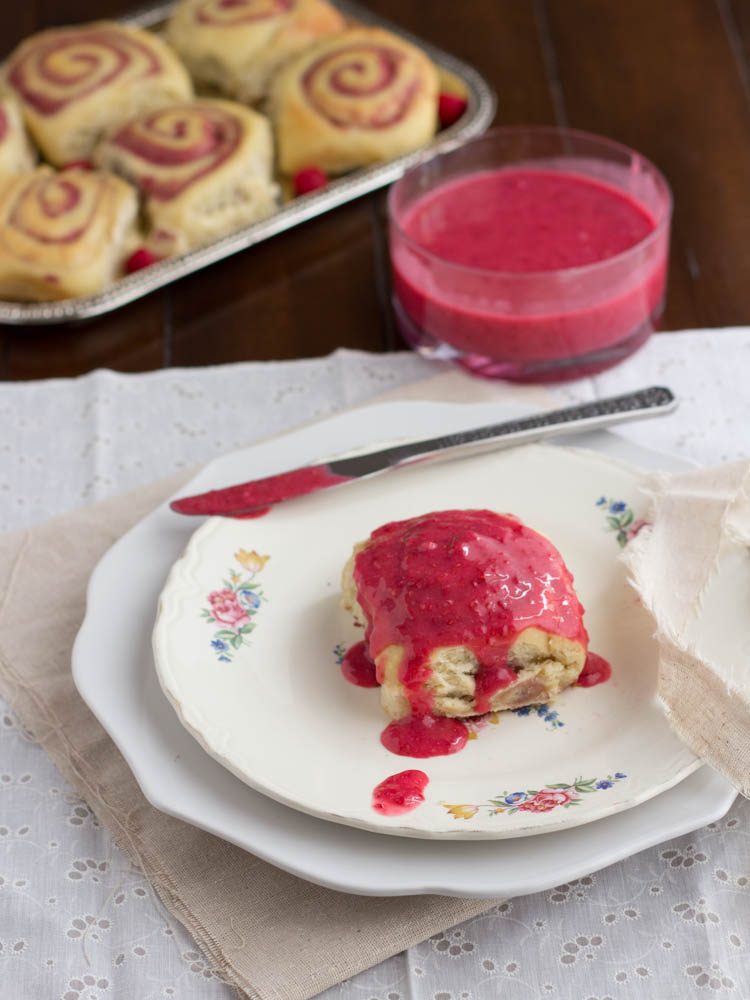 If I could, I would give you each a raspberry cream cheese roll. Partially because I love to pass out food to my friends and family, but mostly because I want you to understand just how stinking amazing this raspberry cream cheese glaze is. OH. MY. HEAVENS. In fact, I just remembered I have a small container left in the fridge… OH! Graham crackers, that's the perfect dunking tool.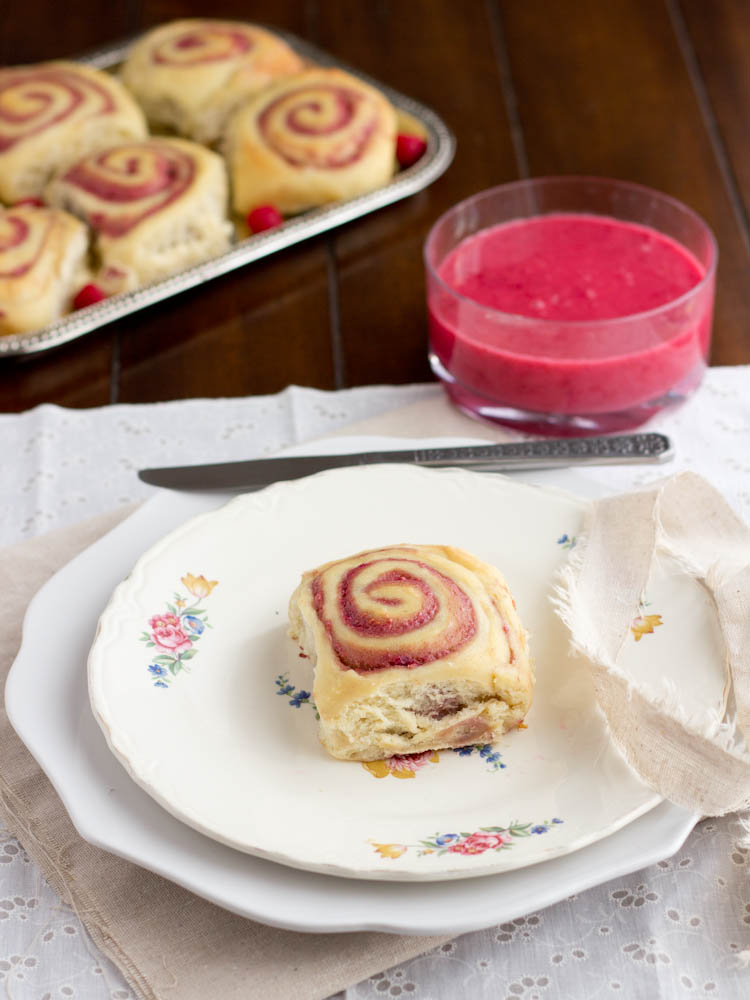 Ok, back to the recipe. I was a bit worried when I first made the rolls. They are tender, and perfect, but I just couldn't bring out the raspberry enough. I stressed, I worried, and finally my friend said, turn the glaze into a raspberry glaze. BOOYAH! That's the answer. I worried for about 5 seconds that it would be berry overkill, but I quickly through caution to the wind and plunged into the glaze. It. Is. Fantastic. Utterly so. I could honest to goodness hold the spoon above my mouth and just drizzle it in. Ok, I really did do that. Mmmmm.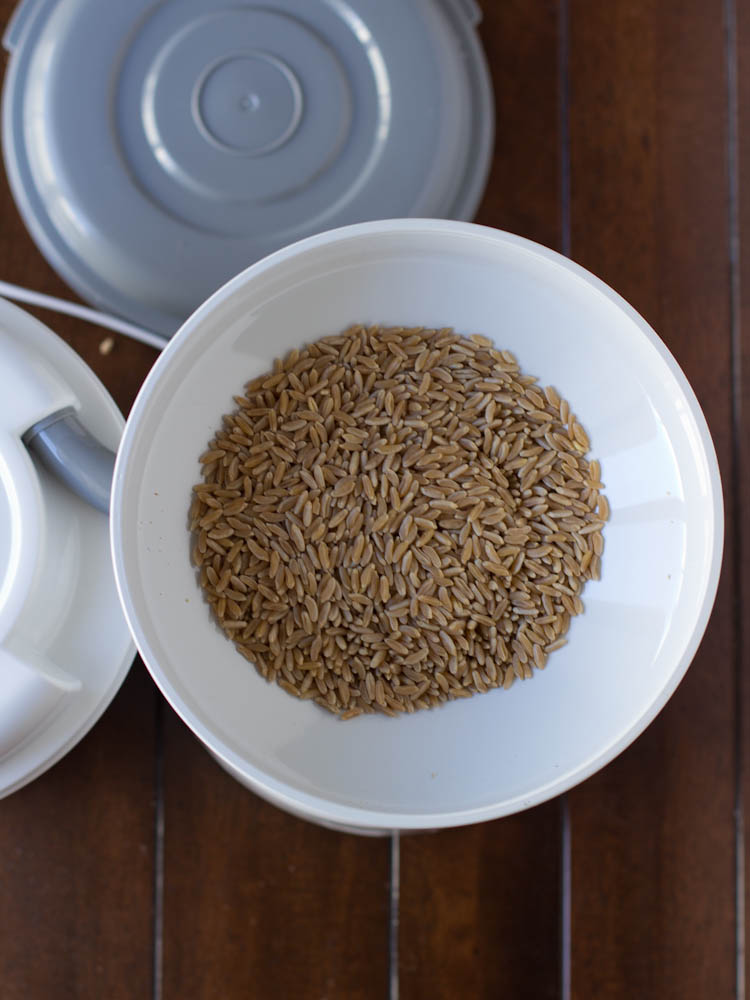 I started out by grinding some wheat. It took absolutely no time at all, and no I don't mean a mere 5 minutes, I mean like 1 minute later and this amazingly wonderful, WonderMill had the job done. Then I did some white flour and we were all set. A mixture of the two isn't necessary at all. You could totally pick one or the other.I just thought I would give this a go. It worked great, but I totally understand if you would rather choose one flour and only use it. Totally get it.Either way, I'm pretty sure these will be such a crowd pleaser or maybe even help you make a new best friend. 😉
Raspberry Cinnamon Rolls
3/4 and 1/2 Cup Divided Milk
4 1/2 Teaspoons Instant Yeast
2/3 Cup plus 2 Tablespoons Sugar, divided
1 Teaspoon Salt
1/2 Cup Unsalted butter
3 Large Eggs
2 1/2 Cups White Flour
2 Cups Whole Wheat Flour
Thread or unflavored floss
Warm 1/2 Cup of the milk in a pot or the microwave until warm but not hot. Place the warm milk in a bowl and add the 2 tablespoons of sugar. Sprinkle the yeast in and let proof (let it sit until it is big and foamy).
Meanwhile, scald 3/4 cup of milk (cook over medium low heat until it begins to foam around the edges.) Remove from the heat and add the 2/3 cup sugar, butter and salt. Stir until the butter is completely melted. Let cool to room temperature.
Add the yeast mixture to the milk mixture and stir together.
Place 3 cups of the flour in a large bowl, add the wet ingredients and stir to combine. Add more flour until the dough begins to pull away from the bowl. This is a sweet bread recipe and therefore will not be smooth and elastic, but instead sticky. Cover the bowl and allow to rise until doubled in volume.
Filling
1 Package Neufchatel Cheese or Low Fat Cream Cheese
1/3 Cup Frozen Raspberries, thawed and drained of excess juice
1/2 Cup Brown Sugar
1 Teaspoon Cinnamon
Combine all of the ingredients in a bowl, and using a handheld mixer, mix to combine evenly.
After the dough has risen, lightly flour a work surface and roll the dough out 1/4″ thick. Spread the filling all over the dough. Starting with the side opposite of you, begin to roll up the dough, as tightly as possible. Don't worry if some of the filling comes out. Once you have your "roll", slide a piece of floss or thread under about 1 1/2-2″ of the log. Hold onto each end of the string, cross them as if you are about to tie a shoe, making an x, and pull tight to cut off your first cinnamon roll. Repeat all the way down the log.
Place in a lightly greased baking pan, and cover. Allow to rise for 30-60 minutes.
Heat the oven to 350 and bake for 15-25 minutes. Cool slightly and top with glaze!
2 Cups Powdered Sugar
2/3 Cup Raspberries
1 Teaspoon Almond Extract
2 Oz Neufchatel or cream cheese
A tablespoon of milk if needed.
Mix everything in a bowl, using a handheld mixer and set in the fridge until the rolls are done.