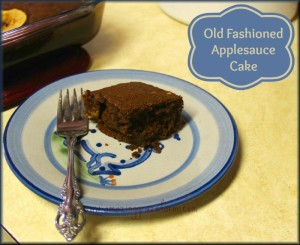 My Mother-in-law has a family recipe for applesauce cake.  I decided to play with it a little bit and make it a tad bit healthier.
We love freshly ground flour.  When we first started grinding our own wheat, we noticed a great improvement in our health.  Using freshly ground flour was one of our first health changes we made to our diet way back at the beginning of our journey into whole foods.
I love to use spelt now, but when I make muffins or quick breads like pumpkin bread or banana bread, I use red wheat.  It just seems hardier to me and I like the way it works in those "heavier" type breads.  I used hard red wheat for this recipe.  The applesauce cake is a heavier cake and one that does not need frosting.  Although a dollop of freshly whipped cream tastes wonderful on it.  I will post the recipe at the end.  I needed 3 cups of flour, but I always like to have some extra in case.  The standard ratio of grain to flour is 1 cup of grain to 1.5 cups of flour.  Sometimes it is a bit less.
I have used many different types of grain mills and I really liked the WonderMill.  It was quick and easy to use and the flour turned out great.
The recipe calls for you to sift the flour along with the other dry ingredients. So, I sifted the flour, baking soda, salt, cinnamon, cocoa and cloves together into my bowl.  I then added raisins and walnuts.  In another bowl, I mixed together the softened butter, Sucanat and applesauce.  I added the dry ingredients into the wet mixture stirring it together well.  This makes a very THICK batter.  I had to use a spatula to spread it out in the baking dish.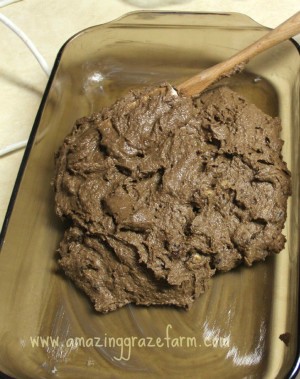 Once I had it all smoothed out, I decided to add a bit of a garnish.  I thinly sliced an apple and put the circles of apple along the top of the batter.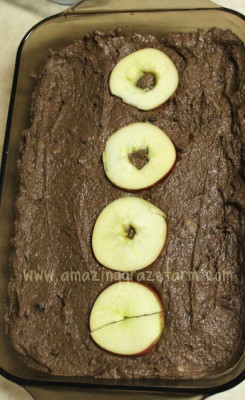 I then baked it set it out to cool.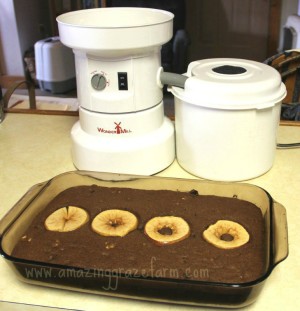 This is a good breakfast cake.  🙂  It is a hardy treat for any time of the day really.  It does not need frosting, but if you decided to add some, some cream cheese frosting would be a good flavor to add.  We eat it plain, but if company were here, I would serve with a big dollop of freshly whipped cream.  Enjoy!
Old Fashioned Applesauce Cake
3 cups, flour
2 tsp baking soda
pinch of salt
2 tsp cinnamon
2 tsp cocoa powder
1 tsp cloves, ground
1 cup raisins
1/2 cup walnut pieces
1 cup butter, softened
1.5 cups Sucanat (or brown sugar)
2 cups Applesauce
Preheat oven to 350°.  Grease 9″ X 13″ pan (I used butter).   Sift together all of the dry ingredients.  In another bowl, mix the butter, sucanat and applesauce.  Then start adding the flour mixture in making sure you mix it well.  This will be a very thick batter.  Spread it out evenly in the pan.  Add a garnish of apple slices if you like.  Bake for 45-60 mins. until a knife inserted comes out clean.
Recipe adapted from Jean Blubaugh's (my Mother-in-law)