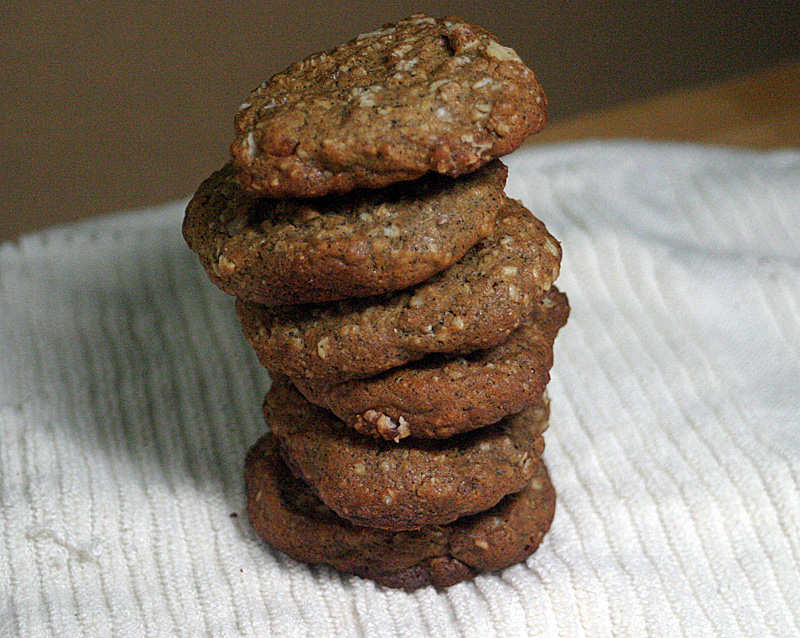 I'm not a huge desserts person. In fact, a year ago, my husband made most of the desserts in the family. But, one thing I've always loved is healthy, not-so-sweet desserts for the kids and I to enjoy together. I absolutely love how packed with protein and nutrients these whole wheat/black bean oatmeal-raisin peanut butter cookies are once I doctor them up a bit. And, they taste incredible! I used homemade peanut butter, so the flavor really dominated, but a nice strong store-bought peanut butter would likely work great, too.
Oatmeal-Raisin Peanut Butter Cookies
Ingredients
1/2 pound unsalted butter, softened (2 sticks)
1 cup sucanat (or bron sugar)
1 tablespoon vanilla
2 eggs, beaten
1/4 cup peanut butter
3/4 cup whole wheat white flour
3/4 cup black bean flour
1/4 teaspoon nutmeg
1 teaspoon baking soda
1 1/2 cups oats
1/2 cup raisins
1 cup walnuts, chopped
Directions:
Cream the butter with sucanat and vanilla until light and fluffy. Beat in the eggs. Stir in peanut butter.
In another bowl, whisk together flours, nutmeg and baking soda. Gradually beat the flour mixture into the butter mixture. Stir in oats, raisins and walnuts.
Divide the dough in half and form two logs about 10-inches long. Wrap each log in plastic wrap or wax paper and refrigerate overnight.
Preheat oven to 350. Oil a baking sheet. Slice dough logs into 1/2-inch thick slices and place on cookie sheet.
Bake 15-20 minutes, until lightly brown. Cool for 5 minutes, remove from sheet and cool on rack.