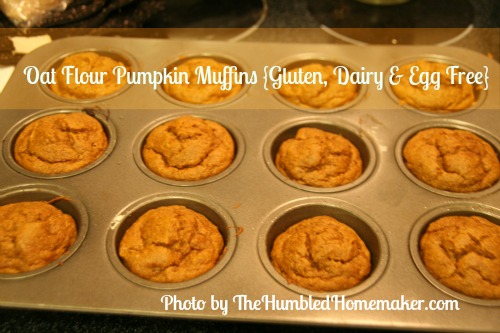 By Erin of The Humbled Homemaker
One of my favorite tastes of the holiday season is pumpkin. I know some see this vegetable as solely for fall, but I could enjoy this flavor year round. And, to me, no Thanksgiving or Christmas meal is complete without at least one pumpkin dish.
What I love best about these muffins is that not only are they nutritious, but my daughters, who both have several food sensitivities, can eat them without much fuss on my part. A pumpkin muffin that's gluten, dairy and egg free? Yes, please!
This was my first recipe to try with the WonderMill, and I have to say: I was very impressed! I had made oat flour before using a small food processor, but the result was less than to be desired. Oh, I still used the flour, but it consisted of a grainy texture, and the processor left chunks of oats.
The WonderMill ground the oats perfectly in a matter of minutes! And, no doubt, this freshly ground flour is more nutritious (and not to mention cheaper!) than any store-bought counterparts!
Without further ado, check out this recipe for some yummy, healthy, hearty oat flour pumpkin muffins!

Oat Flour Pumpkin Muffins

Adapted from Not Missing a Thing.

Ingredients

Dry Ingredients

1 1/2 cups freshly-ground oat flour (Be sure to use GF oats if you are GF.)

1/2 cup potato starch
1 tsp. xanthan gum
1 Tbsp. flaxseed meal
1 Tbsp. baking powder
1/2 tsp. salt
1 tsp. cinnamon
1/2 tsp. nutmeg
1/2 tsp allspice

1 1/2 cups sucanat

Wet Ingredients

2 tsp. vanilla
1 cup pumpkin puree
1/4 cup coconut oil

3/4 cup almond milk (coconut or rice milk should work as well)


Method

1. In a large bowl, whisk together all dry ingredients.

2. Add all wet ingredients to dry ingredients.

3. Using a stand mixer or electric hand mixer, beat on medium until everything is mixed well.

4. Spoon the batter into muffin tins.

5. Bake at 350 degrees for about 25-30 minutes.

6. Allow to sit for a few minutes and then cool on a wire rack.
Enjoy!