We love bread in this house. LOVE, people. Full on, weak at the knees, twitterpated, dazed and confused in love with bread. Because of some health issues we have, in order for us to continue to eat bread,  I was going to have to learn to make it.
This recipe has quickly become a favorite in our home. It is rich, tender, packed full of flavor and they're packed with excellent nutrition for you and your family. You can feel great about serving these to your little one, your grandmother, and stuffing them in your own face.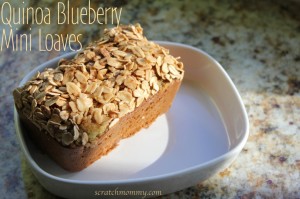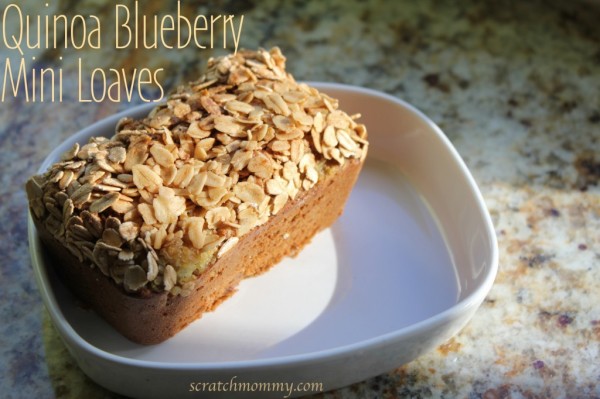 This recipe uses quinoa flour, and garbanzo bean and fava bean flour.  The WonderMill Grain Mill makes quick work of these ingredients because it is so easy to use. Seriously, insanely easy! Even more easy than my food processor and mixer, and they were pretty easy to figure out.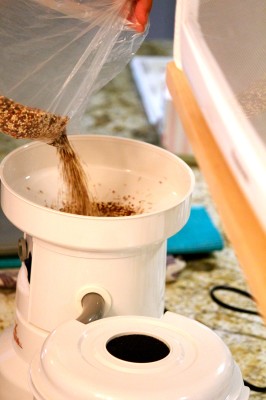 While being high in both fiber and protein amounts, this flour is also overflowing with magnesium, iron, zinc, and folate (of which many, many of us are deficient and don't even know it). Oh, and for those with suspected or confirmed food allergies &/or Celiac disease, this flour will likely become a staple, as there is no gluten.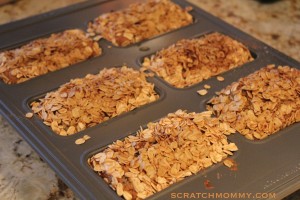 I soak my garbanzo and fava beans in water and a little apple cider vinegar for several hours. I then drain them, and arrange them on a parchment lined cookie sheet and "dry" them in the oven (lowest setting) for an hour or two. They are now ready to be run through the grain mill! Easy Peasy!

Mini Quinoa Blueberry Bread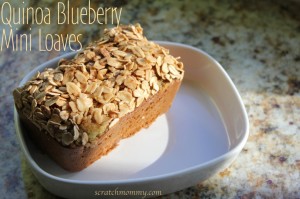 Recipe type:
Breakfast, Snack
Flavorful, moist, mini quick-bread loaves stuffed with blueberries, healthy quinoa,oats and warm spices like cinnamon and nutmeg.
Ingredients
Bread ingredients-
½ cup uncooked quinoa (Plus 1 cup of water for cooking)
1-cup garbanzo & fava bean flour
½ cup brown rice flour
1 tsp. baking soda
¼ tsp. baking soda + ¼ t arrowroot + ½ t cream of tartar (OR 1 t alum- & corn-free baking powder)
½ tsp. sea salt
1 tsp. cinnamon
2 farm fresh eggs
1 ripe banana
¾-cup milk (whole or 2%, organic or raw)
½ cup coconut sugar
2 cups fresh blueberries (or frozen blueberries, thawed)
Topping ingredients-
½ cup gluten-free rolled oats
¾ tsp. cinnamon
½ tsp. fresh nutmeg
⅓ cup grass-fed butter
Instructions
Cook quinoa on stove per package directions (usually just simmer for 10-15 minutes).
Preheat oven to 350 degrees.
Line each well of the mini loaf pan with paper liners, or grease sides and bottom of each well. (Coconut oil or melted butter works fine)
Mix dry ingredients in medium bowl – garbanzo & fava bean flour, brown rice flour, baking soda, homemade making powder, sea salt, cinnamon. (Save coconut sugar for wet ingredients).
Beat two eggs in a large bowl. Add ripe banana and smash. Add milk and coconut sugar. Stir to combine.
Pour wet ingredients into dry ingredients. Stir until completely combined. Do not over mix or loaves will be tough.
Add quinoa. Stir to combine. Gently fold in blueberries. Pour into baking pan.
Topping-
You should have time to make your topping after making the batter, while your quinoa is still cooking.
Melt the butter. Add oats, cinnamon, and nutmeg. Stir to combine. Spoon the topping onto each mini loaf.
NOTE- You'll see in the pictures that my topping is quite flakey, which I love. That said, it's pretty messy. We typically eat this with a side of ice cream, so I don't mind some of my topping falling off to dip in my ice cream. If you want it to stay on better, I have placed the topping ingredients in my food processor to breakdown the oats