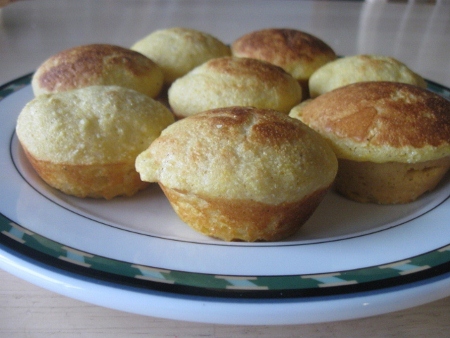 When I first got my WonderMill Grain Mill I assumed I would use it mostly to grind wheat for bread flour.  Then I started learning about all the different things it can grind, and realized that I was not thinking creatively enough.  Oh sure, I will still use it for bread, but you can also use it to grind oats, rice, and even popcorn!  Popcorn really got my attention and I was fascinated by the idea of using it to make cornmeal.
We were having a fish stew for dinner one day last week, so I decided corn muffins would be a perfect accompaniment. I set up the grain mill on the counter,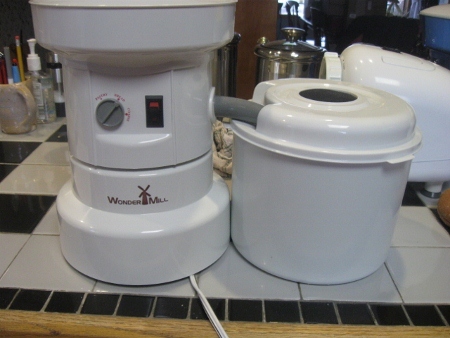 and poured in some popcorn.
And out came very fine yellow cornmeal.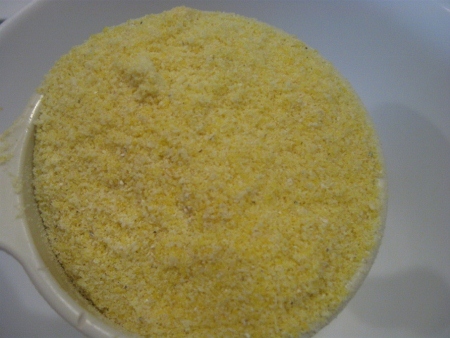 The WonderMill has different settings to control how the flour is processed, and I ground the popcorn on the Bread setting.  I think commercial cornmeal is usually more coarsely ground, but I thought this was perfect.  The muffins were lighter and fluffier than usual and the entire family noticed the difference.  Of course the freshness of the cornmeal made them better too!
I used a recipe from the Joy of Muffins Cookbook, which is one of my favorite source of muffin recipes.  This recipe uses just a little honey to sweeten the batter, so it makes muffins that not too sweet, and are perfect for serving with a hearty stew.
I baked them in the mini-muffin baker I received for my birthday, so I was able to play with both my new kitchen gadgets in one day!  Of course the oven would work fine for baking the muffins too.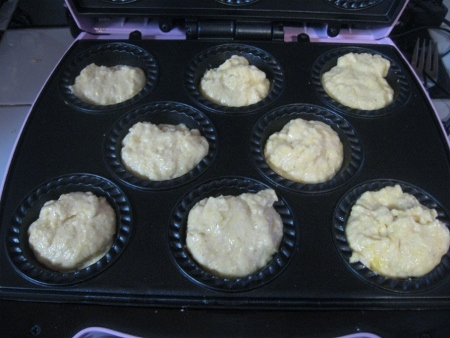 My family enjoyed the corn muffins and we all agreed that fresh ground cornmeal makes a huge difference in the taste of the muffins.
Ingredients:
1 c. cornmeal
1/2 c. whole wheat flour
1/2 t baking powder
1/2 t baking soda
1 eggs
1 c buttermilk
1 T honey
1 T oil
Directions:
Combine the cornmeal, wheat flour, baking powder, and baking soda in a bowl.
Combine the egg, buttermilk, honey and oil in another bowl.
Mix them together and stir until just combined.
Spoon into greased muffin tins and bake at 375 for 20-25 minutes, or bake in a mini-muffin maker for 8 minutes.