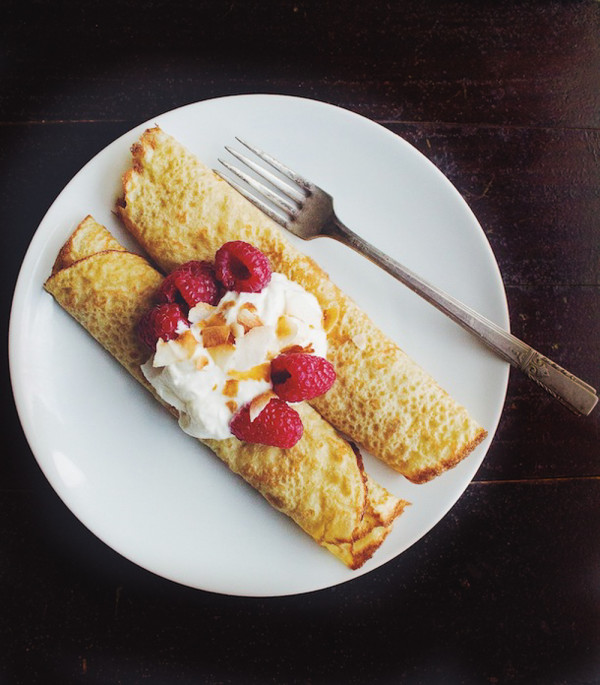 These millet oat crepes are slightly different than traditional crepes, but truthfully (and the French may disagree) I love the nuttier flavor from the millet even better. The oat flour keeps them soft and delicate, waiting for you to roll them up them up with freshly whipped cream, toasted coconut and whatever fresh berries you have on hand.
And what could be easier than adding all the ingredients to a blender for a quick blitz? From there it just takes a little patience, the key to this healthy whole-grain crepe being a half hour rest in the refrigerator. If you want to use different flours, simply substitute with the same weight as those listed.
They're light and delicious, the kind of thing you'll enjoy sharing on Sunday mornings with the ones you love.
Millet Oat Crepes with Raspberries and Toasted Coconut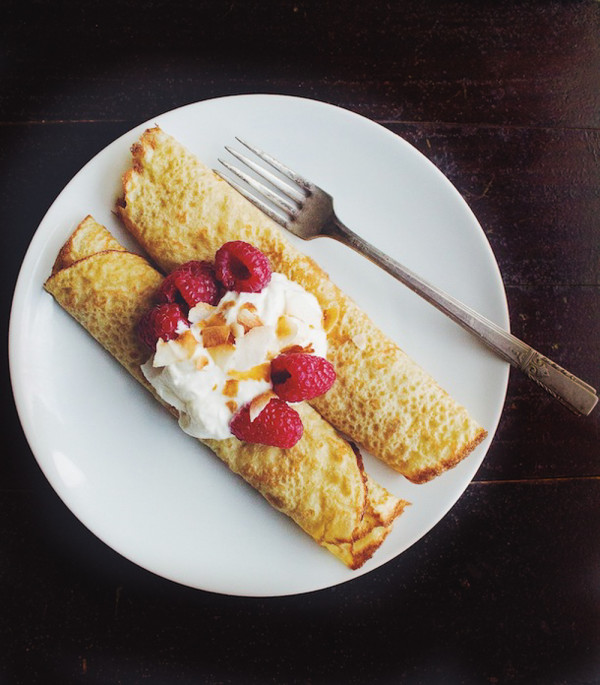 Recipe type:
gluten free, breakfast, brunch
Soft and delicate gluten-free crepes made with millet and oat flour. Fill them with raspberries and toasted coconut, or any seasonal fruit.
Ingredients
½ cup oat flour (30 grams)
½ cup millet flour (60 grams)
2 tablespoons cornstarch
2 tablespoons sugar
¾ cup soy milk
2 large eggs
pinch of salt
2 cups fresh raspberries
½ cup toasted coconut flakes
whipped cream
Instructions
Add all ingredients to a blender.
Blend on medium speed for 30 seconds until batter is completely smooth.
Refrigerate batter for 30 minutes.
Heat a nonstick frying pan, preferable 10 inches over medium heat.
Spray with nonstick baking spray and add ¼ cup of batter, swirling to coat the bottom.
Cook for 1 to 2 minutes on medium to high heat. Once it starts bubbling and the batter looks cooked through, flip the crêpe and cook for one extra minute on the other side, or until golden brown.
Repeat until you run out of batter, adding a little spray between each crepe. Keep the crepes warm on a plate as you work by covering them with a towel.
Serve with raspberries, toasted coconut and whipped cream.