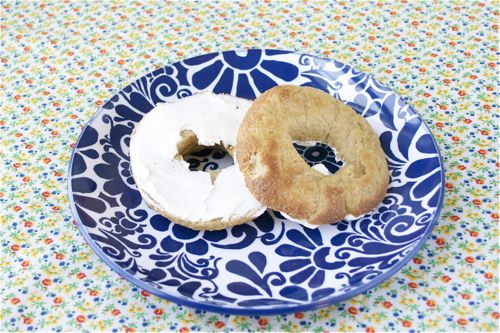 Bagels are such a delicious breakfast or delicious served with veggies and meat for a sandwich. We've enjoyed them for years, but never thought to make them at home. There is nothing complicated about making your own bagels, and they freeze well. Make a big batch to freeze and you'll have fresh bagels on hand for anytime you get that craving. These bagels can be made using white flour or whole grain flour. I have had success with freshly ground white whole wheat, kamut and even spelt flour.
The easiest way to make them is to use your bread machine for the dough  making portion and then you can shape the bagels, boil them in water and bake. That's it! Serve up with cream cheese, butter and raw honey or even toasted with your favorite toppings for lunch.
Homemade Bagels
1 cup warm water (about 110-115 degrees, or just cool enough to stick your pinky in comfortably)
3 1/2 cups freshly ground flour (whole grain or white)
3/4 teaspoon yeast
2 tablespoons sugar
1/2 tablespoon melted butter
1/2 tablespoon salt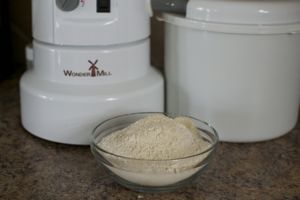 Mix ingredients according to your bread maker and process on dough setting. If you don't have a bread maker you can also follow the procedures you would use for bread making:
(skip this portion in italics if you are using a bread machine)
In a bowl sprinkle yeast over the warm water and stir to dissolve yeast. Add sugar, butter, flour and salt. Mix until dough forms a ball and pulls away from the sides of the bowl. 
Turn the dough out onto a counter and knead on a floured surface for about 12-15 minutes, or until smooth and elastic.
Allow to rise in a greased bowl, covered with a towel for an hour or until doubled in size.
Punch down the dough and divide into 6 equal pieces. Shape each dough piece into a ball by pinching edges of dough towards bottom to form a smooth ball. (detailed instructions here) Cover the balls with a towel to rest. Meanwhile, set a large pot of water on the stove on high to bring to a boil.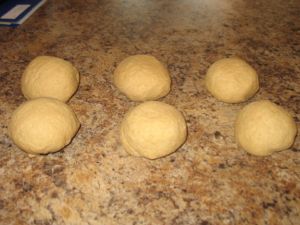 Use your finger to poke a hole in the middle of each dough ball.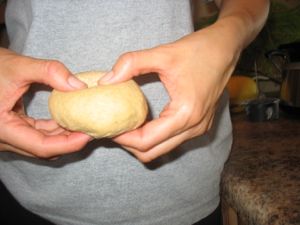 Swing it around your finger like a hula hoop to form a bagel where the dough is about 1″ thick and the hole in the middle is about 2 inches. Return the bagels back under the towel as you finish shaping the others.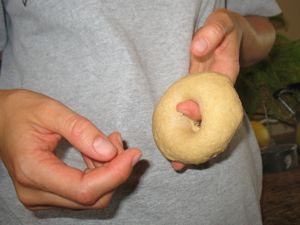 Once all of the bagels are shaped your water should be boiling. Use a slotted spoon or flipper to gently place 2-3 bagels into the boiling water. Do not crowd the bagels. You want the water to continue bowling.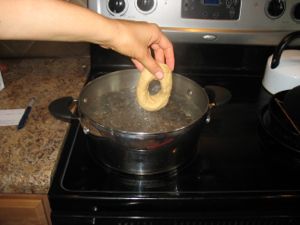 Boil each bagel for about 1-2 minutes per side and then flip. The bagel will look a bit cooked and bubbly. Remove the bagel and place it on a wire rack to dry if you want them to be plain.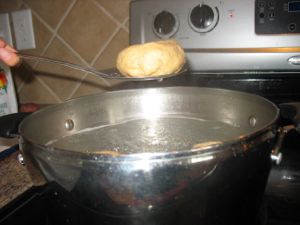 You can dip them in topping such as sesame seeds, poppy seeds or dried onions before placing them on the wire rack. Repeat with all bagels. Allow bagels to sit until they are mostly dry.
Preheat your broiler to 500 and bake the bagels on an ungreased cookie sheet for 10-12 minutes. Flip the bagels and bake for an additional 2-5 minutes. Check periodically to make sure they don't burn.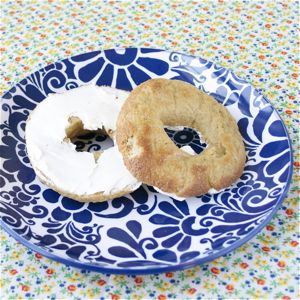 source: Allrecipes.com