There's nothing quite like the warmth and comfort that comes with a delicious cornbread. For the first time, I decided to make one of my favorite cornbread recipes using cornmeal that I "made" myself using the WonderMill Electric Grain Mill.
Making your own cornmeal is easy. I just used regular yellow popcorn that you can pick up at your local grocery store, then added it to the mill. The result – cornmeal!
The first time I made this cornbread, I was nervous. I didn't have one of those cool iron skillets and I'd never made cornbread before. Fortunately this recipe was easy to follow and comes out perfectly moist and balanced in flavor every time.
First, melt 1/2 cup of butter in a large skillet. Once the butter is melted, remove the skillet from heat and add sugar. I prefer my cornbread a little sweeter, so I added a little bit more sugar – feel free to increase or reduce based on how you like your cornbread. Then stir in eggs, then buttermilk and baking soda, finishing with cornmeal, flour and salt.
After everything is mixed together, pour it into a greased pan and bake for 30-40 minutes in a 375F oven.
The result? Perfectly golden and delicious homemade cornbread.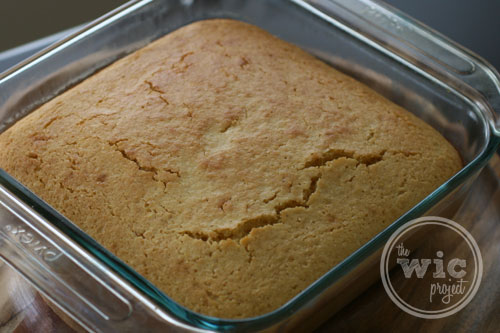 Grandma's Buttermilk Cornbread
Based on a recipe from allrecipes.com.
1/2 cup butter
3/4 cup white sugar
2 eggs
1 cup buttermilk
1/2 teaspoon baking soda
1 cup cornmeal
1 cup all-purpose flour
1/2 teaspoon salt
Directions
1. Preheat oven to 375 degrees F (175 degrees C). Grease an 8 inch square pan.
2. Melt butter in large skillet. Remove from heat and stir in sugar. Quickly add eggs and beat until well blended. Combine buttermilk with baking soda and stir into mixture in pan. Stir in cornmeal, flour, and salt until well blended and few lumps remain. Pour batter into the prepared pan.
3. Bake in the preheated oven for 30 to 40 minutes, or until a toothpick inserted in the center comes out clean.