I'm a Southern Gal. One of the joys of meals growing up was having biscuits with breakfast or any time we ate fried chicken. It was a regular on our Sunday afternoon dinner table. But, alas, they were always purchased and not home-made.
My husband also grew up in the South, but he ate his mama's fresh rolled and cut biscuits with molasses and extra butter. It was one of his favorites. When we were first married, we regularly went to Cracker Barrel for biscuits since my biscuit skills were lacking. Then when I was diagnosed with celiac in 2006, my quest to learn how to make biscuits ended.
We're currently fighting the flu, and it's been quite miserable. For dinner, my husband requested breakfast foods. I had thawed some ground wild boar that I wanted to use to make sausage patties, and biscuits immediately sprang to mind. I set out to finally figure out how to make gluten-free biscuits that stayed soft once they cooled and didn't fall apart easily as gluten-free breads are prone to do.
Since I have kids, I prefer to make things smaller so its easier for their hands. These little biscuit buns are about 3-inches across and each batch makes about a dozen.  It's the perfect size for a child. Of course, if you're only feeding adults, you can make them larger and bake them slightly longer.  When I used this dough in my Texas muffin top pan, I put in four scoops per well and baked them for 15 minutes and they came out perfectly done.  It made seven biscuits that way.
This recipe has a biscuit texture, but they come out thin.  They're thin enough they aren't sliceable, but they are thin enough to make an awesome breakfast sandwich. It's great to use one for each half of the biscuit.  Use one biscuit for the top and one for the bottom of the sausage biscuit instead of making them large and cutting a large biscuit in half.
I'm quite happy to be able to make sausage biscuits again. My kids were thrilled with the results, and the texture of these gluten-free biscuits is very close to that of gluten-containing drop biscuits. They're light and fluffy. The small size makes shaping the biscuits easier and best of all, there's no rolling!  Just scoop, pat down and you're done!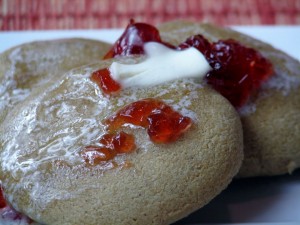 Of course, these also go great with jelly and jam when eaten as regular biscuits instead of being the bread for a sandwich.  I make this both ways and my kids just love them.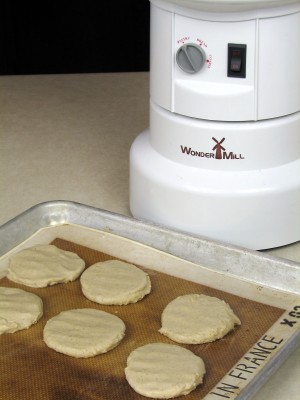 Gluten-Free Mini Breakfast Sandwich Biscuit Buns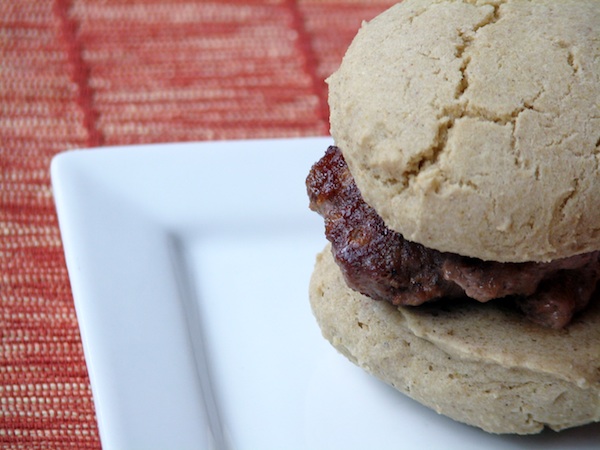 Author:
KerryAnn at CookingTF.com
Recipe type:
bread, breakfast, biscuit
Ingredients
1-1/4 cups freshly ground flour on the pastry setting- I used a mix of sorghum, rice and buckwheat
½ cup tapioca starch
1 tsp baking powder
1 tsp xanthan gum
½ tsp salt
¼ tsp baking soda
1 Tbs rapadura, sucanat or another sweetener
¼ cup melted coconut oil
1 egg
¾ cup unsweetened almond or dairy milk
Instructions
Preheat your oven to 400 degrees. Line a baking sheet with parchment paper or a silicone liner. Set aside.
In a bowl, combine the flour, tapioca starch, baking powder, xanthan gum, salt, and baking soda. Set aside.
In the bowl of a stand mixer, combine the rapadura, melted oil, egg and milk. Mix until combined, then add the dry ingredients on low speed. When everything is combined, turn the mixer onto medium and beat until well-combined.
Using a size 24 cookie scoop, scoop the dough into evenly-spaced mounds on the baking sheet. Oil your hands or a spatula and gently level the top of each biscuit.
Bake for 10 minutes or until done in the middle. Allow to cool slightly before removing from the baking sheet.