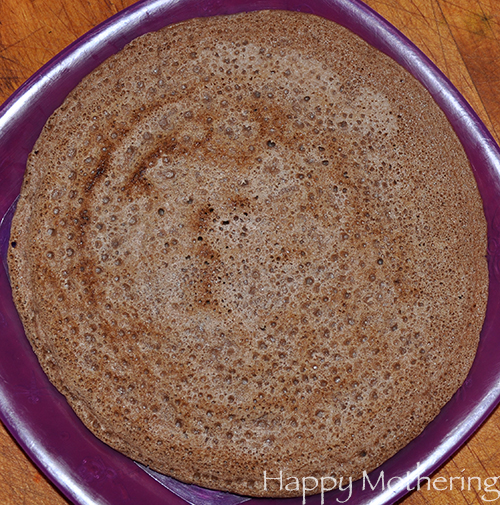 Since discovering one of my new favorite whole grains, Teff, I have been looking for more recipes that incorporate it.
I stumbled across a simple recipe using Teff flour for Ethiopian Injera flatbread on the Chef in You blog. We eat a lot of spicy foods, so this traditional Ethiopian delicacy sounded perfect for us!
It does take 5-7 days to make because you need to make a starter first, but using a sourdough starter is one of the healthiest ways to enjoy whole grains. And once you have your starter, it's a super easy and fast recipe to prepare.
The best way to enjoy this recipe is by grinding your Teff fresh for each batch.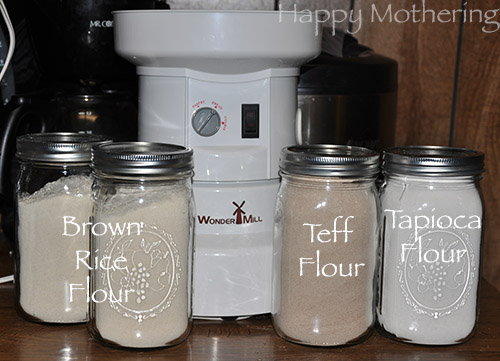 If you like ethnic foods, give this recipe a try!
Starter Ingredients
¾ cup filtered water (room temperature, ~70° F)
½ cup fresh ground Teff flour
A pinch of active yeast (about 1/8 teaspoon)
Injera Ingredients
¼ cup Teff starter
1 ¾ cups filtered water (room temperature)
1 ¾ cups fresh ground Teff flour
¼ teaspoon pure sea salt
Grapeseed oil (for greasing the pan)
Starter Directions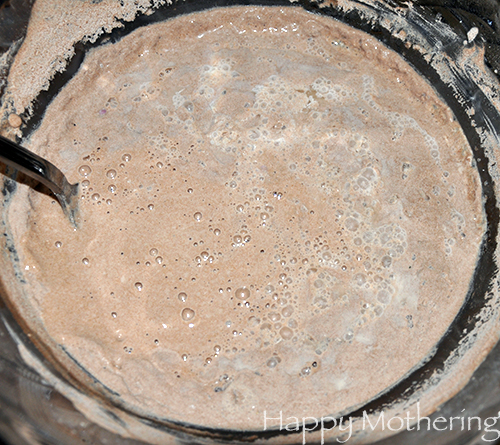 Combine starter ingredients in a bowl or mason jar.
Cover the starter with a cloth secured with a rubber band and ferment for 2 days someplace that's about 70° F (I put mine on the counter or on top of the fridge). You should see some rising in around 4 hours.
Let it sit untouched for 2 days.
Stir the starter. You'll notice bubbles on the surface of the starter, and that it's pretty stinky (with a grassy or yeasty smell
Feed the starter 1/3 cup fresh ground teff flour and ½ cup filtered water water and re-cover with the cloth.
Let it sit untouched for another 2 days.
Starter should have separated into distinct layers – watery on top and dense muddy flour at the bottom. It should look like this.
Stir the starter. It should be slightly fizzy and have a robust grassy smell.
Feed with another 1/3 cup fresh ground teff flour and ½ cup filtered water.
Cover with the cloth and allow to sit untouched for at least4 hoursbefore using to make Injera (I let mine sit overnight).
You should haveabout 2 cups of starter by now.
Injera Directions

This recipe uses only 1/4 cup of the starter. If you want to use all of your teff starter, just increase the teff flour, sea salt and filtered water accordingly
Place the teff starter in a mixing bowl (reserve ¼ cup of the starter for your next batch).
Add the filtered water to the starter and stir until dissolved.
Add your fresh ground teff flour and mix until your batter is smooth. It should have a consistency like thin pancake batter.
Cover the batter and allow to sit untouched for at least 5 to 6 hours at room temperature (I waited closer to 8-10 hours).
Add your sea salt and stir until dissolved.
Heat a 10- or 12-inch skillet over medium heat (you'll also need a tight-fitting lid). I used my cast iron skillet.
Using a small cloth (or paper towel), wipe your skillet with a thin layer of grapeseed oil.
Pour ½ cup to ¾ cup of batter in the center of your skillet.
Swirl your skillet right away to coat evenly.
Let the injera bread cook for ~1 minute, just until holes start to form on the surface.
Cover your skillet with a tight fitting lid to steam the injera.
Steam for about 3 minutes, just until the edges pull away from the sides and the top is set.
Allow to cool for at least 5 minutes before serving to ensure the right texture.
Serve with your favorite dish – we like ours with curry!