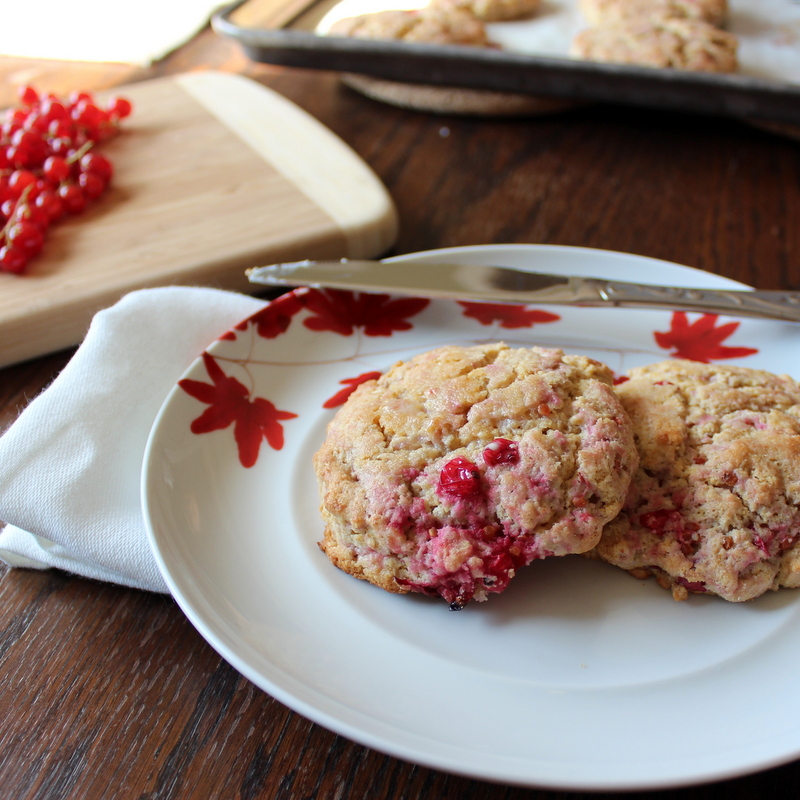 I finally bought soft white wheat to use in my grain mill, so naturally I had to make something that is supposed to be light and fluffy and see just how it went, so I decided to make scones.  They were definitely light and fluffy and so delicious!  And, a few days after the soft white wheat arrived, I saw beautiful, fresh, red currants at my local grocery store.  I have never cooked with them before, so I just had to try them!  Like I expected, they were quite tart, so I knew I had to put them is something just a bit sweet, and the scones fit the bill perfectly!  Fresh red currants are typically a little difficult to find, so if you are not lucky enough to run across them, then substitute cranberries, which have a similar tartness.  Sweeter berries, such as blueberries, would be good too.
This recipe is one I adapted from the America's Test Kitchen Cookbook via Smitten Kitchen.  I added a bit more sugar than the original recipe because I was using fresh berries that were quite tart.  And, the original recipe called for dried currants, and of course I used fresh ones.
Here is a photo of me grinding the soft white wheat.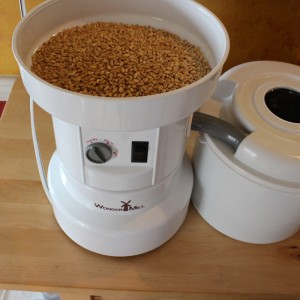 When I make scones or biscuits, I always grate the butter first and then put it in the freezer for about twenty minutes, so that it is very cold.  The butter already being in such small pieces allows you to work the dough less when cutting it in giving you a more tender scone or biscuit.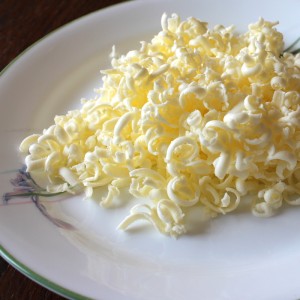 Fresh Red Currant Scones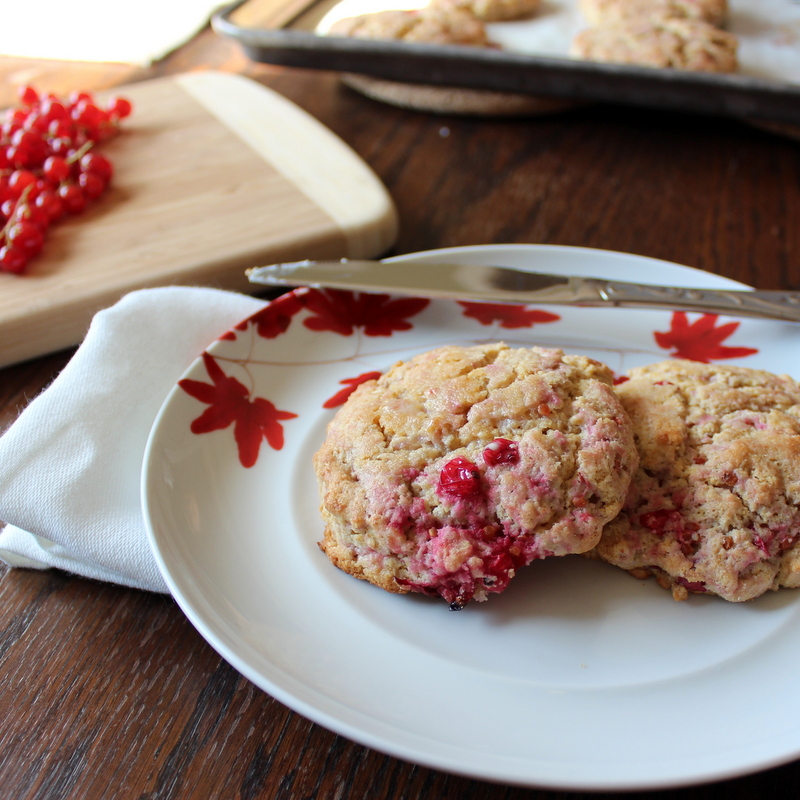 Author:
Michelle @ From Calculus to Cupcakes
Ingredients
2 cups freshly milled soft white wheat flour plus a little more to flour your cutting board.
1 Tbsp. baking powder
½ tsp. salt
¼ cup sugar
5 Tbsps. unsalted butter
1 cup heavy cream
½ cup fresh red currants or other berries
Instructions
Grate the butter and set it in the freezer for approximately 20 minutes.
Line a large baking sheet with parchment.
Preheat oven to 425 degrees.
Whisk together flour, baking powder, salt, and sugar.
Cut butter into flour mixture using a pastry blender or a fork.
Stir in berries.
Stir in heavy cream. Be gentle. Some of the berries are going to get broken in this process, but it is nice if some can remain whole too.
Pour dough out onto a lightly floured cutting board.
Gathering up the loose pieces, press together until if forms a shaggy ball. Then press until about ½ inch thick. Cut with a round cutter. I used one 3 inches in diameter and ended up with 9 scones, but if you use a smaller cutter, you will get more.
Bake for approximately 10 minutes or until golden.
Let cool slightly before serving
3.1.09