It has been a long, cold winter. It was into a dark and desolate landscape that my new Wonder Mill arrived, like a late Christmas gift. I could not contain my glee as I plucked the box from my front step. I raced to preheat the oven.
Baking is a lifeline, here in the frozen tundra, as we count the days of sub-zero temps. My trusty oven keeps the kitchen cozy, and we can carbo-load ourselves into an altered state. Nothing says, "I love you," like a big fat biscuit on a cold day, and I needed love.
I assembled the mill, which took no time at all, and read through the instructions. I then ground up some old white rice to clear the machine for the first use. Once that was done, I brought out my bag of Kamut.
I love Kamut. If you are not familiar with this amazing grain, it's an ancient variety of wheat. Kamut is a big, fat, golden grain, great for cooking up for salads and stews. It has a buttery, mild flavor, and the big grains make it easier to eat with a fork than some grains.
I often cook it whole, and enjoy its crunchy texture. I used to be able to find the flour around town, but have not run across it in a long time. So I had been planning to grind some fresh Kamut flour as soon as my mill arrived.
To really appreciate the flavor of the Kamut, I had been scheming to make something really simple. Just a biscuit, hot and immediate, with no overwhelming tastes, like chocolate or pumpkin. Simple drop biscuits with a hint of sweet, a sprinkling of coarse salt on top. I held back from putting in herbs. I wanted pure Kamut.
So I ground the grain, measured it, and stirred in the leavening, salt and sweetener. I made a mock buttermilk from almond milk and vinegar, and stirred in some flax to stand in for an egg. Then, in an old vegan trick, I drizzled in the oil, to make swirls and clumps, which would make a more interesting texture.
The lovely, light flour gave the biscuits a heavenly scent as they baked. I made a quick vegetable bean stew.
The biscuits emerged golden and delicious, with the unique flavor of Kamut. Lighter than regular whole wheat, but slightly sweeter than white whole wheat, they were lovely.
All in all, a great way to get those fresh, just opened whole grain nutrients into our winter weary bodies. Biscuits, forever.

My First Fresh Kamut Flour Vegan Biscuits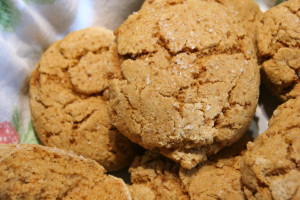 Makes 7 biscuits
Ingredients
2 cups Kamut Flour
1 teaspoon baking powder
1 teaspoon baking soda
½ teaspoon salt
2 tablespoons blonde palm sugar or brown sugar
¾ cup unsweetened almond milk
1 tablespoon rice vinegar
1 tablespoon ground flax seeds
4 tablespoons canola or olive oil
Instructions
Preheat the oven to 400 F. Line a baking sheet with parchment paper and reserve.
In a large bowl, combine the flour, baking soda, baking powder, salt and sugar. In a cup, stir almond milk and vinegar, whisk in flax and let stand for at least two minutes, to let the flax start to gel.
Drizzle the oil into the flour mixture while stirring, so that the oil will form small clumps. Quickly stir in the almond milk mixture. Use a ¼ cup measure to scoop the dough. Place the biscuits two inches apart and flatten slightly. Sprinkle lightly with coarse salt, if desired.
Bake for 14 minutes, until the tops of the biscuits are golden brown and firm to the touch. Cool on a rack, serve warm.