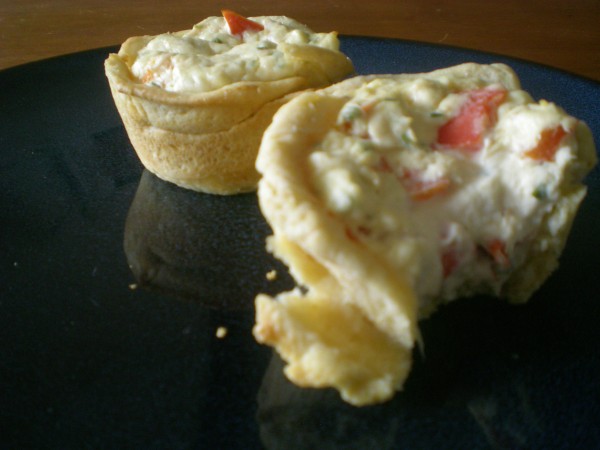 These farmhouse "muffins" were inspired by a recipe that my husband described to me from his childhood. Basically, farmhouse muffins are biscuit-lined muffin cups stuffed with whatever savory filling you fancy. Can you see the possibilities here? You could pack these with all manner of cheese, homemade sausage, bacon, peppers, onions, ham, whatever tickles your taste buds. Rather than a creamy-based filling you could use barbecue sauce or salsa. And then eat them for supper, breakfast, brunch, parties, midnight snack—anything. You will really be in for a treat if you use freshly-ground flour; the slight nuttiness goes so well with the warm, savory filling.
Biscuits
2 c flour (your choice; I like soft white wheat)
2 t baking powder
½ t sea salt
4 T butter
¾ c milk or buttermilk
Preheat the oven to 375. Stir the dry ingredients together. Cut the butter into pieces and blend it into the flour mixture with a fork until the butter is the size of large crumbs. Pour the milk into the flour and gently stir in, adding more milk until the dough is just moist and holds together. Roll out the dough on a floured surface and cut out twelve biscuits, using a glass or biscuit cutter. Press the biscuits into a buttered muffin tin, easing the dough up the sides of each muffin cup.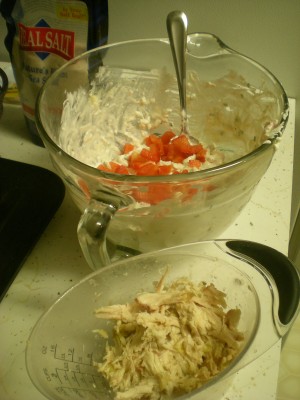 Filling
8 oz cream cheese, softened
½ c sour cream
2 T dried chives (or fresh chives, chopped)
½ t sea salt
1 ½ c chicken, cooked and shredded
1 red bell pepper, chopped
In a bowl, beat the cream cheese, sour cream, chives, and salt. Stir in the chicken and bell pepper. Spoon filling into biscuits. Bake for about 15 minutes, or until the biscuit edges begin to turn golden.