I have a confession to make.  I am a bread addict.  Give me a chunk of crunchy chewy whole grain bread or a slice of fresh artisan bread and I am in heaven.
The good news is that quality breads are readily available for purchase almost everywhere these days.  The bad news is that they are super expensive.  The answer to this good news bad news situation is easy: bake your own bread!  Okay, I get it but who has the time for that?
The answer?  We all do!!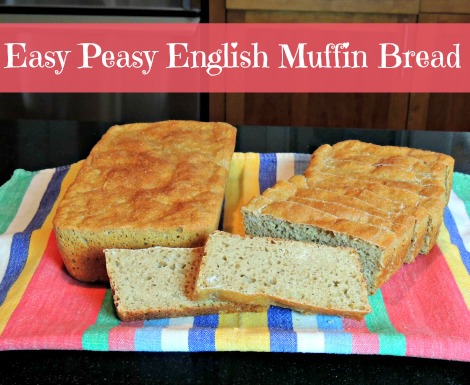 Lucky for me, I have some easy, one bowl bread recipes up my sleeve and have made them often.  Alas, they have always been made with store-bought flour and although I have tinkered with half white and half whole wheat flour, I have been chicken to go 100% whole wheat.
This being the new year and a time for resolutions, I decided to change my ways and start making bread using 100% whole wheat flour that I mill myself using a WonderMill Electric Grain Mill.
How to Make 100% Whole Wheat English Muffin Bread
The first step is to mill the wheat.  I like to use Hard White Wheat because it has a lighter, less intense flavor than the Hard Red.  From experience, I know that it is best not to use warm flour so I mill my flour the night before I plan to bake.  I use the setting for "Bread" flour which is a bit more course than the finer, "Pastry" setting on the WonderMill.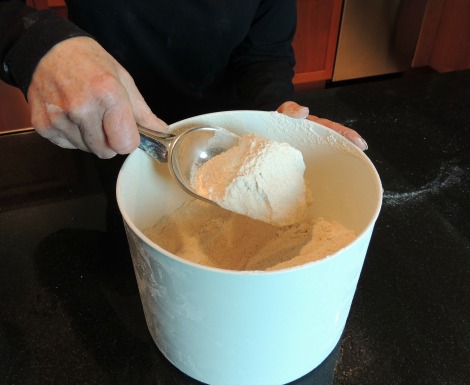 This is what your freshly milled flour will look like.
Remember when I said this was easy?  Here is the recipe.
English Muffin Bread

Ingredients
2 3/4 cups warm water
3 1/2 teaspoons yeast
1 Tablespoons salt
1 1/2 Tablespoons sugar (or raw sugar)
5 1/2 cups whole wheat flour milled from hard white wheat

It helps to set your ingredients out in advance

Directions

Dump all of the ingredients into a large bowl and mix by hand with a spoon.  The dough will be sticky and lumpy but not to worry, that is exactly what you want.  Mix for three or four minutes at the most.
The dough will look "rough" and goopy.  That is just fine!
Cover the bowl with a towel and set in a warm place to rise.  Depending on the temperature in your home, this first rise will take 1 1/2 to 2 hours.

When the dough has is about double in size, remove the cover and stir it back down.  Immediately ease the dough into 2 loaf pans.

Once again, set the dough aside and allow it to rise until it reaches the top of the pans.

After the second rise, it starts to look like bread instead of a blog.

Bake at 350 degrees for 45 minutes or until golden brown.

Remove from the oven and generously brush with melted coconut oil (or butter if you prefer).  Let cool about 10 minutes then turn out of the pan.

This is not a high-rising bread. But, it is nice and even.  Perfect for toasting!

Cool completely before cutting.  This bread is incredible toasted and topped with butter, jam, honey, or good-for-you coconut oil.
Pardon me while I take a snack break!
That's all there is to it.  I hope you enjoy your home baked, 100% Whole Wheat English Muffin Bread.  Not only is it easy to make, but there is minimal clean up.  What more could you ask for?
100% Whole Wheat English Muffin Bread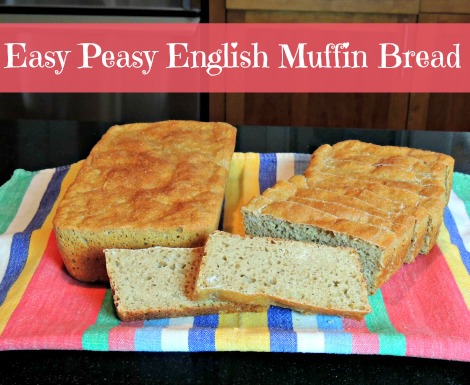 Author:
Gaye Levy - Backdoor Survival
This is the easiest one bowl, 100% whole wheat bread that you will ever make. Easy peasy!
Ingredients
2¾ cups warm water
3½ teaspoons yeast
1 Tablespoons salt
1½ Tablespoons sugar (or raw sugar)
5½ cups whole wheat flour milled from hard white wheat
Instructions
Dump all of the ingredients into a large bowl and mix by hand with a spoon. The dough will be sticky and lumpy but not to worry, that is exactly what you want. Mix for three or four minutes at the most.
Cover the bowl with a towel and set in a warm place to rise. Depending on the temperature in your home, this first rise will take 1½ to 2 hours.
When the dough has is about double in size, remove the cover and stir it back down. Immediately ease the dough into 2 loaf pans.
Once again, set the dough aside and allow it to rise until it reaches the top of the pans.
Bake at 350 degrees for 45 minutes or until golden brown.
Remove from the oven and generously brush with melted coconut oil (or butter if you prefer). Let cool about 10 minutes then turn out of the pan.
Cool completely before cutting. This bread is incredible toasted and topped with butter, jam, honey, or good-for-you coconut oil.
Recipe adapted from One Good Thing By Jillee