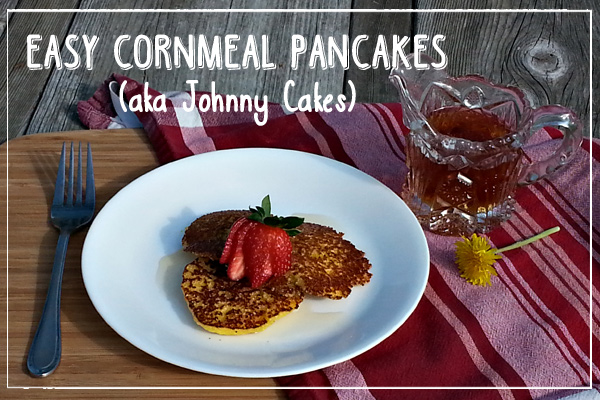 Pancakes are a staple breakfast food at our house. My youngest one loves them, and I love how I can beef them up with ground flax seed and yogurt and all sorts of additions to make an otherwise carb-loaded white grain food healthier.
Imagine what you can do by switching up the grain you use, and how much healthier you can make it when you grind that grain at home! You can have fresh, whole-grain goodness (that is gluten-free if your family needs it) and change every routine meal into something more flavorful.
Cornmeal pancakes, otherwise known as Johnny cakes, are thought to be original to the Native American people and most likely passed on to early settlers of North America. Maize was the primary corn available at the time and could be ground for all sorts of applications. What made this a great dish for early settlers is that dried corn is light, easy to store, and lasts a long time. This dish, along with bacon fat or other fats readily available at the time, didn't require ingredients that needed refrigeration or fancy cooking methods. You mixed the cornmeal with water, salt and sugar if you had it, fried it on a skillet with bacon fat, and you had a quick and easy meal that required little to create.
We'll add a few little twists for modern day, but here is our family's version of Johnny Cakes!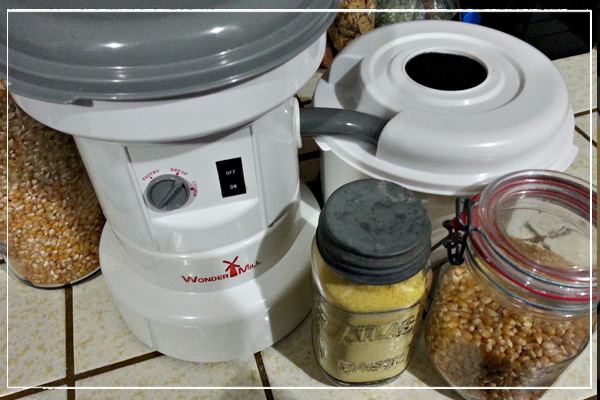 First, the grinding of the POPCORN! I said it. We're not just using dent corn we got from the feed store. We're using something that is probably in all of our pantries, so pull out that bottle of Orville's popcorn that you put away in hopes of making real popcorn for movie night instead of that stuff in a bag. This is worth it!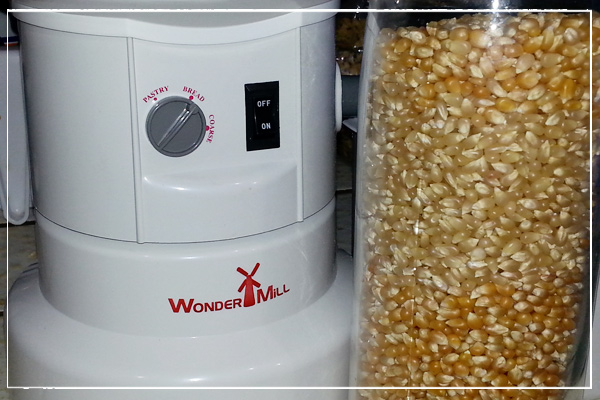 Turn on your grain mill, set to course grind, then pour in 2 cup of popcorn.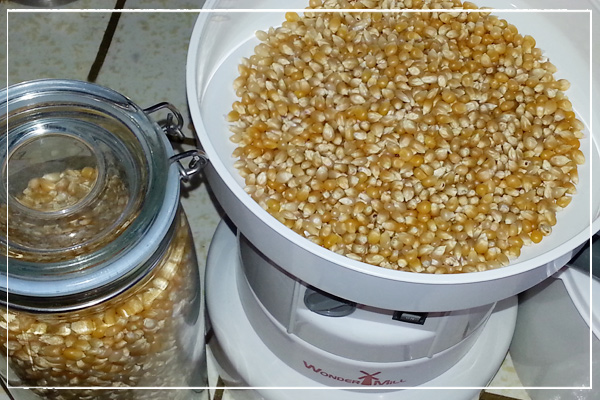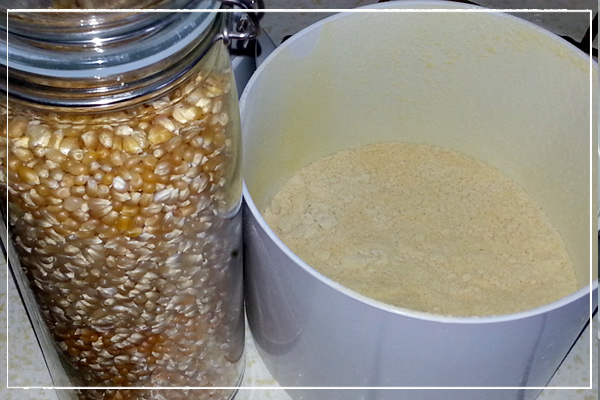 Ingredients
2 C ground cornmeal
1 tsp salt
1 TB sugar
4 TB butter, softened
1 C of Milk
4 TB boiling hot water
More butter 😉
Directions:
1. Cream the dry ingredients with the softened butter.
2. Add your milk and mix thoroughly. You may find it a little lumpy, but that's okay.
3. Begin to add the hot water. The hot water will help break down the cornmeal and give your batter a smoother consistency. But don't add it all at once. You want a batter that is the consistency of thinned mashed potatoes. Not runny, but not something that sticks to your spoon and you have to shake it off. (If you do happen to make it too runny, you can always add in a bit more corn meal to thicken it up. I always make extra and store it in zip top bags in my freezer.)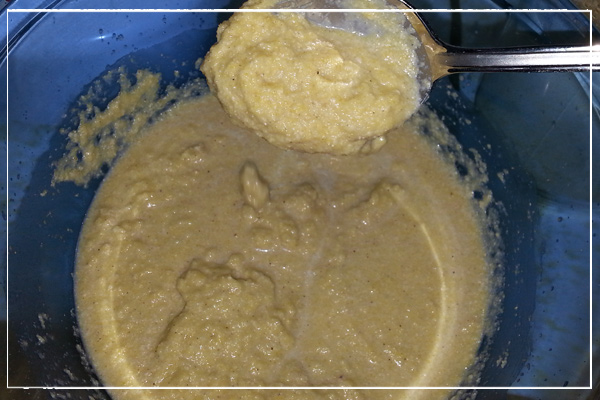 Here's a hint that I learned from Alton Brown. Walk away from your batter and let it rest for awhile. Your cornmeal (and flour) absorbs the liquids better, and has a chance to create all that chemical bonding and reactions that make batters fun. You can also add a bit more liquid at this point if your batter becomes too firm after a brief rest.
4. Drop large spoonfuls onto a well buttered, hot griddle surface. Cast iron is preferred for that authentic taste, but a moder griddle or skillet will do if that's all you have. If you have bacon fat, use it! It will make this even scrummier! If you prefer coconut oil, that will work as well. But please do use an oil with a high smoking point. Vegetable oil will not work in this application well. You want a hot pan.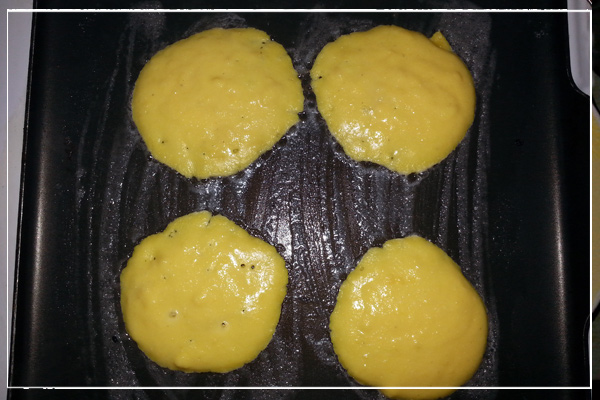 5. Cook until the shine is off the top of the pancake. Test to see if you can flip easily. It will not be as firm as a pancake when you turn, so turn carefully. Your total cooking time is 4-6 minutes on both sides. You want a golden, crisp surface on both sides.
Serve with maple syrup, honey or even applesauce, along with other breakfast favorites, for a uniquely different take on morning breakfast! Or, serve with honey for dessert!
A note: You can use field/dent corn to make cornmeal as well as dehydrated sweet corn (learn how to here). The sweet corn lends itself to a more fragrant cornmeal that is quite a bit sweater and starchier than using popcorn, but it does work in many applications, especially if you like a sweeter cornbread.