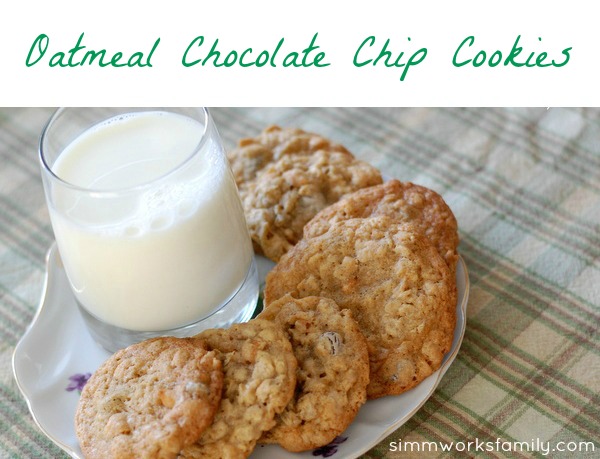 When I'm in the mood for a tasty, filling cookie that satisfies my sweet tooth the only thing that comes to mind is a delicious oatmeal chocolate chip cookie. And these cookies are my go to recipe!
With a hint of cinnamon and the ooey gooey goodness of the semi sweet chocolate chips this cookie is a hearty, delicious take on a childhood favorite. Plus, with my own oatmeal flour I get even more oat goodness in every bite.

Oatmeal Chocolate Chip Cookies
Ingredients
1 cup butter, room temperature
1 cup sugar
1 cup brown sugar
2 large eggs
2 tbsp milk
2 tsp vanilla extract
1 cup whole wheat flour
1 cup oat flour
1 tsp baking soda
1 tsp baking powder
1 tsp cinnamon
1 tsp salt
2½ cups rolled oats
1 cup chocolate chips
Instructions
Preheat the oven to 350F. Line a baking sheet with parchment paper.
In a large bowl, cream together the butter and sugars until mixture is light in color. Beat in the eggs one at a time. Then add the milk and the vanilla extract.
In a medium bowl, stir together the flour, baking soda, baking powder, cinnamon and salt. Either by hand or with the mixer on low speed, gradually beat the flour in to the sugar mixture until just incorporated.
Stir in the oats and chocolate chips by hand with a spatula.
Drop 1-inch balls of dough onto the cookie sheet. Place them about 1½ inches apart, leaving room to spread.
Bake at 350F for 10-13 minutes, until golden brown at the edges and light golden at the center.
Cool on baking sheet for at least 2-3 minutes before transferring to a wire rack to cool completely.