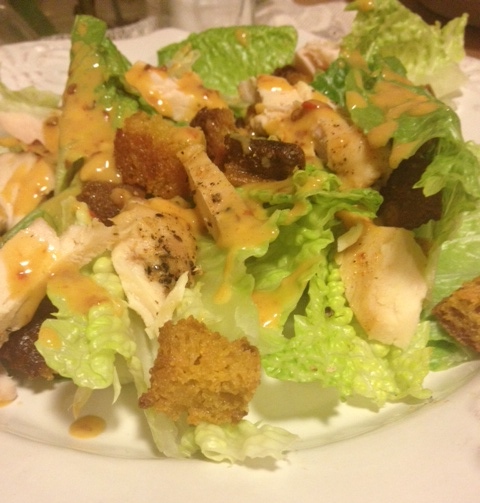 I am currently doing something crazy and only cooking out of my two Pioneer Woman cookbooks for the next 6 months. I'm calling it my Pioneer Woman Challenge (click here if your bored and want to read more about it :))  Anyways, last night I made her spicy caesar salad with homemade cornbread croutons. As a born and raised southern gal I have a strange, but understandable, addiction to cornbread… with a big glass of sweet tea. When I saw this recipe in my cookbook I jumped at the chance to make it! Now I have to admit usually my cornbread resembles more of a dessert than a salty side dish (we all have our guilty pleasures) but this salty version is really quit remarkable! I think I  have found a new must for my salads. It will be hard to go back to plain Jane croutons… Thanks a lot Pioneer Woman…You have hooked me with your secret power…BUTTER… Well at least its on a salad, that makes me feel two things: #1 Yay, it's healthy! #2 Rabbits eat this too (well maybe not the cornbread croutons, but they should cause they are missing out!)  🙂
I have to say what added to my excitement, besides getting to enjoy the smell of fresh baked cornbread (Mmm.Mmmm. good), was finding a big ol' bag of soft white wheat berries at my local Walmart! Do you see how cute the bag is too?! My non-stop creative brain will now be on overdrive with the endless possibilities! I'm thinking framed in my kitchen??!!  Sorry back to the important details…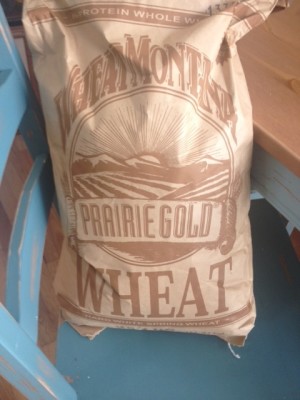 Who else agrees with me that pouring the berries into the mill is one of the most fun parts… I love the smell 🙂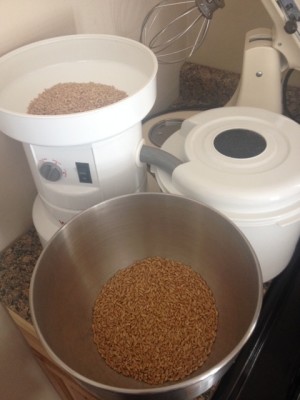 There is something special about cornbread in a cast-iron skillet, love the crispy edge it gives it.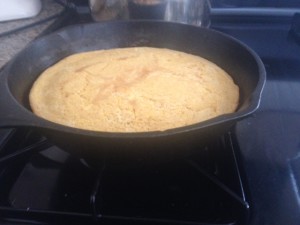 Cornbread is cut and ready for one last baking to crisp them into heavenly bites.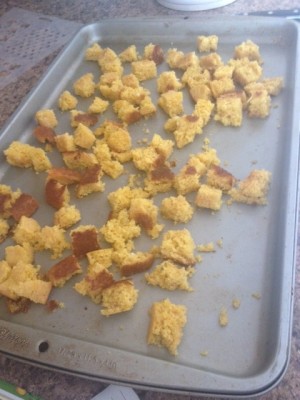 You can't resist can you?! 🙂

Delicious Cornbread Croutons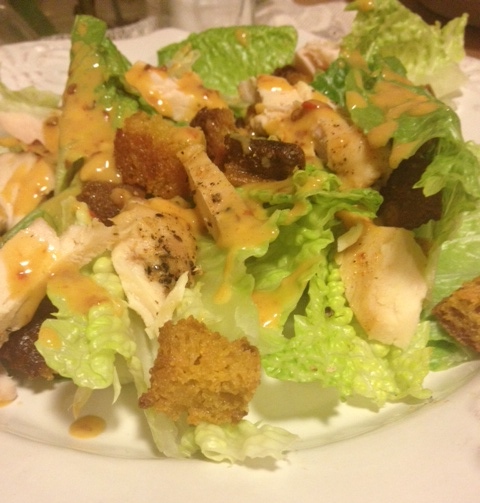 Author:
WillWork4Cupcakes
Ingredients
3 Tbsp vegetable shortening, melted (salted butter)
½ cup cornmeal, white or yellow
¼ cup all purpose flour (I used fresh ground soft white wheat, just scant ¼ cup)
2 tsp baking powder
½ tsp salt
½ cup buttermilk (Or ½ cup of milk with ½ tsp white vinegar)
¼ cup milk
1 small egg
¼ tsp baking soda
½ stick butter, melted (salted butter)
Instructions
First step is to make the cornbread:
Preheat the oven to 400 degree's F.
Pour 1 Tbsp of the shortening (or butter) into a medium sized iron skillet or square 8 x 8 inch baking pan.
Combine the cornmeal, flour, baking powder, and salt in a mixing bowl.
In a separate bowl, combine the buttermilk, milk, eggs, and baking soda. Stir.
Mix together the wet and dry ingredients until just combined, then stir in the remaining 2 Tbsp melted shortening (or butter).
Pour into the skillet or baking pan, smoothing the surface with a knife or spatula.
Bake for 15-20 minutes, or until golden brown on top.


Now it's time to make the croutons:
Cut the cornbread into 1 inch cubes.
Spread the cubes on a baking sheet and drizzle with the melted butter.
Bake at 325 degree's F, tossing or shaking occasionally, until the croutons are crisp, about 20 minutes.
Allow the croutons to cool slightly before serving.
Notes
Source: The Pioneer Woman Cooks- Food From my Frontier