Since I started milling my own flour, my kitchen has taken on a whole new life. I'm more apt to create items from scratch rather then using store bought. I love how healthy my food tastes and the best part is I can mill what I want, when I want and I don't have a bunch of flour stored in the pantry. My kitchen is rather small and does not have a lot of storage space anyway.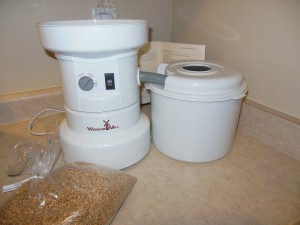 When I was a kid, I loved my mom's chicken and dumplings. She would make the dumplings with Bisquick and I remember how yummy and fluffy they came out. I'd eat the dumplings over the chicken any day of the week so the more she made, the happier I was.
So, naturally I set out to make dumplings from scratch. I looked a lot of recipes on line and came up with one of my own that combined the best parts of these recipes and added a "Lorifying" touch.
I did not use Bisquick. I milled my own hard white wheat grain I purchased at Whole Foods. I found that using the wheat flour gave my dumplings much more flavor then Bisquick ever did.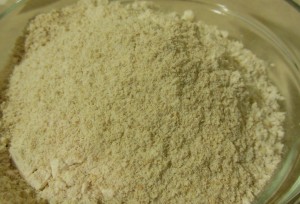 CHICKEN INGREDIENTS:
3 slices bacon
1 red onion, diced
4 skinless, boneless chicken breast, sliced into thirds
3 cups chicken broth
1 teaspoon poultry seasoning
salt and pepper to taste
1 (15.25 ounce) can corn,drained and rinsed
3 cups half-and-half
1 clove garlic, diced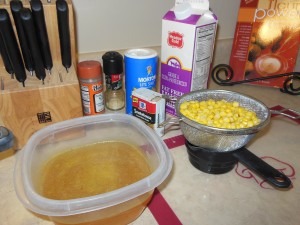 DUMPLING INGREDIENTS:
2 cups freshly milled wheat flour
1 1/4 tsp baking powder if not self-rising
3/4 tsp salt
1 tbsp butter
3/4 cup milk
1/2 tsp parsley flakes
DIRECTIONS:
Place bacon in a large, deep skillet. Cook over medium high heat until evenly brown. Crumble and set aside; reserve bacon drippings in skillet.
Add garlic, onion and chicken to bacon drippings and cook for 15 minutes, stirring occasionally. Pour in chicken broth; season with poultry seasoning, salt and pepper.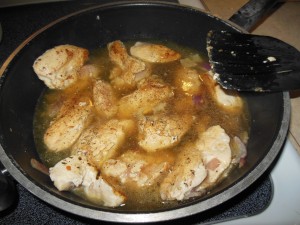 Stir in corn, and simmer all together for 15 minutes.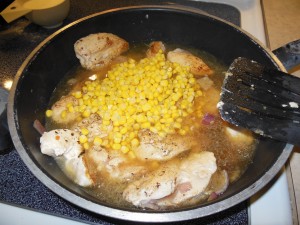 Pour in half-and-half (I used fat free half and half) and bring to a boil; add crumbled bacon.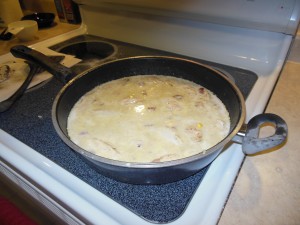 In a medium bowl, combine the dumpling ingredients and mix well (dough should be thick).
Drop tablespoon sizes of dough into boiling mixture; reduce heat and simmer for 10 minutes uncovered, then another 10 minutes covered.Don't forget… dumpling dough expands quite a bit so be sure to space them apart. (Note: Do not stir while simmering, or dumplings will break apart). Serve hot.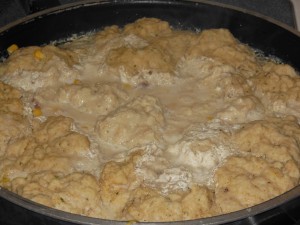 This turned out great! The dumplings were fluffy and flavorful. Cutting into them you can see the wheat color and texture. It added a lot to the dish. The chicken moist and delicious. The sauce thickened up nicely and was amazing. And it tasted great over the dumplings. The corn added a nice sweetness to the chicken and all flavors blended well. My husband said (and this is a direct quote) "You can make this anytime you want to." He was in chicken heaven. And he ate two enormous dumplings too.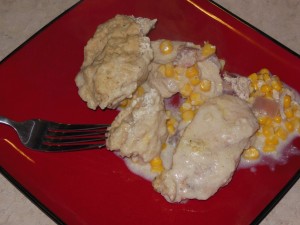 As I said previously, the wheat flour made all the difference in the world. Between the healthier flour and the fat free half and half, this was a  healthier version of my moms classic. A great dumpling for sure!
Chicken recipe courtesy of AllRecipes