Being a true southern girl, I have a love for biscuits that's deeper than the tall tails my grandfather tells.  But I don't want just any biscuits, I want homemade, soft, melt-in-your-mouth biscuits.  My grandmother made the best kind, and when my dad was growing up, she made 2 pans every day, man how times have changed!  So when I made the switch to freshly ground wheat, I wondered how biscuits would taste…I mean we all know that whole wheat flour isn't exactly light and fluffy!  Then one day I was watching a video from the Bread Beckers and Ashley gave a recipe for biscuits.  I had to try them.  They are light and delicious and the perfect medium with which to sop gravy!
2 1/2 cups soft white wheat flour

 2 tsp baking powder

1/2 tsp baking soda

1/2 tsp salt

1 Tbs honey granules (aka sucanat with honey)
1 1/2 cups heavy whipping cream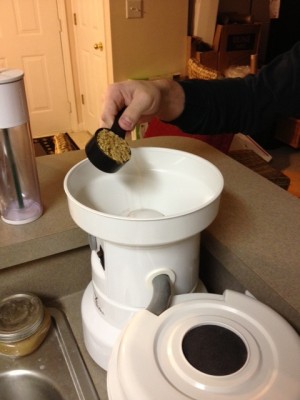 Grind your wheat.  For this recipe I ground about 2 cups of berries.  That should be enough for the biscuits, to sprinkle on your surface to roll them out, and for gravy purposes.  Combine all ingredients and mix, be careful not to overdo it or your biscuits will not have a light, fluffy texture.  When everything is incorporated transfer dough onto floured surface and roll out to about 1/2 to 3/4 inch thick, depending on how big you want your biscuits to be, and how many you want.  Cut into shapes and place on baking pan.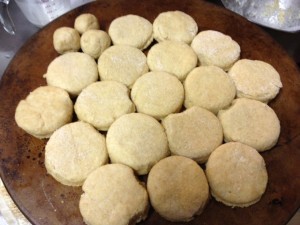 I put my biscuits very close together, this encourages them to rise more than they spread and gives super airy biscuits.  Place in a 500 degree oven for 9 minutes.  I have to confess, I don't think my oven gets hot enough as I usually end up baking them longer than 9 minutes, but they come out flaky and delicious regardless.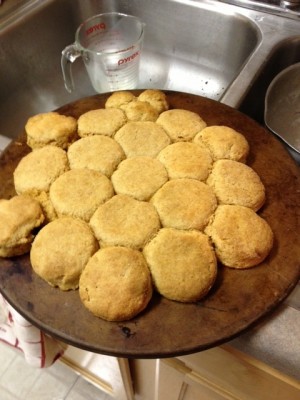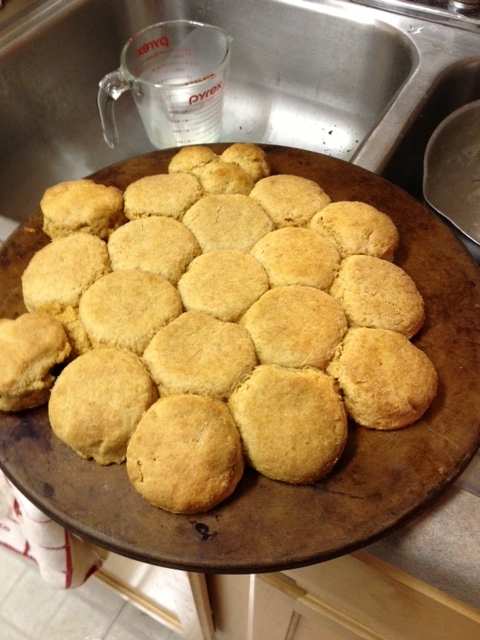 Here's the finished product.  I hope you and your family will enjoy them as much as we have!