Quinoa seems to be an up and coming grain to incorporate into our healthy lifestyles.  Technically it isn't really a 'grain' since it is not a member of the grass family but is more closely related to beets and spinach.  It has a very high protein concentration and is considered one of the few non animal sources of complete protein.  It is also gluten free which makes it a great choice for people who have to limit their gluten intake due to allergies.  Breakfast for dinner is always a big hit in my house so I decided to serve these Apple Quinoa Pancakes to my family last week.  They remind me a bit of gingerbread with the cloves and soft, tender texture!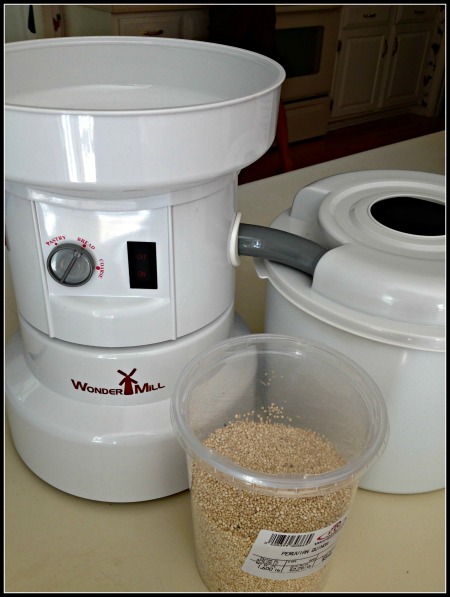 Grinding your own quinoa
Grinding the quinoa was incredibly easy.   It comes in black, red or white but for aesthetics, I chose the white for this recipe.  I am not sure how black or red pancakes would go over with my kids!  The flour has a nutty aroma to it when it is ground.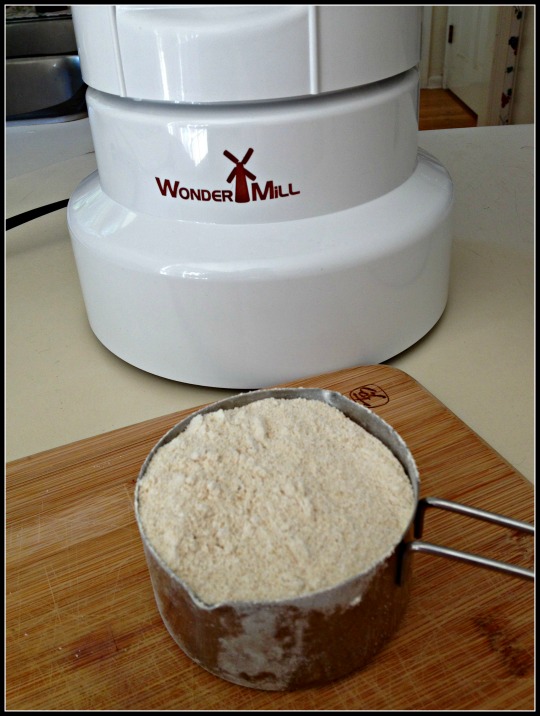 Quinoa Flour
After you grind the quinoa into flour, it is very simple to make these pancakes.  Let them cook on the griddle until the bottom of the pancake is golden and the top looks almost dry.  Trying to flip too early will create broken pancakes so be patient!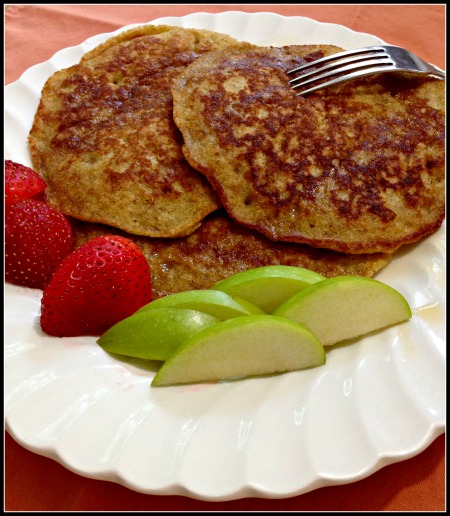 Apple Quinoa Pancakes
Ingredients:
1 1/2 cups quinoa flour
1/4 cup packed brown sugar
2 tsp baking powder
1 tsp baking soda
1 tsp (5 mL) ground cinnamon
1/2 tsp ground ginger
½ tsp ground nutmeg
1/2 tsp salt
1 3/4 cups buttermilk
1 cup applesauce
2 large eggs
2 TBSP melted butter
Directions:
1. Measure the flour, sugar, baking powder, soda, nutmeg, cinnamon, ginger and salt into a large bowl. Mix well.
2. Whisk together the milk, applesauce, eggs and melted butter in a medium bowl. Add to the flour mixture and stir until just blended.
3. Grease a large nonstick frying pan (or spray with nonstick spray) and place over medium heat. When hot, pour 1/3-cup portions of batter into the pan. When the edges of the pancake appear dry and the top is covered with bubbles, flip the pancake.
4. Cook the pancake for another minute until the lightly browned and center springs back when pressed. If
5. Serve with maple syrup and whipped cream (if desired).
Makes about 17 pancakes.