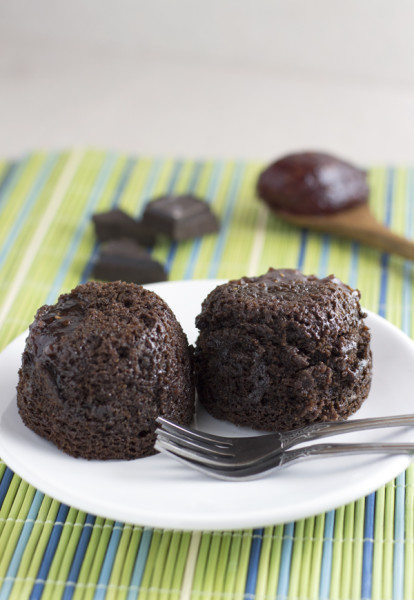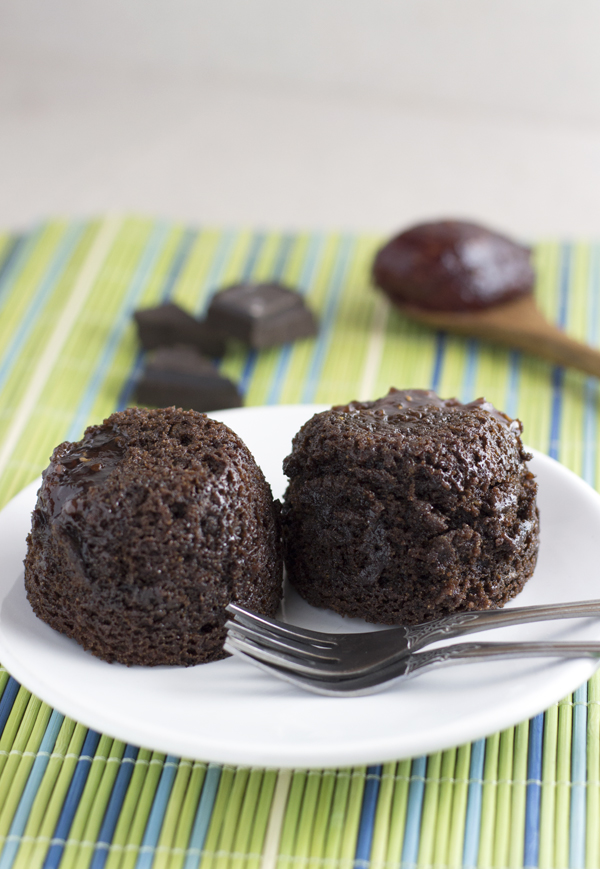 With three young kids, sometimes the closest thing we get to a date is special time together after the kids go to bed. Usually with a game or movie, and a snack. It is a wonderful time even if not a traditional date.
I am always on the look out for simple treats for the two of us for those times. Both savory and sweet. Most of our old choices really aren't options any more due to me nursing a baby with special dietary needs. I need to have fairly allergy friendly treats now. Ones that take only a few minutes to make, and yet are special.
This chocolate cake for two is perfect. It makes two tiny little cakes, that I fill with jelly to be special.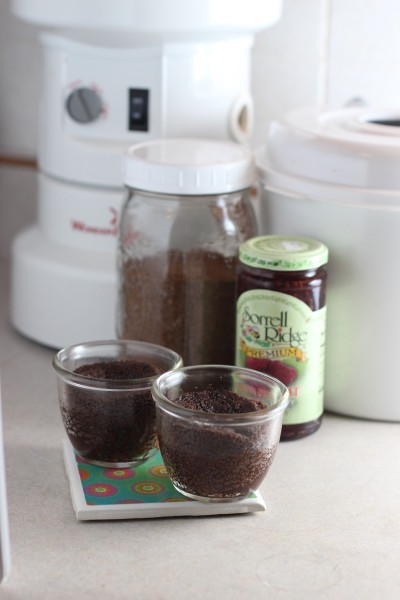 I make it from Teff flour, which is a lesser known gluten free flour. Teff is an  small brown grain that makes a neutral tasting dark brown flour. I usually only use it when I can cover up the color because brown baked goods make me thing "chocolate, coffee, or ginger bread". All good things!
The cake quickly stirs up, and then bakes for 15 minutes. That means a fresh, warm, semi healthier treat for me and Mark in less time then he takes to put the kids to bed.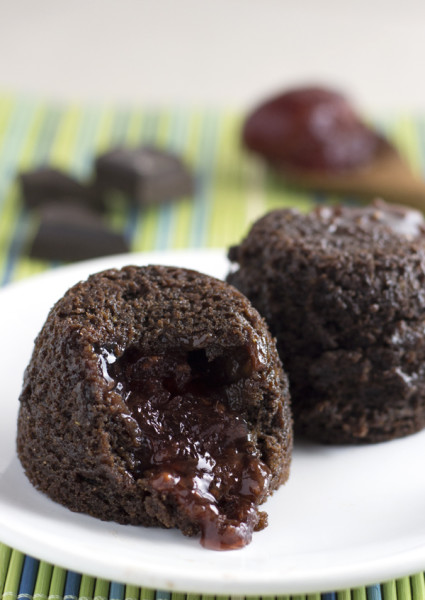 Allergy Free Rasperry Filled Chocolate Cake For Two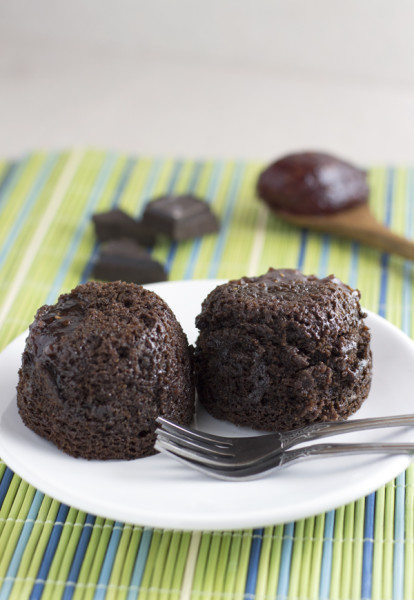 Two miniature jelly filled cakes.
Ingredients
¼ cup teff flour, ground in pastry setting
1 tablespoon cocoa powder
1½ teaspoon ground flax
3 tablespoons sucanat or sugar
1 tiny pinch+ salt
3 tablespoons plus 1 teaspoon water
1 tablespoon melted or softened coconut oil
½ teaspoon vanilla
⅜ teaspoon baking powder
appr. 1 tablespoon fruit only raspberry jelly
Instructions
Turn the oven on to 450. Oil two ½ cup mason jars, or oven proof bowls.
Mix everything for the cake, but the baking powder and jelly together. Stir until there are no lumps. Taste to see if you added enough salt, if not stir in a bit more. I like a salted chocolate cake so use close to ⅛th teaspoon. Stir in the baking powder.
Pour half the batter into each prepared baking vessel. They should be half full. Put a rounded teaspoon of raspberry jelly in the center of each one, pushing down slightly if needed. The jelly does not need to be fully submerged, the cake will rise.
Bake for 15 minutes, remove from the oven. After 3 minutes carefully remove the cake from the bowls/jars if desired, or serve in the glass (being careful, the glass will still be hot)