So happy–it's my first try to make pita bread and I got really lucky — my pita puffed up—-like magic—–forming a pocket!  Was it the high oven temperature? Was it the warm water used in proofing the yeast and in making the dough? Was it the kneading or letting the dough rest?  Was it preheating the baking pan and placing the bread in the lowest rack of the oven?  Maybe it's a combination of these things. My pita puffed—-thanks to the pita bread recipe from about.com!
Here's the recipe for this Magic Pita bread: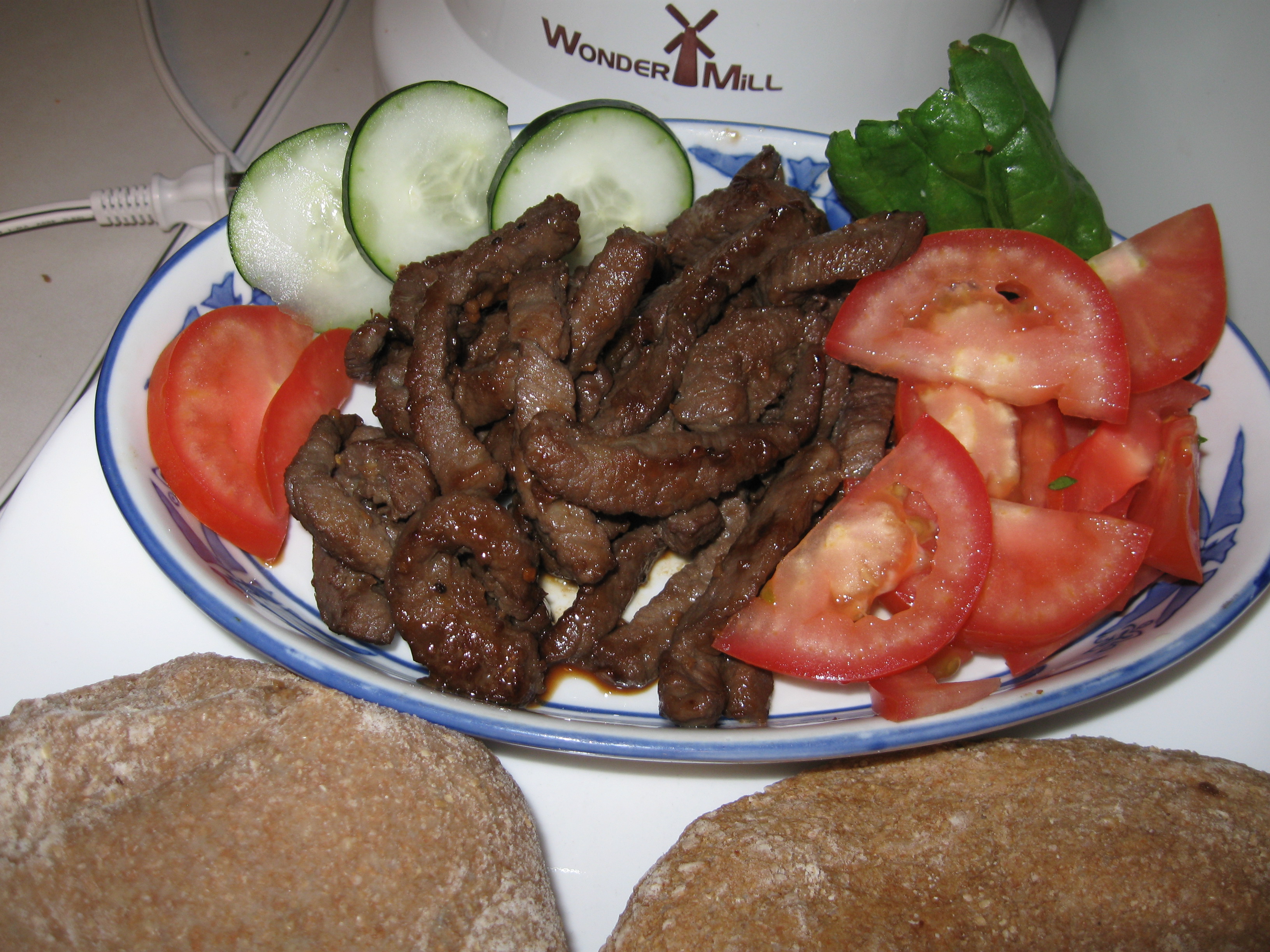 1 pckg active dry yeast
1 tsp sugar ( I used brown sugar)
1/2 cup warm water
3 cups flour
1 1/4 tsp salt (I used Celtic salt)
1 cup lukewarm water
Mix yeast and sugar and add 1/2 cup warm water. Let this sit for 10-15 minutes till yeast blooms/ water froths. Combine flour and salt in a bowl, create a well in the middle of the flour and pour the yeast mixture in the depression. Slowly add 1 cup warm water and stir with a wooden spoon till dough comes together.
Place dough in a floured surface and knead for 10-15 minutes until the dough is no longer sticky and is smooth and elastic. Coat a large bowl with olive oil and place dough in the bowl. Turn bowl upside down so all the dough is coated with oil. Cover the bowl and set it aside in a warn place for 3 hours or until it has doubled in size.
Divide dough into four and roll each into a ball. Cover dough balls and let them rest for 10 minutes. Meanwhile, preheat oven to 500 F. Make sure rack is at the bottom of the oven and be sure to preheat your baking sheet.
Roll out each dough ball with a rolling pin and bake each for 4 minutes till the bread puffs up. Turn over and bake for 2 minutes. Remove pita with a spatula from the baking sheet and let cool before filling with your choice of meats and veggies.
Enjoy!
Ann (momgateway.blogspot.com)