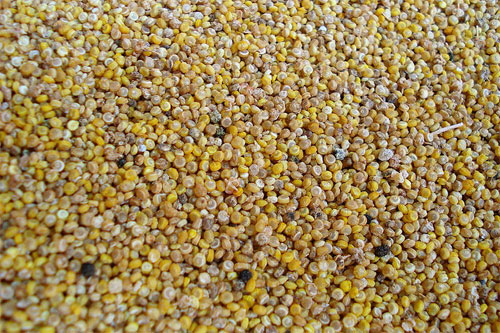 The WonderMill electric grain mill can mill many small grains such as amaranth, teff, tapioca pearls, quinoa, coarse salt, and more… These small grain flours are great for Gluten-Free baking and for replacing some of your white flour in recipes.
When grinding these small grains, it is necessary to feed them into the grain mill very slowly to avoid clogging the motor. This can either be done by carefully pouring the small grains in very slowly while milling or with the use of our Small Grains Attachment.
Pouring the Small Grains in Slowly
When pouring small grains into the WonderMill electric grain mill it is important to pour them in as it grinds. You will pour it in slow enough that the Motor does not bog down very much. See video for further instructions.
Using the Small Grains Attachment
The Small Grains Attachment (sold separately from the WonderMill) allows you to pour all your small grains in the hopper and it takes care of feeding them into the grain mill at the correct pace, making it a fool proof process for milling small grains properly. See video for further instructions and information.