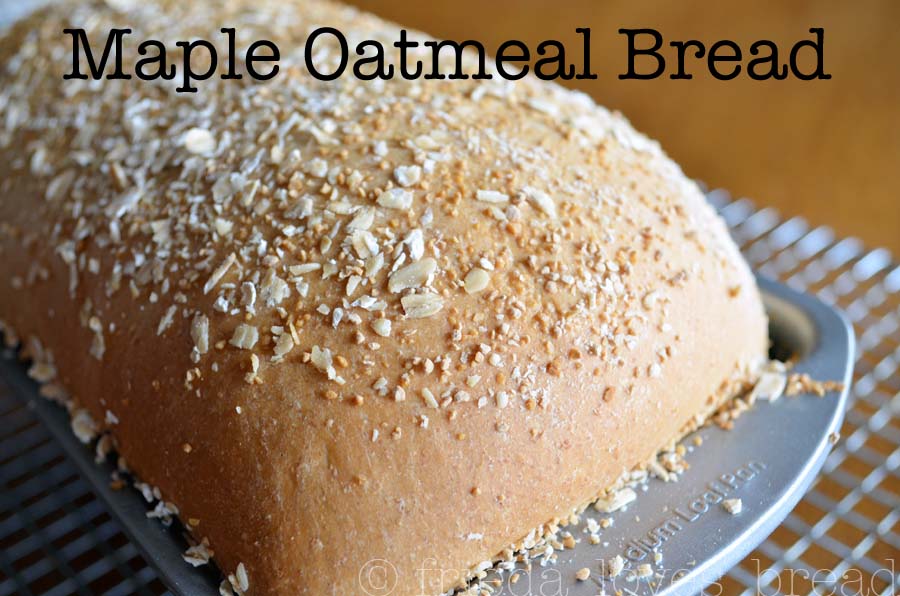 This recipe comes from King Arthur Flour and it is everything you would love in a bread: fresh oatmeal flour is combined with whole wheat flour, bread flour and slightly sweetened with pure maple syrup.
The original recipe calls for old fashioned rolled oats that are softened with hot water.  I love the taste of oatmeal; however, I discovered that rolled oats can go rancid.  *sigh* 
I found these oat groat grains at a whole foods store.  Now I can have fresh oat flour … anytime!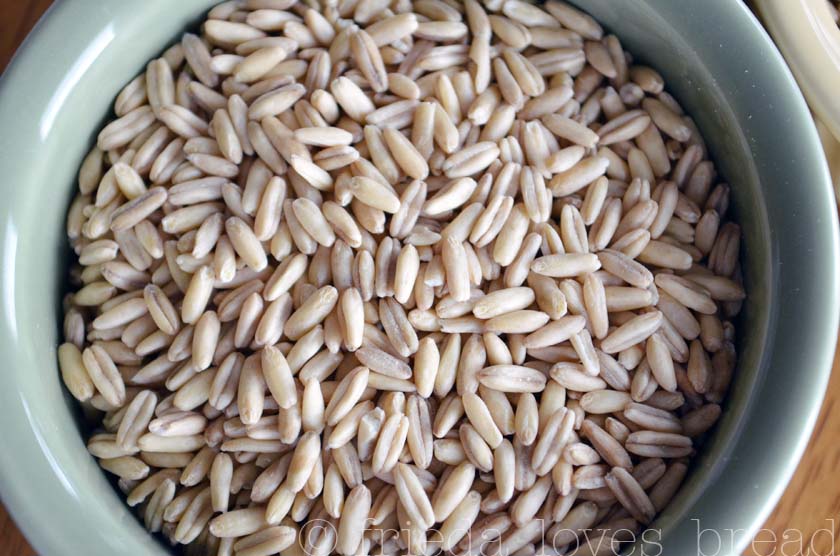 I took 1/3 cup oat groats and ground them on the bread setting of my WonderMill.  It never ceases to amaze me how quickly this mill grinds grains into flour.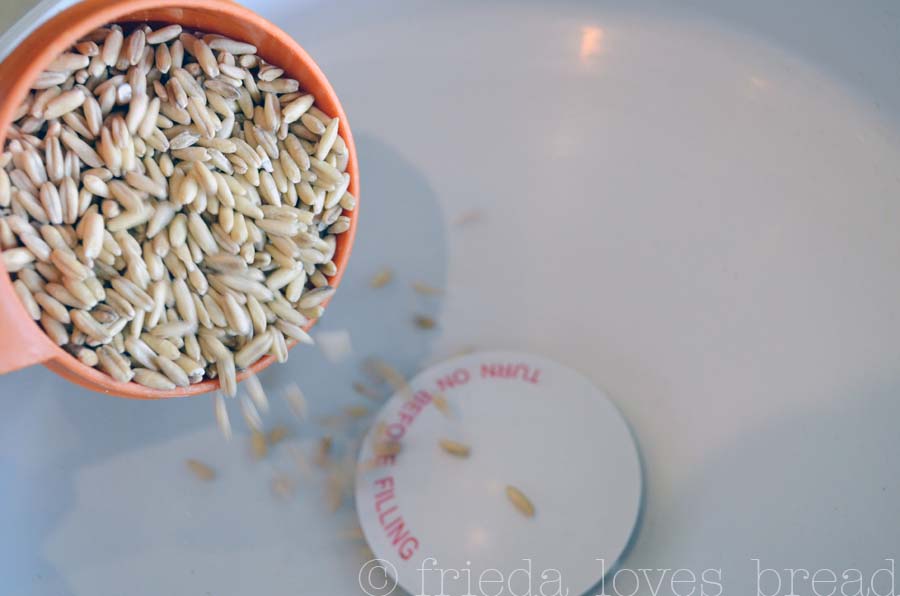 Since I was adapting a recipe that called for 1/2 cup rolled oats, I weighed 2 oz of oat flour.  I love using a kitchen scale in my baking.  I get consistent results each time!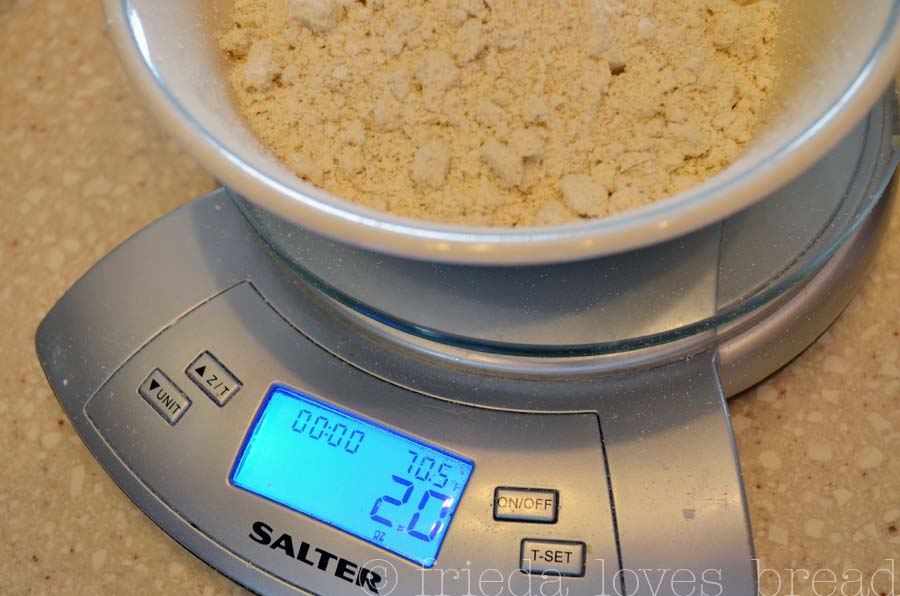 The liquid ingredients are mixed together: water, maple syrup, maple flavor, and melted butter.  I use a kitchen thermometer to make sure it is between 100° – 110°F.
Grade B Maple syrup is used in this recipe as it is darker and has stronger maple flavor than grade A syrups.  Maple flavor is used as well to bring out the maple taste in this bread.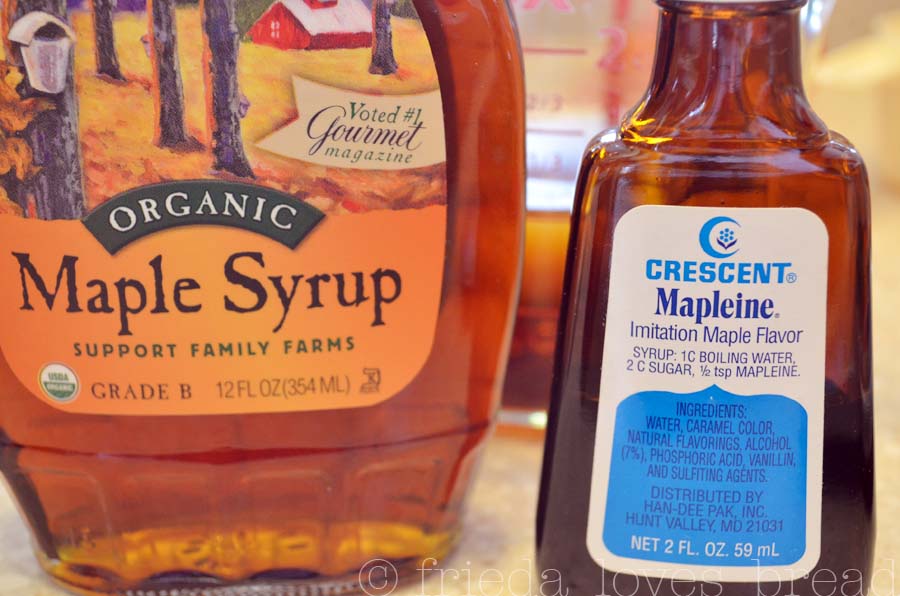 Grind some fresh wheat flour and add it to your oat flour.  Mix in your yeast and salt.  Pour your wet ingredients on top and mix.  Let this sit for 15-20 minutes to give the flours a chance to absorb the wet ingredients.  This is called, "sponging."  This prevents me from adding too much flour at the end and gives my yeast a head start.  See the little bubbles forming?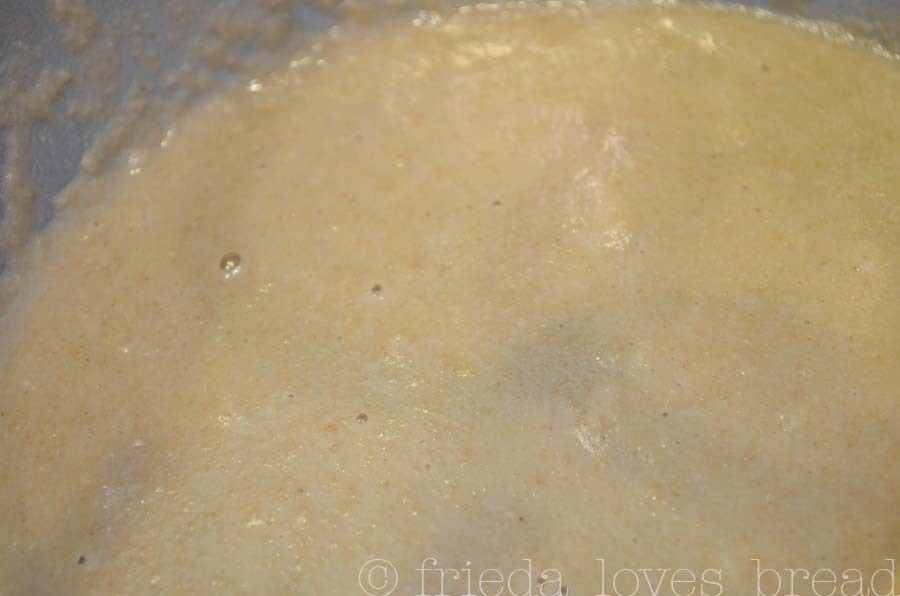 All purpose or bread flour is added at this point until I get a silky, tacky, but not sticky dough.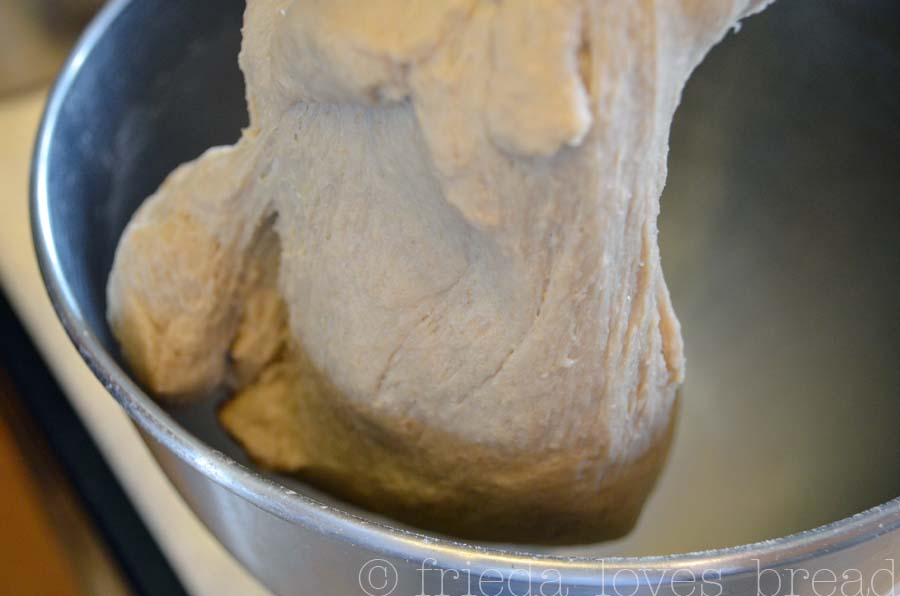 The dough is covered with plastic wrap and allowed to rise for an hour or till double.
I lightly oil spray a clean work surface and put my dough on top.  I roll it into a 8×12 rectangle and roll it.  I pinch the seams closed; bottom and sides.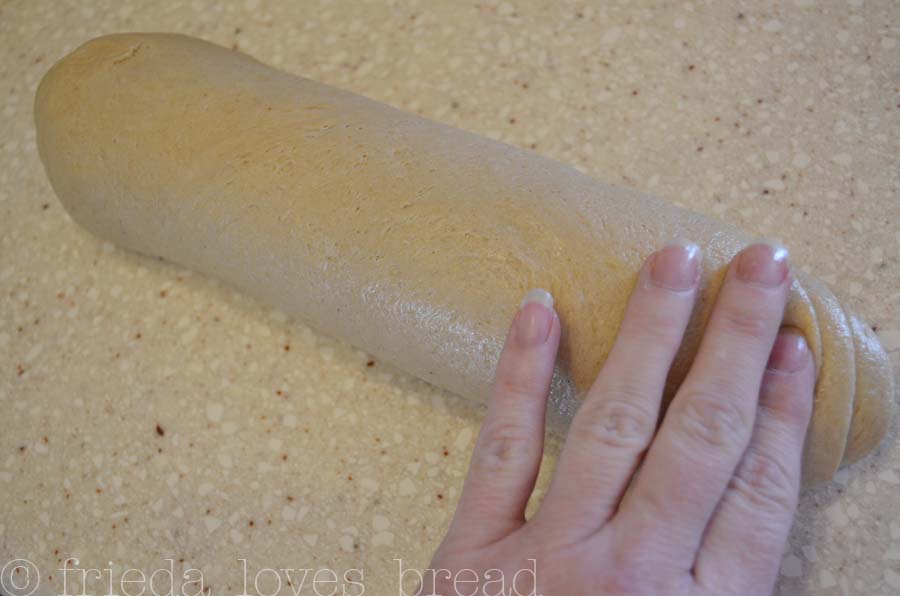 The dough is put seam side down in a lightly greased medium (8×4) loaf pan.  You will know you have the right amount of dough in your pan if it fills the pan half way with a little bit of clearance on the sides of the dough.  cover with plastic wrap and let rise till double, about 30-45 minutes.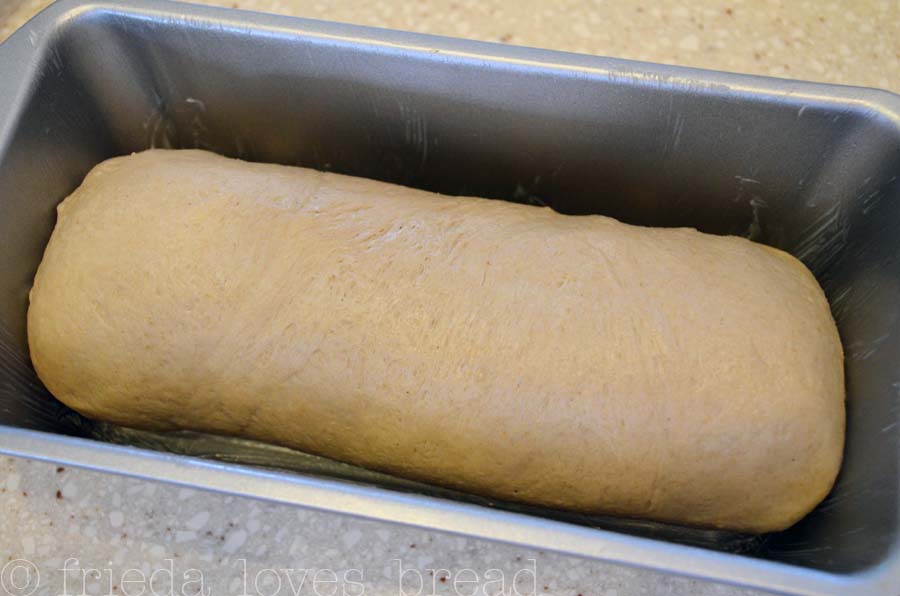 The dough is ready to bake when the crest of the loaf is about 1″ above the rim of the pan.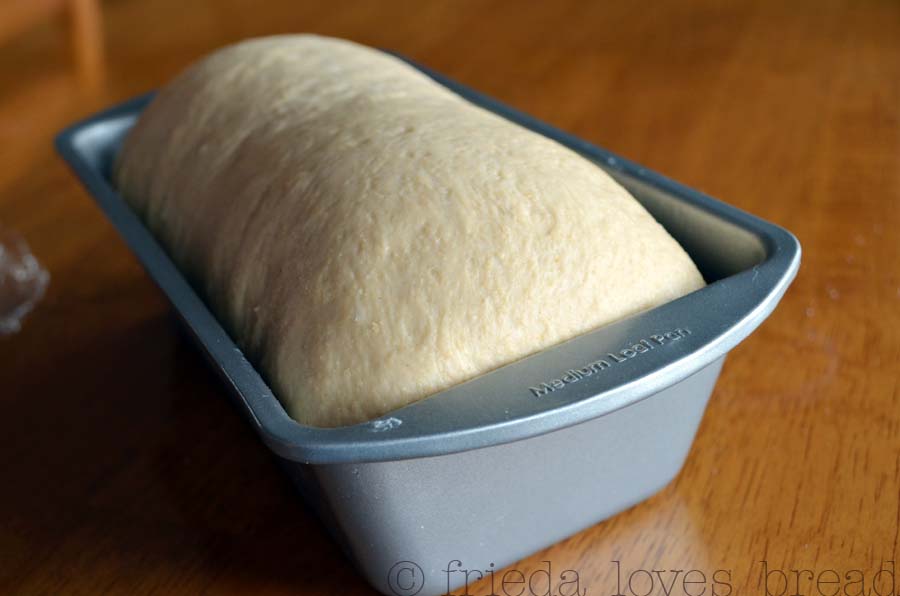 Mist the top of the loaf with water and sprinkle some coarsely chopped oats and maple sugar.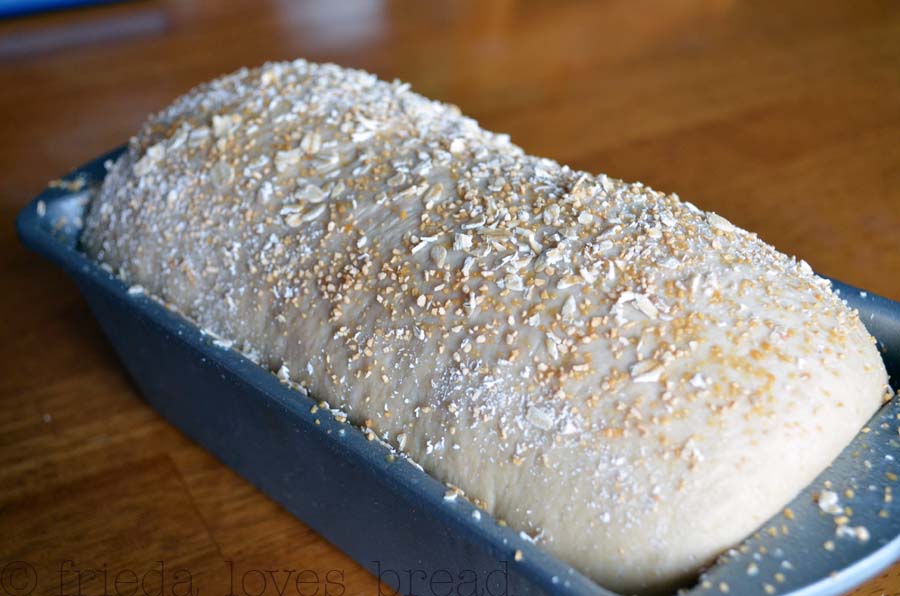 Bake for 35-45 minutes and deeply inhale the aroma …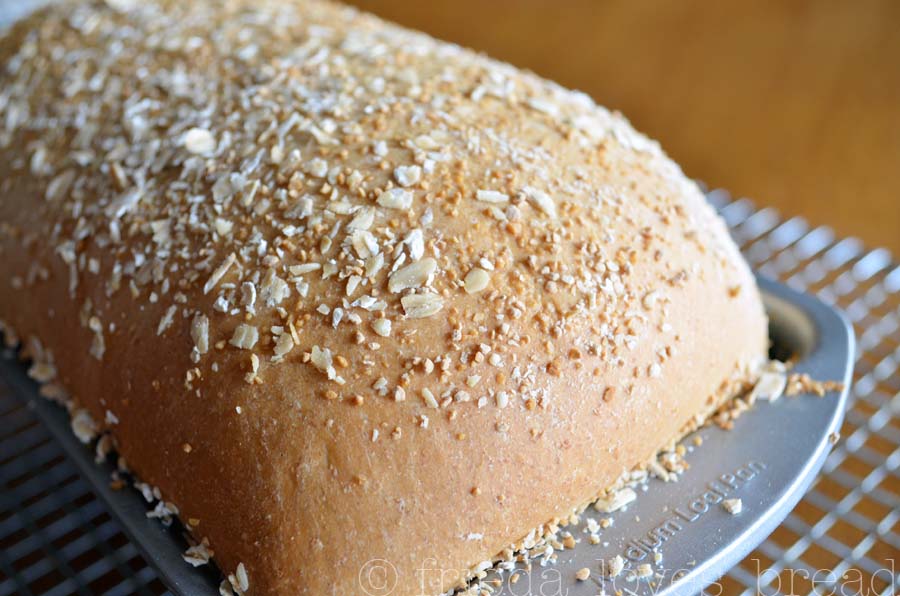 Allow the bread to completly cool on a wire rack before slicing.  I know, it's hard to wait, but I know you can do it!  The bread continues to cook while cooling and will keep its shape while slicing.
Here's the crumb shot … a nice light color throughout, with an even crumb.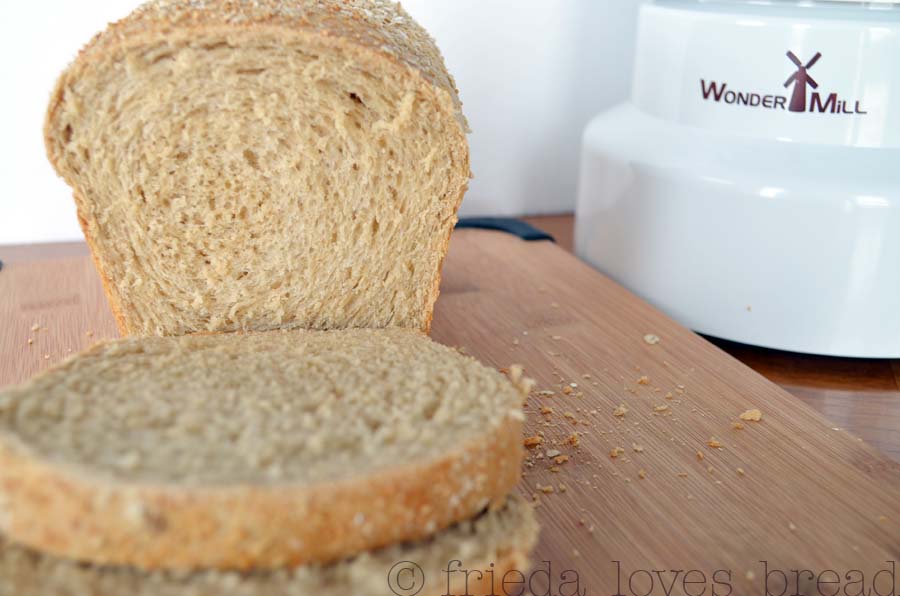 This bread tastes great on its own ~ light and slightly sweet, but is fantastic when toasted as it brings out the maple flavors even more.  I hope you give this bread a try ~ I know you will love it!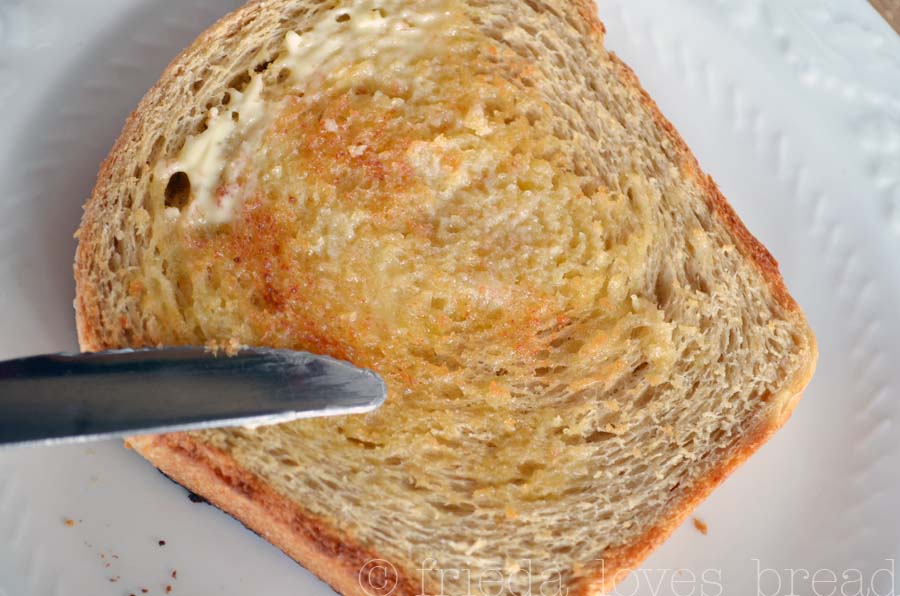 Maple Oatmeal Bread ~ adapted from King Arthur Flour

3/4 cup + 2 Tablespoons water
1/4 cup Grade B pure maple syrup
1/2 teaspoon maple flavoring
1/4 cup melted butter
1/2 cup oat flour (1/3 cup oat groats)
3/4 cup white wheat flour (1/2  cup wheat grains)
2 1/4 teaspoons instant yeast
1 t. salt
1/2 teaspoon cinnamon, optional
1 3/4 – 2 cups unbleached all purpose or bread flour
maple sugar
coarsely chopped rolled oats
In a mixing bowl, combine water, maple syrup, maple flavor, and melted butter.  Make sure temperature is between 100° – 110°F.  Set aside.  Combine oat and wheat flours in the bowl of electric mixer.  Add yeast, salt, and cinnamon.  Stir to combine.  Pour butter mixture on top and stir, making sure no dry flour is visible.  Cover and let mixture sit (sponge) for 15-20 minutes.
Add all purpose flour until dough clings to hook and becomes silky, elastic, tacky, but not sticky, about 7 minutes.  Cover dough with oil sprayed plastic wrap and let rise in a warm place till double, about an hour.
Lightly oil spray a clean work surface and roll dough out into a 8×12 rectangle.  Roll, jelly roll style, pinching closed all seams.  Transfer dough, seam side down, into a lightly greased 8×4″ loaf pan.  Cover with plastic wrap and let rise till double, about 30-40 minutes.  Dough is ready when the crest is about 1″ above the rim of the pan.
Spritz top of dough with water and sprinkle maple sugar and chopped oats on top.  Bake the bread in a 350°F oven for 35-40 minutes, tenting the bread with aluminum foil during the last 15 minutes to prevent over browning.
Remove bread from oven and turn out on a wire rack to cool, about 1 hour.  Allow bread to cool completely prior to slicing and/or storing in a food safe plastic bag.
Makes 1 medium sized loaf.
This post is shared with Girlichef of BYOB.