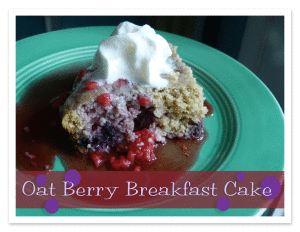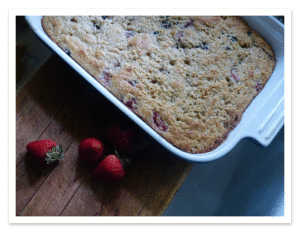 This is a quick and tasty breakfast cake made with ground oatmeal. Unlike wheat, oats are a slower glycemic grain, and they pair nicely with tart and juicy berries. If you are following a lower glycemic diet, like Trim Healthy Mama, this cake makes a tasty "E" (Energizing) breakfast treat!
I like to serve this with a swirl of sugar free berry syrup, and a dollop of whipped cream for a fun and quick weekend brunch.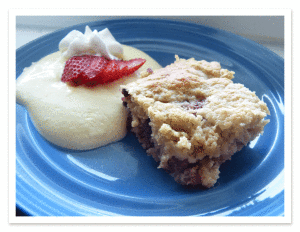 This is one of my favorite quick breakfasts to whip up on Friday morning, and the leftovers get us up and out the door on Sundays.  Everyone in my family loves it!
For an extra boost of protein, serve with a side of Greek yogurt  This Luscious Lemon Yogurt recipe is my favorite with the berry cake!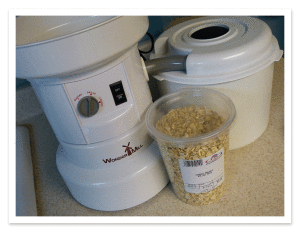 Before the WonderMill, I would grind the oats for this recipe in my blender.  I was excited to see what a nice job the mill would do, turning oats into flour.  I wasn't disappointed!
I turned on my mill, and poured in the rolled oats.  I think the shape of the rolled oats made it a little trickier, as they didn't want to 'roll' down into the mill.  But I found that pouring them in slowly, and stirring a bit was all that it took.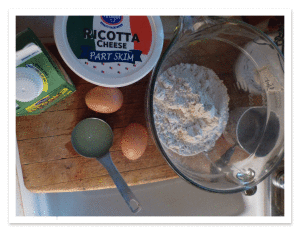 In the end, I got a GORGEOUS batch of very light and fluffy oat flour!  Perfect-o! This is such a simple 'quick bread' style recipe, and it's also very low fat.  I just stirred the remaining ingredients in, stirred in some lovely frozen berries, and bake.
So much YUM for so little effort!

Berry Oat Breakfast Cake-Sugar Free/Low Fat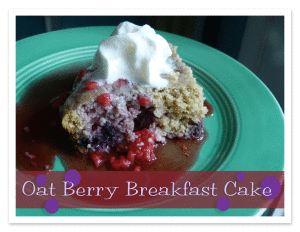 Bursting with fresh berry flavor, this breakfast cake is a fabulous lower-glycemic breakfast choice...one of our favorites for busy weekends.
Ingredients
3 eggs
1 cup part skim ricotta (or 0% Greek Yogurt)
2 t. vanilla extract
½ t. lemon extract, optional
2 cups oat flour
1 T. baking powder
1 t. baking soda
⅓ c. sugar, truvia, erythritol, or stevia extract to taste
2 c. frozen fruit
Instructions
Preheat oven to 350*
Combine eggs, ricotta or yogurt, and flavorings in a large mixing bowl.
Stir in oat flour, sweeteners, baking powder and baking soda. Stir until well combined.
Stir in frozen berries quickly, and pour into a 9x13 pan. Spread evenly. You can top with a sprinkle of sugar for a nice little crunch if you'd like.
Bake for 30-35 minutes, until nicely browned, and will spring back to touch.
Notes
*For Trim Healthy Mamas, this is a great E breakfast! I calculate 3.75 grams of fat, and 11 net carbs per piece. This pairs nicely with
Luscious Lemon Yogurt
for an added boost of protein.