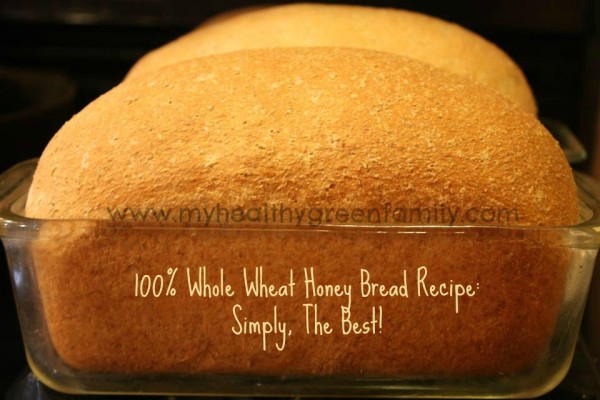 I have played around with bread baking for years and, after baking (and eating) many rock-ish loaves, I have finally discovered the two keys to getting 100% whole wheat bread to rise nicely.  Use freshly ground flour and soak some of your flour first in liquid, to help release the gluten.  No more money wasted on dough enhancers, soy lecithin, and all the other additives I tried to help lift the whole wheat!  This recipe is simple, delicious and rises beautifully!  Enjoy!  Feel free to stop by and visit my site for other delicious whole wheat recipes.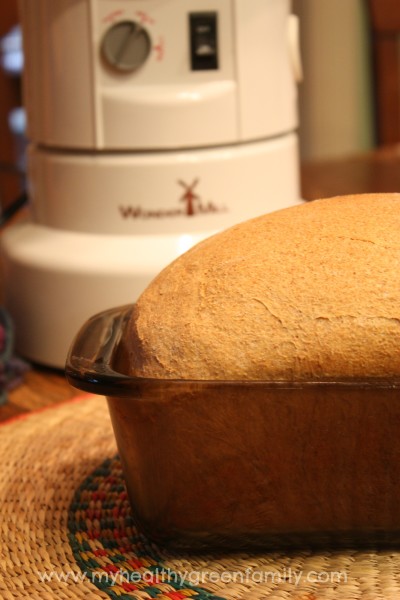 Honey Whole Wheat Bread. Simply, the best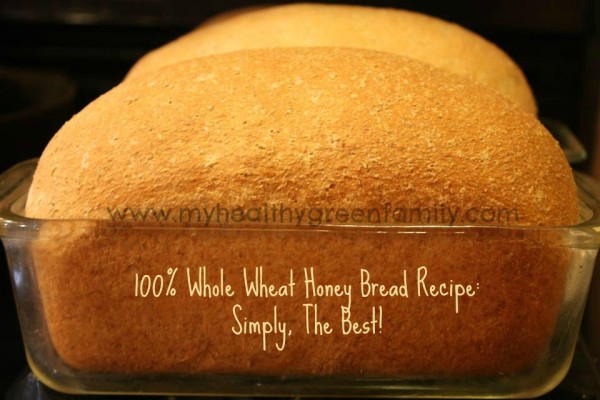 Author:
My Healthy Green Family
A delicious, simple bread made with 100% whole wheat. Rises beautifully with no additives!
Ingredients
8 c. freshly milled whole wheat flour, divided into 3 cup and 5 cup portions.
2 c. warm water
⅓ c. plus 1 tbsp. honey, divided.
⅓ c. butter
1 tbsp. yeast
1 tsp. sea salt
1 egg
Instructions
To make sponge add yeast to ¼ c. warm water with 1 tbsp. honey in a 2 cup glass measuring cup. Mix well and set aside.
Add 3 cups flour to 2 cups water. Mix well and set aside. This is your flour soaking, releasing the gluten.
Melt butter and ⅓ c. honey together and set aside until room temperature.
In half an hour, add yeast mixture to flour mixture and mix well.
Add butter and honey mixture and mix well.
Add salt, egg and remaining flour (one cup at a time) and mix well.
Once dough is of the right consistency (neither wet nor dry but tacky) kneed dough for 10 minutes.
Set dough aside in a large, greased bowl, cover with a damp tea towel and allow to double in size. (1-2 hours).
When dough is doubled, kneed it briefly, divide into two, then roll out onto floured counter top.
Shape into loaves and place in greased bread pans. Cover with a damp tea towel and allow to rise until double, about 2 hours.
Bake at 350F for 40 minutes or until lightly browned and hollow sounding on top when tapped
Cool for 10 minutes in bread pans. Loosen with a knife and shake loaf gently until the loaf comes loose. Remove loaves from pan and cool completely on cooling rack.