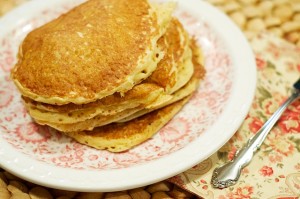 Who can resist a plate of fluffy, golden pancakes? I sure can't, and neither can my kiddos! I feel a little better about making these knowing that using my Wonder Mill and fresh flour, we are getting added nutrients and fiber. I love it that the added health benefits of using freshly ground whole wheat does not sacrifice flavor or texture one.single.bit!
Let me go back a few years, before I owned my Wonder Mill flour mill, to say that I have made 50% whole grain pancakes many times before, using a mixture of recommended whole grains. These whole grain flours were mixed with all-purpose flour, to prevent the pancakes from having the texture of a frisbee. I didn't mind the heavier pancake, but once my kids were introduced to fluffy pancakes at restaurants and sleepovers, they knew that something about Mom's was not the same…and they didn't appreciate the heaviness or the health benefits of whole grain. I heard it over and over again, "Mom, can you please make the pancakes that come from a box, like ___________'s mom does?"
Pancakes were one of the first recipes I tried once I received my Wonder Mill. I used a traditional buttermilk recipe, and in a moment of boldness, I substituted 100% of the flour for fresh milled soft white wheat. Since my kids are frequently concerned that I am going to make healthy substitutions any time I try a new recipe, I wanted to get an unbiased opinion…so I mixed the batter before the kids woke up, then let them watch my husband cook these pancakes for the first time…they never suspect Daddy to make healthy substitutions. : )  At first bite, all three kids repeatedly exclaimed, "Wow, Dad made the BEST pancakes EVER!" I am not kidding, they raved about my "husband's" pancakes all weekend, and they were certain they came from a box (a great compliment in their elementary minds!) I later told them that this was actually a new recipe, with whole wheat flour, and they were all surprised. This has become our standard pancake recipe since! I hope you enjoy it as much as I do! (As you will note, the recipe does not actually contain buttermilk, but the standard substitution of milk+vinegar. If you would prefer to use buttermilk, please do!)
Whole Wheat Buttermilk" Pancakes
2-1/4 cups milk +1/4 cup white vinegar
3-1/4 cups fresh milled flour (from soft white wheat berries)
1/4 cup white sugar
1 tablespoon baking powder
1-1/2 teaspoons baking soda
1-1/2 teaspoons salt
3 eggs
1/4 cup butter, melted
cooking spray
In a 4-cup measuring cup or mixing container, combine the milk and vinegar, and allow to sit for several minutes, until it thickens and develops chunks…you can speed this process by warming it in the microwave for 15 seconds.
Meanwhile, combine dry ingredients in a separate large bowl.
Once milk has thickened, add eggs and melted butter, and mixing well.
Combine dry and wet ingredients, and adjust by adding slightly more flour/milk if
necessary.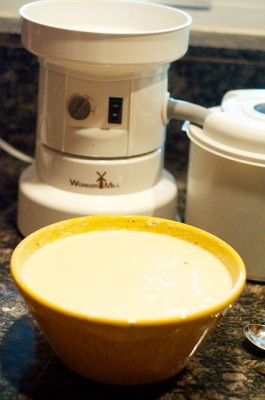 Allow mixture to sit for 10 minutes. It will become a little bubbly! Meanwhile, preheat skillet/pan on medium-low.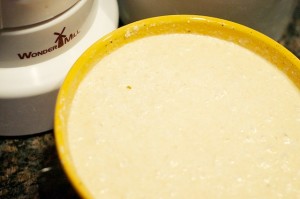 Spray or butter your skillet. For each pancake, pour 1/4 cup of batter onto the preheated skillet. When the pancakes begin showing bubbles through the batter, and the edges look slightly dry, they are ready to be flipped!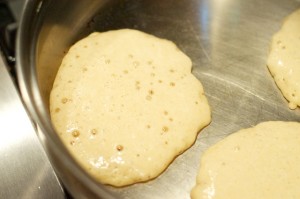 Cook the pancake on the other side until it is golden brown, approximately 1 1/2-2 minutes.
Serve with your choice of syrup or fruit topping…or both!